Making a Crocheted Chain Spring Wreath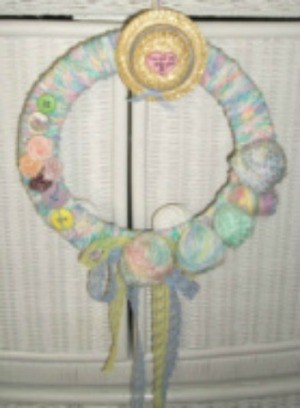 Great wreath project that can be varied for every season. This is a great thing to make with the kids.

Total Time: 1-2 hours
Supplies:
1 each 10 inch and 12 inch bowls to determine the diameter of your wreath
cardboard puzzle lid or any clean cardboard piece large enough
pen
scissors
yarn of your choice
1 size J crochet hook
embellishments
scrap balls of yarn
dual temp glue gun on cool
buttons
scrap lace and ribbon in at least two colors to compliment the yarn
Optional: Popsicle sticks and tape
Steps:
With the bowls on the cardboard, trace and cut for your circle. If you want larger circles, use larger bowls but the width of the circle should be at least two inches. If your cardboard isn't super sturdy, simply tape or glue some Popsicle sticks to the back.

With the choice of yarn, make a chain about 20 yards long (I measure from my nose to the fingertips and that is just about perfect). If you end up with too much or too little, don't worry. If you have too much just cut and glue to the back. If you have too little, just insert your hook into the end of the chain and keep going. You can work in the tail when you are ready to wrap.

With the yarn chain in a ball, begin in the back and glue to the cardboard. Begin wrapping around it, gluing to the back every 4 or 5 wraps.

When you are finished, secure on the back. With the back to you, begin the same process with the ribbons.

With the front to you, glue on the buttons, embellishments, and small balls of yarn. As you can see, I added a small garden hat, and you can "doll this up" as you see fit.
When you are finished, hang up for the world to see!
Now that you know how to do this, here are some tips for the other seasons.

For summer, I do Americana and you could put little flags, miniature fire crackers, and the like.

For fall, it's leaf colored yarn with pumpkin and leaf table scatter from the dollar stores.

For winter, it's all about the holidays. One year I made this with red and gold yarn then put on all plaid red and gold ribbon and big red and gold buttons. It looked really cute.
This is a great thing to make with the kids. It's about 1-2 hours.
So, there you are. Have some fun and let share your creation with us!

If you would like to see my new website, please visit me at miss-elaine-yus.com
Comments
Published by ThriftyFun.
© 1997-2022 by Cumuli, Inc. All Rights Reserved.
https://www.thriftyfun.com/Crocheted-Chain-Spring-Wreath.html