I saw a necklace made out of Trellis ladder yarn and cannot figure out how to make it. Does anyone know?

By atph from NY
Answers:
Crocheting Necklaces Out of Trellis Yarn
It's all done with a large hook (J, K etc) and only chains. Just look at the pictures here and copy one.

There's a second type that's made by single crocheting around a piece of clear elastic. OR, a third type that's made by threading the clear beading elastic thread on to a "big eye" beading needle then thread every 2, 3 or 4 empty square on to the elastic (skipping every other or every 2 or 3 "holes"). They can either be threaded on straight (accordion style) or the Trellis yarn can be twisted in a spiral with every empty square that's threaded.

For more details write me here on ThriftyFun.
Cyinda
Here's a picture of the necklace made by the #2 or #3 method. (07/03/2009)

By Cyinda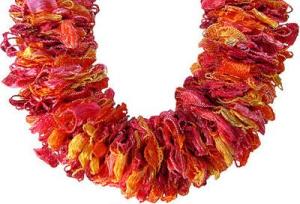 Crocheting Necklaces Out of Trellis Yarn
Here's the trellis yarn necklace made only with crocheted chain: (07/04/2009)

By Cyinda