Anyone making Crown Royal quilts?
April from Blackwell, OK
Answers:
Crown Royal Bag Quilt
I had seen a similar post before the fair in my town of Salem OR...where it's the state fair. I took photos of one just in case I could send it here.
Glad I kept it now!
This is a cool shot.
Good luck! (10/29/2008)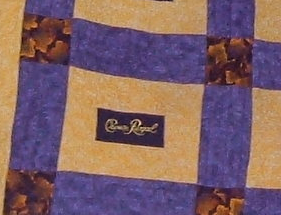 Crown Royal Bag Quilt
My husband's aunt and her sister made this quilt for him. He provided the bags and they did the beautiful quilt. (11/29/2008)

By Lisa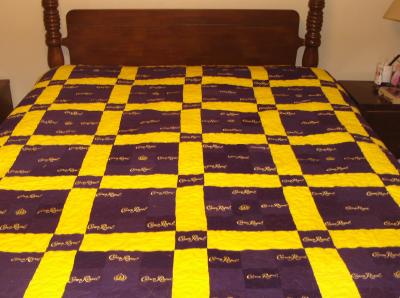 Crown Royal Bag Quilt
(submitted via email)
I'm on my first quilt. I used most of the bag, cause I wanted the effect.
No pic yet but when it's done, I will. I made a 7 inch square out of it. I just went on her and searched Crown Royal and seen they had quilts. Amazing.
Carmen (12/02/2008)

By jess_admin
Crown Royal Bag pillow
I made my own unique pillow using the bags for my boyfriend's birthday. I would love some feedback. Thanks everyone. (12/14/2008)

By Krystal