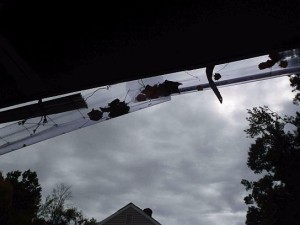 My traditional metal gutters worked more like car washes (water falls); clogging, overflowing and rotting the fascia boards. I took them off but then had too much water hitting the porch over front door. I had replaced all gutters with "Rain Handler" louvered grills that break up drips into a "spray" over ground
On top of the grills, I invented and built crystal clear short gutters to keep the rain off my deck wood.
Clear gutters serve several purposes:

They're nearly invisible on the side of roof.
I can see immediately when they need cleaning out and where.
Leaves, sticks, snow, ice all can be blown or pushed out the open ends from below.

It's also really fun to watch the rain water move and pour from one level to the next while standing below.
A cheap "rain chain" at one end softens the force of water pouring out to the bucket or ground and is calming to watch as the water trickles over the links to the bottom! Real rain chains are made of copper or similar and have large loops but they cost serious big bucks :(
Total Time: 2-6 hours
Yield: 2 - 4 PVC strips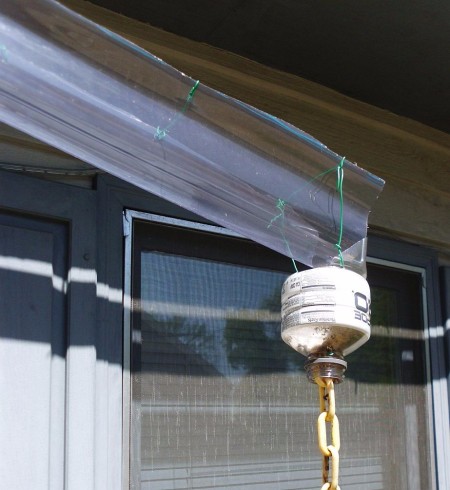 Supplies:
1 or more Tuftex or Palruf PVC corrugated panels (transparent or clear)* ($14-21)
1 roll garden wire (or any plastic coated hand bendable wire in rolls or spools) ($4.00)
5 metal angle irons, 4 inch or larger (also similar flat metal used in construction framing) ($3.00)
hack saw and hack saw blade, or hot wire for plastics
leather work gloves to hold blade for gentle, patient cutting lubricant for saw blade
ladder to reach edge of your roof for installation!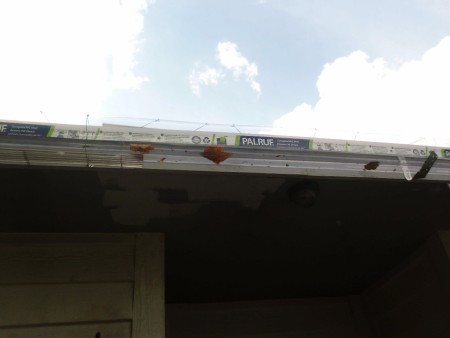 *The 8 foot panels will go in some cars, like my Ford hatchback. 10 foot probably more economical (I've never used yet) can make longer gutter sections or more variety of lengths to step down.
Steps:
To make a crystal clear gutter, buy "Palruf" or "Tuftex" transparent PVC panels from your home improvement center (Home Depot is one).
Very gently, carefully cut lengthwise into 2 or 3 strips about 12 inches wide .
Drill small holes near edges about 5 inches apart and about 1 or 3 inches from edges on both sides.
Use any vinyl coated wire in a roll (Garden Wire from Kmart is my paradise).
Insert through holes on both sides like lacing a shoe. Pull both sides up until they form a "U" or "channel" shape.
Cut wire allowing enough to tie off along side. Repeat at each set of holes along channel.

To keep channel from wobbling or twisting, add a diagonal wire "brace" in 2 or 3 places (usually near each end) until channel feels rigid and sturdy.
Attach to or hang from fascia boards, under drip edge on one side using large "L" angle irons or other bendable, galvanized metal (stud framing connectors).
Use more "garden wire" to loop around new gutter, securing to metal angle irons front and back. Done!
To "connect" ends of channels, hang center above those at ends and let water pour from higher one down into next lower one.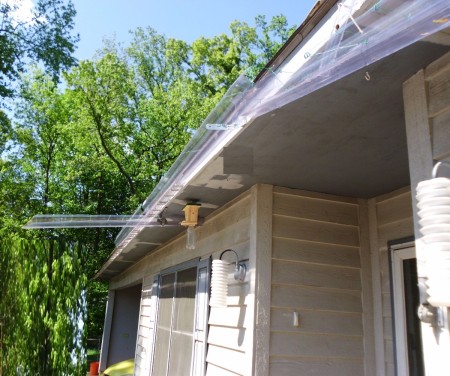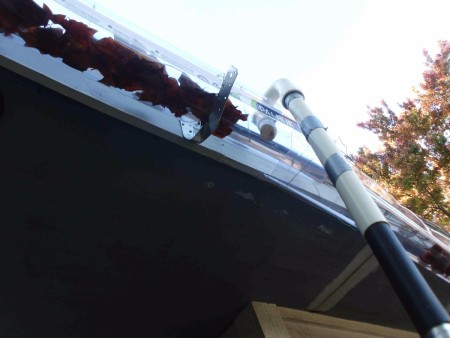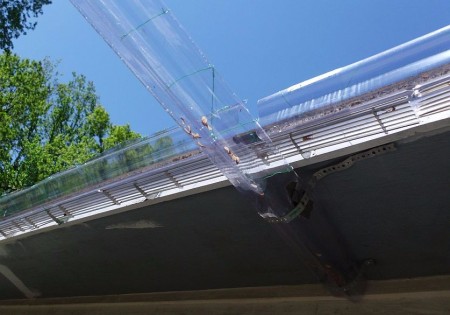 PS: These "gutters" are only for short spans, such as over a door way or deck. This is not likely to work for your whole house!
Add your voice! Click below to comment. ThriftyFun is powered by your wisdom!

Paula Jo C.
Bronze Feedback Medal for All Time! 119 Feedbacks
May 7, 2015
0

found this helpful
I love this idea - thanks for sharing it!
Add your voice! Click below to comment. ThriftyFun is powered by your wisdom!