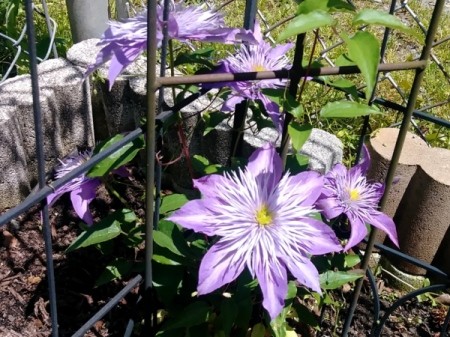 Photo Description
For years, my sister had a clematis, maybe two very similar and intertwined, growing in a fence corner. For several weeks each spring, it turned into a very large, eye catching beauty.
Last fall, she told me it had not done very well for the past two years and asked if I would dig it up and replace it with one she had bought online. I said sure, if I could have a piece of the one I dug up.
She replied, 'You can have all of it'. That was all that needed to be said. I grabbed a shovel and went to work. Was I in for a surprise. I found the reason for the decline right away, and what a pleasant reason.
There were six huge root systems in that hole, all inter-tangled and each competing with the others for food, water, and sunlight.
I brought them all home and repotted them, separately. Today, all are doing well and are heavily laden with bloom buds. I will post a picture as soon as one bloom opens fully.
In the meantime, I wanted you to see my sister's replacement clematis. It is a beauty to be sure. It bears the name 'Crystal Palace'. And not daring to break with tradition, I told her I would be back soon to take a couple of cuttings. Old habits are hard to break, especially nice ones.
Add your voice! Click below to comment. ThriftyFun is powered by your wisdom!