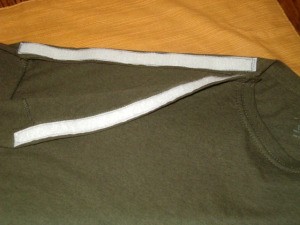 Recently, I searched online for medical clothing needed after a rotator cuff surgery and noticed the cost of such alterations was in my opinion over priced. After gleaning a few items, I decided to give it my best DIY version that was less costly and worked just as well.
I bought three men's pocket tee shirts two sizes larger than I normally wear and with scissors in hand, cut through the neckline at top of the sleeve to the end of the sleeve on the side of the shoulder requiring surgery. This will open up the whole top right side of the shirt. In my photo, it is made for the right shoulder, but can also be done to the left.
Next, I measured a narrow width Velcro strip long enough to meet at the neckline and a half inch or so past the shoulder seam line. Align the coarse side of Velcro near the raw edge from the back top of neckline to approximately one half inch past the original shoulder seam to prevent it from unraveling. Pin in place.
Now, on the front sleeve panel of the tee shirt, slightly turn in raw edge pinning in place and align the softer Velcro strip to the inside of the shirt fold (enough for needle to go through that side to stop unraveling). Pin in place checking that both Velcro strips match up closely at both ends before sewing in place. The open sleeve remains open.
Sew the length of the Velcro strip all the way around the edge slowly, so it doesn't shift out of place while you pull each pin out that you come to and lock last stitches to prevent unraveling. It should have nice even straight line stitching when finished. It may take you approximately 20 minutes to complete this project.
*(Do not buy the sticky back Velcro because it bogs down the needle in your sewing machine and breaks the thread.)
*(It is important to make sure you always attach the coarse side of the Velcro to the back panel of tee shirt, while the soft side strip is on the front panel.) This allows you to pull the sleeve frontward instead of the opposite.
For most people after such surgery, you are home recuperating and don't feel like being in clothing that is uncomfortable. Tee shirts solve that rather easily and inexpensively. They require little care and guess what? When you wear an altered tee shirt to hospital the day of surgery and home, the nurses who help you dress to leave will be happy that you made it so easy to dress you and there's plenty of open sleeve room for the bulky shoulder brace you'll be wearing for up to eight weeks.
Gently pull the sleeve forward to remove the shirt and you can let it slide down your body and step out of it easily. It also is easy to put on with a little help and you don't have to move about the surgical site as the sleeve just slips up under the arm and over the shoulder fastening with gentle pressure.
Wear this altered tee shirt to your physical therapy because it helps them change your first/second dressings and aids in therapy treatments too when getting hooked up to their machines. The therapists love this tee shirt a lot because it makes their job easier too.
If you buy really loose Fruit of the Loom brand colored tee shirts in a package, they are usually longer and fit over the hips making it comfortable night wear and it can be worn around the house all day too. There's nothing more appreciative than to have comfortable clothing after surgery and it makes dressing/undressing easier and serves you well for medical staff visits for short term use at a very affordable price.
Should you require surgery on the opposite shoulder sometime in the future, you only need to add Velcro to the other side of the shirt and they can serve twice meeting your needs. If you do not have a washing machine at home for easy laundering, it is best to buy more than three tee shirts and make the alterations in advance, so they're ready to accommodate you. These tee shirts can be recycled by giving them to another who will have such a surgery by dropping them off at an orthopaedic's office and get distributed to patients.