DIY Manicure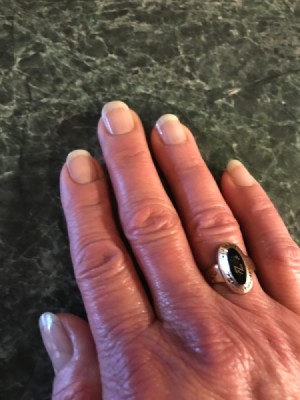 I have a really hard time keeping my nails and cuticles in shape. I'm a nurse therefore I wash my hands a lot and I also love yard work which is rough on hands even if you wear gloves. I have found that if I take a little time every week to pamper my nails and cuticles I can maintain a 'nail salon' looking manicure easily and cheaply. The key ingredient is coconut oil and a little time.
Total Time: 30 minutes
Steps:
My nails before DIY manicure. They don't look too bad because I've been doing my manicures now for a while, but I wanted to show what my nails look like without using the coconut oil regularly.
File nails to desired shape and length. I usually file nails rather than clip them, but use a clipper if needed then file to smooth the edges.
Next, apply cuticle remover to the cuticle and let it soak in for a few minutes. Then use a cuticle tool or an orange stick to push the cuticles back and remove the overgrown skin on the base of the nails. Be gentle and take your time. The goal of this step is to loosen the cuticle that has grown with the base of the nail. The cuticle attaches to the base of the nail as it grows. If it's not maintained the skin continues to grow with the nail and will eventually peel up and tempt you to pick and pull at it which will lead to a torn and ugly cuticle.
Once you've used the cuticle remover wash your hands thoroughly with warm water and soap. Use a cuticle trimmer if need to remove any loose hanging pieces of cuticle. Be very careful with this part so you don't trim too close to the nail bed. If you maintain your nails regularly there will be no loose cuticle skin. If I go several weeks without doing my manicure I seem to have more cuticle to trim off.
Next, take the coconut oil and massage it into your nail beds. Coconut oil is a solid substance until it heats up on your hands. It then becomes oily. It doesn't take very much. Massage it into your nail beds and hands until your hands feel soft but dry.
Last step is to buff the nails. This will give your nails a beautiful shine! No need for polish. Buff the nails firmly and fast for a good shine and buff often to keep the shine going.
These are my nails after my DIY manicure. (See top.) It takes about 30 minutes to do and is well worth it. The coconut oil is so moisturizing and seems to nourish my nails. I keep a small container of it with me so I can massage it into my nails daily. One other thing to mention--the key to healthy strong nails is a healthy nail bed. If you take care of your cuticles and regularly moisturize the nail bed you will have strong healthy nails. I also do this for my toenails and feet too.
Add your voice! Click below to comment. ThriftyFun is powered by your wisdom!
April 5, 2018
1

found this helpful
Very insightful. My nails look like photo 2 through most of the winter months but I solely rely on hand cream. I have a jar of coconut oil that is begging me to try this manicure.
April 9, 2018
1

found this helpful
I also put coconut oil on my hands and nails in generous amounts right before I put my rubber gloves on to do dishes. The oil sinks into the skin and the heat from the water adds to the effect of the moisturizing. My hands feel so good after I finish and take the gloves off. PS...I don't have a dishwasher so I hand wash dishes and moisturize very often!!
April 10, 2018
1

found this helpful
I put some coconut oil in a little Pimientos jar and keep it at the computer. When I'm on the computer, which is a lot, I dab a little of the oil around the cuticles on my fingers.
It has been a great help in softening up the cuticles and they look much better. I use the paper towel to wipe the bottom of my fingers before using the mouse. I'll have to try the gloves idea. That sounds great.

April 10, 2018
1

found this helpful
It does not take long for the coconut oil to soak in and dry. I love using coconut oil, a first time for me. Thanks for the tip.
September 26, 2018
0

found this helpful
My hands have taken a beating the last couple of days with me working outside in the yard. When they get like this, I put the coconut oil on my hands and then put this pair of disposable gloves on. The coconut oil really does soften up my hands and cuticles around my fingernails.
I can actually still work on the computer with the gloves on.
I need to get some medium gloves. These are large and I have used them several times. The coconut oil does not leave them greasy inside. I'm glad you posted this tip, I love it.



Add your voice! Click below to comment. ThriftyFun is powered by your wisdom!
Related Content