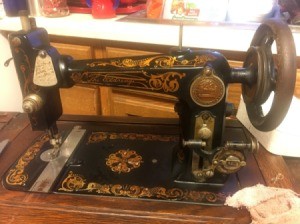 I have a Eldredge treadle. It was gifted to me in '09 after my bf's grandmother passed. It has sat around all these years and I've finally overcome my fear and decided to restore the treadle.
My question is this. I can't seem to find any information on when she was made or where for that matter. It does have a serial number 1311592, but nothing else. It has a decal on the front of the arm that says, "The Eldredge" and on the back of the arm it says, "Improved Eldredge B". I've researched a lot and every image I seem to pull up doesn't match my treadle. I've found manuals a plenty of another Improved Eldredge, it's similar, but not at all exact.
I would just like to get a date because I want to set up a memory book with his late grandmother and great grandmother and any information I can find about this particular model. So that when it's not in use (I do plan to use it) this memory book and pics of the grandmothers can rest on top.
So any info on a possible date would be so greatly appreciated.