I think my Tomato plants are suffering from blossom end rot, how can I fix this? I'm afraid I've been watering too much, every morning until the soil looks wet. I don't want to cut back too much and shock the plants, what do I do?
Hardiness Zone: 8a
By Hannah from Atlanta, GA
Answers
July 20, 2009
0

found this helpful
I have a greenhouse filled with tomatoes and they all had blossom rot. You have to add a calcium supplement. You can get time released calcium at most greenhouse stores (not home depot or lowes) It takes awhile to see results and you'll have to throw out the ones that are already starting to rot. But good news its not overwatering! Hope this helps!
July 20, 2009
0

found this helpful
Save your money honey, and use egg shells! Also, blossom end rot is from not watering consistently. Overwatering results in the fruit splitting, tomatoes are heavy feeders and need water daily.
Don't let the soil dry out completely. Ever since I put my tomatoes on a drip irrigation with a timer, I have not had problems with blossom end rot. The tomatoes are still good, just cut the bad end off.
Answer

this Question

...
I had a container garden last year with tomato plants and developed "blossom end rot". Does anyone have a solution to prevent this? I was told it was from a lack of calcium, so I bought Green Light Blossom End Rot Spray and sprayed the tomato plants. I didn't have much luck with this and lost nearly half my crop. I love homegrown tomatoes! So any ideas would be greatly appreciated. Thank you!

Hardiness Zone: 6a

Debbie from St. Louis, MO
Answers
March 16, 2009
0

found this helpful
I bury eggshells, give them an aspirin and be very consistent with your watering. They found a couple of regular cheap old aspirins a couple of times in the growing season ads vigor to the plant and volume to the fruit, I had success with aspirin just put a couple in the hole when you plant the plant.
March 16, 2009
0

found this helpful
Blossom end rot can happen also when there is not enough air moving around the plant. I pinch off anything 10 inches from the ground and down.
Also, you need to pick up a bag/box of epsom salts. Cheapest in the drug store section of Walmart, etc. Maby $2 for a large bag. Instructions are on there for gardens. Magnesium Sulfate or lack there of, indeed inhances bottom rot.
I also use when planting BONE/BLOOD MEAL--Shultz makes a good one. I put this into the ground. If you have potted tomato plants you might be leaching the iron out of the plant too. Special stuff by Schultz to add that. None too expensive. I raise romas for everything and can/freeze too.
Make sure your soil is good, blend in fresh peat moss and some sand every year. I dump my sand boxes in the fall into the gardens. THEY LOVE IT.
March 17, 2009
0

found this helpful
Martha Stewart had a man on her show that wrote a book on giving helpful tips. He said to add the shells from 4 eggs when planting each tomato plant.
March 21, 2009
0

found this helpful
Blossom end rot is caused by lack of calcium and/or uneven watering. The calcium has to be able to get to the plant so good watering is essential. Using egg shells is a good way to go. Any time I use a raw egg, I rinse out the shell and throw it in a container under the kitchen sink. When it's full, I start a new container. In the spring, I put all of the shells (you'd be amazed by how many you have, and how heavy they are!) into a big container and stomp on them.
It's as simple as sprinkling them on the ground after the tomatoes are planted. They add calcium to the soil. Also, slugs won't cross them since they are too rough for their underbellies. Tomatoes also benefit from having a marigold planted near them but that's another story!
July 7, 2016
0

found this helpful
Thank you the epsom salt real works my tomatoes plants look so much better they perk up and look healthy
Answer

this Question

...
What can be done for tomatoes that turn brown on the bottom?
By Robin from Ellettsville, IN
Answers
July 9, 2012
0

found this helpful
Sounds like blossom end rot, which is generally caused by a lack of calcium in the soil.
July 9, 2012
0

found this helpful
Yes, Blossom end rot. Agreed, but calcium deficiency is only one effect or cause. Also irregular watering can bring it on. Once you have it (Blossom End Rot) .. I know of nothing to reverse it.
In my case, I cut my losses. Chose a different plot to plant them in, the following growing season and planted each seedling with a couple of crushed egg shells mixed in with the bone meal, and resolved to do a better job of regularly watering the tomato plants.
All clear thus far this season.
Answer

this Question

...
Can you plant too many tomato plants in a given area? If so, how should they be spaced? Our plants are turning yellow from the ground up and the tomatoes are rotting on the undersides. Please can you help?
Hardiness Zone: 7a
By Kyra Leigh from Bristol, TN
Answers
July 17, 2010
0

found this helpful
It sounds like blossom-end rot, which is caused by a calcium deficiency. You can add calcium to the soil with gypsum.
July 20, 2010
0

found this helpful
Calcium may be an issue, you can buy it at the local nursery. You should have planted some with it when beginning the garden. Also Blood Meal.
Now you can quickly remedy by getting epsom salts. This also is essential for blossom end rot. Go to their website and get the info and some is listed on the package (some brands do).
Any veggie that flowers in the garden needs epsom salts, aka Magnesium Sulfate. Essential for blossoms. Pick your tomatoes with end rot and get to the garbage. Do not leave. Bugs will love them and infest other things into the gardens.
Another thing. I do a clean up the bottom of the plants. Nothing for the first 10 inches up the plant stay. Needs air to move amongst the plants to keep it happy!
Answer

this Question

...
My tomatoes are turning brown on the bottom.
Hardiness Zone: 6b
By Cecil Barnette from Paducah, KY
Answers
June 16, 2010
1

found this helpful
This is probably blossom end rot. It occurs at the bottom of the tomato and sort of looks like a bruise that may or may not be indented somewhat. Crushed egg shells in the dirt will replace a calcium shortage which is frequently the cause. Also, too much water and/or fertilizer (indicated particularly if you have plants that are very tall but not bearing much fruit) can cause blossom end rot. Pick the affected fruit as soon as you notice the problem so the plant's energy is spent on healthy fruit instead. Usually only affects some of the fruit on a plant, and most often only the first fruits.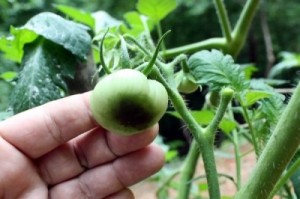 June 29, 2016
0

found this helpful
This so helpful, I thought I was over watering them, the plants are 5 foot tall and just now showing fruit. thanks you the plants are really show a lot of fruit now and I'm glad I asked.
Answer

this Question

...
We are growing our tomato plants in big gallon buckets. We've got Bigger Boys and Better Boy plants. We've gotten some tomatoes, but they're not getting big. The plants have some yellowing on their leaves and on one plant the tomatoes I've gotten so far are small and the bottoms are rotten. We've put Sevin dust on already. What is the problem?

Hardiness Zone: 9a

By Karen from Jacksonville, FL

Answers:
Tomato Leaves Turning Yellow and Fruit Rotting on Bottom
Try Epsom salts in the pot, mix 1 tablespoon in a gallon of water, use it to water the plants, Good luck. (06/01/2010)

Tomato Leaves Turning Yellow and Fruit Rotting on Bottom
One gallon buckets are not big enough. They need a five gallon bucket each. The Epsom salts is an excellent idea and Miracle Grow, too. But mostly they don't have enough room to grow. They are vines by nature and need lots of room to grow and lots of water. Also they need at least 6 hours of sun with 8 being better. Good luck. Also the temperature has to be below 90 for blossoms to set and fruit to make. Good luck. (06/01/2010)

By Jan
Tomato Leaves Turning Yellow and Fruit Rotting on Bottom
The rotting on the bottoms is called Blossom End Rot. It's a disease and all the affected fruit should be picked and destroyed. Since you are growing in pots, I'd say the soil is diseased too, so If it were me, I'd burn the fruit, the plant, and sterilize the soil before discarding to kill the disease in its tracks before allowing any contamination to occur.

Blossom end rot is indicative of a calcium deficiency. I'd start with clean pots, some clean gravel for drainage, fresh PH balanced soil, new plants, 4 crushed egg shells per plant, a little bone meal to encourage root growth, even a dip in some rooting powder wouldn't hurt. A nice deep watering, a week of hardening off, water every 5 days, and full sunlight for at least 8-10 hours per day minimum. (06/01/2010)

By Edmund
Tomato Leaves Turning Yellow and Fruit Rotting on Bottom
Blossom end rot is usually associated with lack of calcium. Try crushed egg shells. You may want to mix them into the soil at this time. Next year, when you set your plants, you can just sprinkle them on top of the soil. Egg shells are also good for other plants since slugs won't cross them. And they're free! (06/04/2010)

By Chris
Tomato Leaves Turning Yellow and Fruit Rotting on Bottom
The Epsom salts is what I use all the time. Do not put Sevin on them. Also, yellowing can come from lack of iron in the soil. You see this with container tomatoes more so. It leeches out and does not get replenished due to no ground soil connection. I went back to regular planting of tomatoes. Anything in the garden with blossoms needs a dose of magnesium sulfate about once a week in order to make good healthy blossoms turn to the fruit of your labors.
This is the Epsom salts.

You also need about 1 foot of dirt to support the tomato and its massive root system. (06/29/2010)

By Grandma J
I have a Topsy Turvy tomato planter and my tomatoes are turning dark brown or black on the bottom. I used miracle grow moisture control for the whole plant. Does anyone have clues or ideas for me? My plant is starting to look wilted.

Hardiness Zone: 8b

By chris from Round Rock, TX


Answers:
The Bottom of My Tomatoes are Turning Brown
Look up "blossom end rot" and see if the description fits what your tomatoes are going through. It sounds like it to me. If that's it, a simple amending of your soil will cure what ails it. It's more than likely a deficiency of calcium.

Topsy Turvy is a fun way to grow tomatoes, isn't it? Who would ever have thought? We'd plant flowers (something like petunias or nasturtiums) in the top part of our bucket, which often would cascade or drape over the edge. Made it look so pretty. We made our own Topsy Turvy containers using 5 gal wallpaper paste plastic buckets. Worked just great!
Good luck to you.

Julia in Boca Raton, FL (05/11/2010)

By Julia
The Bottom of My Tomatoes are Turning Brown
I use Yield Booster, 2 TLBS per one gallon of water to make a spray. This stuff helps stop and prevent blossom end rot caused by calcium deficiency. The rainy weather causes the calcium to wash out.
Apply thoroughly weekly and may be combined with other insecticides and fungicides. (05/13/2010)

By Sue Gordon