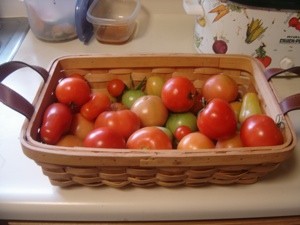 A few weeks ago, I was concerned about an impending frosty night and decided to pull up all my tomatoes. There were tons of green ones that hadn't ripened yet. I read through a lot of feedback to look for the easiest way to ripen them inside and came up with this.
I had a bamboo screen, just made of small bamboo stalks woven together into panels and then attached, so it can fold. It was in my garage because I don't currently have a place for it in my house. I took the tomato plants and hung them upside down by sticking the rootball through the top of the screen. This allowed the tomatoes to hang freely down the screen. Some were long enough to reach the floor.
I gathered up any that fell and started my tomato basket.
Every couple of days, I go out and harvest any that are starting to turn color. They go in the basket to ripen and then be eaten. I doubt they are as good as if they had been vine ripened in the sun, but they must be better than what you get in the grocery store at this time of year.
My garage is cool, but not freezing, unless it gets much colder outside. I have a small amount of light all the time out there, which I understand to be important for the ripening process. I'm thrilled to have this extended growing time.
I read once how you can ripen green tomatoes in the house after the frost has hit, or just before. I've brought in loads of tomatoes, now what do I do?
grammamare from Charlotte, MI

Answers:
Ripening Green Tomatoes Inside
I take my tomatoes and wrap each one in a piece of newspaper and put them in a box in a cool place. Some of them will keep until December. You have to keep a check on them as they ripen. (10/23/2008)

Ripening Green Tomatoes Inside
Just put them on a sunny window ledge they,ll ripen in no time. (10/23/2008)

By jan nash
Ripening Green Tomatoes Inside
I put my green tomatoes in several large paper bags (2 layers deep per bag) fold over the top and store in a cool place. Once or twice a week I check the bags for ripe 'maters, I toss the red ones into a ziplock bag in the freezer. They freeze individually, and I have maters all winter long for sauces, stews etc.

Good Luck! (10/23/2008)

By Julie Young
Ripening Green Tomatoes Inside
If you have only a few, you can ripen them in a bowl on the kitchen counter, just like a bowl of fruit. Don't put them in a sunny window. They don't need sun, and it just encourages spoilage. If you have a lot, you can put them in trays or in cardboard boxes, lined with newspaper, and covered with a layer of newspaper to keep them dark. Put them in a cool place, but not frig cold, just like a back closet or under the bed or something like that. If you want to speed up the process, you can put an apple in with them. (10/23/2008)
By Louise B.
Ripening Green Tomatoes Inside
My parents used to wrap them in old newspaper and put them in a dark place. You have to keep checking on them but they will ripen. (10/23/2008)

By Chris T from Latrobe,PA
Ripening Green Tomatoes Inside
I'm originally from Ohio, and I used to bring in all the green tomatoes before the first frost, wrap individually in newspaper and put into a shallow newspaper lined cardboard, cover with a sheet of newspaper, put lid on box, put on shelf in the basement. Check every few days and remove the ripe ones. For ripe tomatoes, freeze on cookie sheets, when frozen, then bag. Use in soups and stews all winter. Good Luck!! (10/23/2008)

By mklema92658
Ripening Green Tomatoes Inside
Put the green tomatoes in an open shady window to ripen. Temperture needs to be 75 degrees or above. (10/23/2008)
Ripening Green Tomatoes Inside
Put tomatoes on a newspaper stem side up next to the red tomatoes then they will ripen fast cause they oxidize against each other. (10/23/2008)

Ripening Green Tomatoes Inside
My Grandma has always told me that her Dad would do the wrappping and storing in a box in a closet and that they always had tomatoes up through the New Year. Now my Grandpa pulls his tomato plants up, leaving all the green tomatoes on the vines, and stores the plants hanging upside down in his shop through the winter where they ripen on the vine. Of course he keeps his shop just warm enough that they won't freeze. Both ways work. Good Luck! (10/26/2008)

By Jess
Ripening Green Tomatoes Inside
A neighbor told me to wrap the green tomatoes in paper and store down in the basement. He said I would have tomatoes up to christmas. I also brought in a load of tomatoes. Also the ones that are turning red, I wash, core, and cut out any blemishes and put in freezer bags and freeze. When you thaw out what you need the peels will come right off and they are ready to use in your favorite recipe that will be cooked. (10/30/2008)
Ripening Green Tomatoes Inside
When I had a house, I did the wrapping individually and putting in a box in the basement. This year my tomatoes were barely beginning to ripen, when we had a severe storm watch which included possible large hail. Anyway I picked all of the green tomatoes(not very many) on my patio and put them in a bowl in the kitchen, with absolutely no sun on them and they ripened beautifully. (08/31/2009)

By Joan