October 21, 2009
0

found this helpful
I have heard of that! That's do cool that it is working! I also heard you can get a head start on next years tomatoes by letting this years continue to grow in sand in the basement. I have never done it so I don't know & also never knew anyone who has done it. Wondering if it would!

neuroticmom
Bronze Feedback Medal for All Time! 115 Feedbacks
October 22, 2009
0

found this helpful
Don't forget though with those green tomatoes you can make green tomato relish and my families all time favorite Fried green tomatoes ~ they like those almost more than the red ones!

Grandma J
Silver Feedback Medal for All Time! 270 Feedbacks
October 23, 2009
0

found this helpful
I picked mine, left them outside in a Rubbermaid flat container. I had about 200 tomatoes. I covered them during the night, uncovered during the day. Then our rains began so I drained and made sure all were dry. Brought them in and sorted to flat Tupperware according to ripeness. You need to rotate for air. As time went on, I processed what I planned to, Green Tomato pickles were in my book, tried all sorts of things. The last green hard ones took about 3 weeks BUT in that time, I had no mold, just the tomato became less tasty and the skin became tougher.
So without must ado, I toss the last 50 out.
I made lots of green and red mix pickles from tomatoes as well. My grape/cherry tomatoes, little pear ones too, made pretty party pickle mix (Ball Book has great suggestions). Even if I did 1-2 jars, I tried it. I enter into the county fair and thought this was a great way to make some things I would not ordinarily do.

October 23, 2009
0

found this helpful
Hello what I usually do is to put the tomatoes in a brown paper bag and put them on the window sill where the sun is shining and they ripen pretty fast that way too. Hope this helped you too.

October 24, 2009
0

found this helpful
You can also place them in a small brown paper bag, close up and check every few day, not sure how this works but it does.

October 24, 2009
0

found this helpful
Last year we had a lot of green cherry tomatoes at the end of the season. I simply put them in a ceramic baking dish. That's all I did and they ripened on their own.
I didn't do anything else. Here is a photo of Oct. 25 2008, before they all turned red, which they did, but not all at once.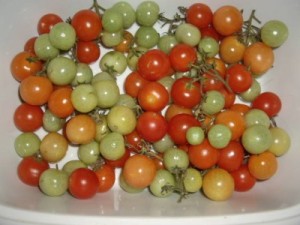 Joan
Bronze Feedback Medal for All Time! 174 Feedbacks
September 25, 2014
0

found this helpful
We tried wrapping the green tomatoes in newspaper when we were going away in September and still had loads of green tomatoes. I expected to find a box of moldy tomatoes when we returned, but to my surprise, they were ripening beautifully. We were still eating our tomatoes into December. We stored ours in a spare closet which of course was warmer than the basement, so maybe that's the secret.