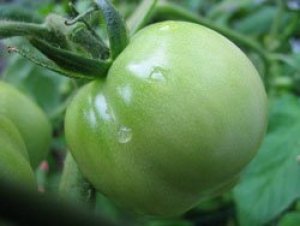 Selecting High-Quality Tomatoes:
Freezing radically alters the texture of tomatoes, but they can still be used successfully in certain recipes after freezing. Select firm, undamaged green tomatoes.
Preparing for Freezing:
Wash, core, and slice in 1/4 or 1/2 -inch thick slices.
Best Freezing Methods(s):
For Frying: To freeze green tomatoes for frying, pack tomato slices into containers and separate them with wax paper or freezer wrap. Leave 1/2-inch headspace. Whole, Peeled or
Unpeeled Tomatoes: Wash and core tomatoes. If desired, dip tomatoes into boiling water for 30 seconds and plunge into cold water to easily remove skins. Place tomatoes on cookie sheets in freezer. Once frozen, transfer to plastic bags, seal, label and freeze.
Strained Puree or Juice: Wash, core and cut tomatoes into quarters. Puree in food processor or run through hand-cranked strainer. Pack in suitable containers, seal, label and freeze.
Suitable Packaging:
Freezer containers should be moisture and vapor resistant and should not be prone to cracking or breaking at low temperatures. Containers should provide protection against absorbing flavors or odors and should be easy to label. Suitable packaging for freezing green tomatoes includes freezer-grade plastic bags, rigid plastic containers or glass containers and heavy-duty aluminum foil.
Maximum Storage Time:
10 to 12 months at 0ºF.
Thawing:
Thaw tomatoes in the refrigerator or at room temperature in a bag or bowl to contain juices.
Tips & Shortcuts:
Transfer tomatoes for frying directly from the freezer right to the frying pan for cooking. Letting them thaw first results in a loss of quality (and a real mess!).
Refrigerating Green Tomatoes:
Tomatoes should not be stored at temperatures below 50º. Store them at room temperature, stems down, wrapped individually in newspaper or layered in a box with adequate air circulation. Store for 3 to 5 weeks.