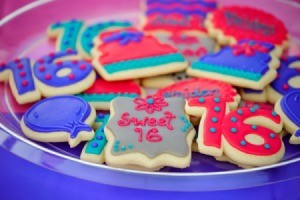 I am going to be 16 in December and I want ideas for my Sweet 16 party. I am going to have all girls ages 11 to 18 There will be about 18 to 20 girls. I live in a small town so there is not a lot to do here.
I want it to be big and fun. We are all dancers. Money is not a big deal seeing that my dad is paying for it. I have no clue what to do so help me. Lor
Answers
By SkiTaos (Guest Post)
July 28, 2005
0

found this helpful
Best Answer
Since you like to dance, you could use that for your decor. ideas and have each person bring a CD or tape of a favorite song and have volunteers teach a dance to the others, and rotate, dancing the night away!!
By anonymous. (Guest Post)
June 3, 2008
0

found this helpful
Best Answer
I'm having a sweet 16 party in December too. so far I have found.
Black and white, and you be the only one in color
Mocktail party, everyone dress up and have non alcoholic drinks served.
Color theme, pick and color and run with it
Fire and ice, all red and silver
Luau party, I know it's in December but all the more reason to have it. Everyone is sick of cold weather.
Hope I could help, :)
Answer

this Question

Well I'm turning 16 in December on a Saturday. I have ideas and it's going to be about 50 - 70 people ( I hope). I want a big party, but I'm not sure it's going to happen. I have no decorations or arrangements set yet. I usually plan very much ahead, but nothing is coming up so far. I would really need help for what I do. (My fave color is purple btw.)
By Camri
Answers

July 10, 2013
0

found this helpful
Best Answer
I'm picturing a deep purple, silver and white winter wonderland. Get some visual ideas from Pinterest. You still have time to do the decorations yourself and splurge on a DJ or good food.
What about a masquerade ball? I wish it was me, I have so many ideas.
Answer

this Question

So I will be turning 16 this December and I plan on going to a resort, but I want to have other plans just in case. I don't know what else to do. I love rose gold, white, and turquoise. I love going to the movies and I love to have a girls' day with me and my friends. Please send me some answers.
Thank you for reading.
Answers

Judy
Gold Post Medal for All Time! 677 Posts
August 26, 2019
0

found this helpful
Get your nails done and then go to the movies!

Pghgirl40
Bronze Feedback Medal for All Time! 196 Feedbacks
August 26, 2019
0

found this helpful
How fun if you are able to go to a resort! Wow!! That would be lovely!!
If not, it sounds like you have your day planned with your girls day at the movies.
Maybe you could start with a tea party (do you have any places that do high tea where you are--we have several that serve scones, tea sandwiches and petit fours and it is just lovely-you could have the petit fours done in your colors.
After tea, on to the movies, then after the movies you could go back to your house for snacks, open gifts, and maybe mani-pedi (rose, gold and turquoise polish choices) spa time.
If you were able to have a sleepover, that would be fun, then pancakes for breakfast the next morning and everyone goes home!
Post back what you decide! Blessings to you on your December birthday!

August 26, 2019
0

found this helpful
A resort sounds awesome!!
If not, you could have a small party for your birthday. A Breakfast at Tiffanys/ Tiffanys & Co. themed party sounds right up your alley with the colors and loving being with your girls.
You could do a DIY spa day with your girls and movie marathon. Do they have drive in theaters where you live? Thats always a fun option!
Or a spa night & a sleepover.
Do you have a party place that has bowling, games, and laser tag? If so, thats always a great option too.
No matter what you do, youll have a great time being with your girls! Hope you have a fabulous birthday!

Ana
Bronze Post Medal for All Time! 140 Posts
August 29, 2019
0

found this helpful
Mani/pedi,spa treatment,facials,shopping trip,Touring,special brunch!
Answer

this Question