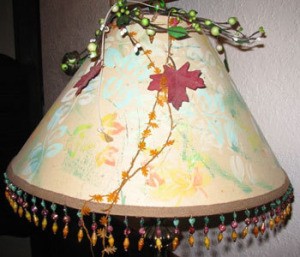 Outdoorsy looking lamp shades are a fun way to celebrate the great outdoors from the comfort of your easy chair! The fringe at the bottom is from a popular mega center and is hand stitched on to secure it.
I save my junk mail and trim it for deco hole punches, like you see hanging down the shade. They are tiny leaves that I carefully strung and then crocheted a chain stitch to make the cord which could be used for any number of things, like gift wrap.
The 2 bigger leaves, I found in my craft stuff and tied them to a plain cord by their stems. There's another crocheted cord that's harder to see that I handcut the small pink suede flowers by hand then strung on cord and crocheted.
There's also a piece of green glass junk jewelry clipped to the top that was once part of a pair of clip on earrings.
The stamps I used came from a dollar store and were like a foam stamp pad and the paint is rubber stamp ink pads of various colors.
The leaf/berries at the top with stems is another dollar store find and was intended for use with a candle. The possibilities are endless when you decorate with nature!
By melody_yesterday from Sedalia, MO