I have been cleaning one of our junky drawers in the dining room. Among the interesting things I found in there was this light switch plate, and a stamp from a toy long forgot.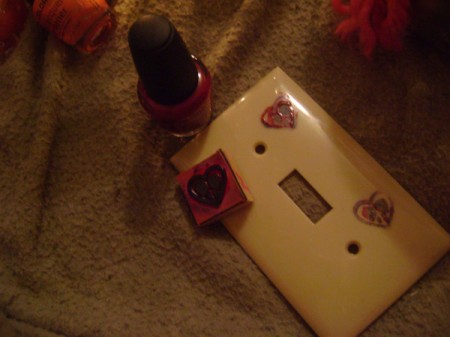 I went and got my fingernail polish and painted the heart on the stamp.
Then I pressed the stamp onto the light switch plate. When it dried, I covered it with clear fingernail polish.
I would rather have used acrylic paints for the stamp but I didn't have any. I feel reasonably confident that I could have painted an apple with red acrylic paint and the stem, or pumpkins. :)
I liked the way it turned out. It would be a fun craft with paint pens or other types of fun ways to paint. I wanted to try putting some old tattoos on this switch plate, but I didn't get to do that.
I love fall colors!