A really good thing to do these days is to run extension cords in your guests bedrooms/personal space in order for them to easily charge the vast array of electrical gadgets such as cell phones, digital cameras, laptops, etc.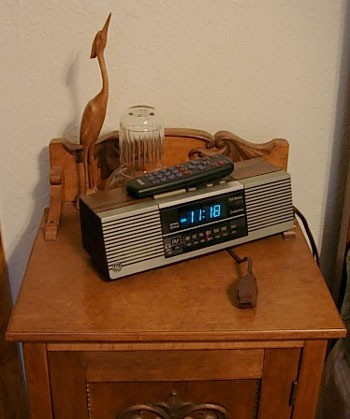 Read More...

I'd like ideas for brightening up a spare room which is occasionally used as a guest room. It has the basic bedroom setup, but needs some simple, inexpensive, easy to maintain decor. Thank you!
By Carly K from Winona, MN
Answers

August 9, 2010
0

found this helpful
I let my family, in particular hubby, decide what the rest of the house is like, but once all the kids left, I use one bedroom as a guest room/sewing room. I left the walls as is, a neutral color, but the decor is more like what my grandmother had in hers, I have an old dresser that I use as my computer table, and an old Singer sewing machine table, minus the old machine, that I use for my new sewing machine.
I had been buying doilies, afghans, old quilts, old table cloths, pillowcases, etc for years at flea markets, garage sales, etc, and now use those to decorate my guest room. I just make sure there are empty drawers and some hanging space in the closet for guests to use, and save all of the free samples of personal products that come in the mail, and other items a guest may need, like small sizes of headache relief, toothpaste, etc, collected in an old basket on the bedside table.

August 9, 2010
0

found this helpful
Great suggestion! No matter how beautiful the room, if it isn't comfy and user friendly it's just not right! Thank you.
Carly K

August 9, 2010
0

found this helpful
Something I will be doing in my den might be an idea for your guest room. I've bought a lovely stencil (leaf with swirl design around it) which I will paint in various spots on the walls using a farily dry brush. Simply dab the paint into the stencil design. You could use a contrasting colour or a different hue of the same colour.
My den will be a shade called Sun-Dried Tomato and the stencil will be painted in a colour that is next to it on the paint chip or maybe I'll go completely different. Time yet to think about it.

August 9, 2010
0

found this helpful
Be basic and neutral when designing, yet eligent, because you really don't want to insult guests who are male with frilly girly room when its obvious he is the only guest maybe some mix of both male and female colors. A sturdy bed with a white ruffle would not be bad. A couple nature pictures of fawns, and adult deer for the hunter and the dear girl friend, or mother. Make it personal with a plack on the door that says Carly's guest bedroom white and green only paint. Well good luck!

August 9, 2010
0

found this helpful
Thanks to all who responded! Your ideas and suggestions are very helpful, you've inspired me to get moving on this.
Carly K

Allison
Bronze Feedback Medal for All Time! 231 Feedbacks
August 13, 2010
0

found this helpful
I once took an old decorative picture frame that didn't have a picture in it and put part of a fabric remnant inside it. I stapled it from the back and it made a nice piece of art to hang up.
Answer

this Question
This is a page about preparing your home for guests. There are many ways that you can prepare ahead of time for having guests stay at your house.
Planning ahead will reduce stress and help make your guests more comfortable.