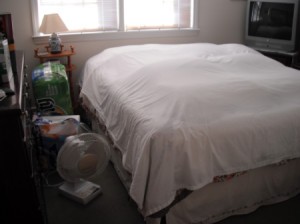 After washing the dusty spread on the bed in the spare bedroom, I thought about using one of the extra sheets, I have accumulated, to cover the bed to keep it from getting dusty.
It works well. This not only keeps the bed from getting dusty but the bed has become a great place to store all the extra pillows I have on hand for family when they all come home.
You might think that room is not used but unbeknown to my children, it becomes storage space for me which helps in keeping the rest of our small house tidy.
When getting the room ready for company, I take everything out, that does not belong, and put it out of sight on the treadmill which does not get used while they are here. Then I vacuum, dust and remove the cover sheet on the bed and I am ready for guest.
If needed, I wash the sheet before I use it again to cover the bed and pillows. It is much easier to wash than the spread.