If you are looking for an economical, durable way to line your cabinets and drawers, then I would suggest the self-adhesive floor tiles you can purchase at local dollar stores. The material is easily cut with scissors and easy to apply. It also cleans easily with a wet rag when needed. Since it comes in different colors, it is easy to match your decor. The best part is that it lasts for years, but can easily be removed if needed.
By onesoutherngal from MS
March 26, 2007
0

found this helpful
Use linoleum leftovers to line your sink base cabinet and oven drawer for easier cleanup. You can even use linoleum pieces in cabinets instead of shelf paper so spills can be cleaned up easily.
By Sallyd from Pottsville, PA
June 23, 2013
0

found this helpful
Scented drawer liner paper keeps your clothes smelling wonderful. Buying it can be expensive and you may not find a fragrance you like, so make your own.
This is a guide about how to make your own scented drawer liner paper.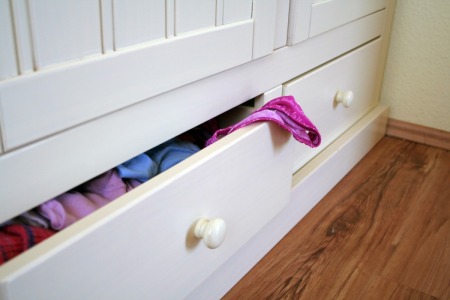 Has anyone ever tried to line drawers with wrapping paper or wall paper? If so, I'd like to know how well it worked. I have been trying to find suitable drawer liners, but the only ones I found are adhesive or rubberized which are expensive for lining a lot of drawers.
By Ro from Covington, KY
Answers
April 24, 2010
0

found this helpful
I use wall paper as it is heavier then wrapping paper. Often local paint stores that carry wall paper will have rolls that are discounted either because they are discontinued or left over from builders. Some wall paper is washable for drawers in bathrooms or kitchens. Make your pattern out of paper before you try to put the wall paper roll in the drawer or you will drive yourself crazy. Good luck.
April 24, 2010
0

found this helpful
Yes I also put left over wallpaper in my bathroom drawers. It works very well. Be sure to measure them before you start, good luck.
April 24, 2010
0

found this helpful
Wall paper works great, plus you can get discontinued patterns for so cheap. I am even seeing higher end furniture using wallpaper to line the drawers as a selling feature. Go for it!
April 26, 2010
0

found this helpful
I've never tried this but it sounds beautiful, and I think you'd only have to cut the paper to fit the drawers. The thing I worry about is the paste on the back of the paper. Would the glue attract bugs? I don't even know if they use paste anymore. Good Luck!
April 26, 2010
0

found this helpful
I have drawers and cabinets lined for many years with wallpaper. It's great! Easy to wipe up, too.
Lay it out, measure, cut, re-roll in opposite direction and lay down - don't glue! I used leftover paper - bought way too much! Enjoy!
April 27, 2010
0

found this helpful
I lined my drawers and cabinets in my kitchen about 10 years ago with wallpaper, and it still looks great! Linda :o)
April 27, 2010
0

found this helpful
Believe it or not, I used cheap floor tiles from the dollar store to line my kitchen drawers, cabinets, bathroom vanity, dresser drawers, linen closet shelves, etc. I got the no wax oak for my kitchen and bedroom, no wax marbelized for my bathroom and linen closet and when a spill or drip occurs in the bathroom it just wipes up like a charm. I will never use shelving paper, wallpaper or wrapping paper again.
January 26, 2016
0

found this helpful
Yes use it all the time. I use gift paper from hobby lobby. They have beautiful colors and patterns.
July 15, 2016
0

found this helpful
Yes, it will! Roaches love to eat the glue! That's why I'm looking for an alternative that doesn't involve adhesive products.
January 21, 2017
0

found this helpful
I paint a lot of old furniture so what I do to spruce up in the inside of the drawers is stain them like this http://tinyurl.com/j7luqa6
November 16, 2017
0

found this helpful
What dollar sells those? Ive never seen yhem in my dollar store
Answer

this Question

...
What can I use to line dresser drawers, instead of buying expensive drawer liner?

By Maplesugar
Answers
January 24, 2012
0

found this helpful
Best Answer
You can find inexpensive (read cheap:) shelf liner and contact paper at the dollar stores.
You can also cut up old bed sheets to fit the drawers, or use tea towels. The advantage is that your stored items don't 'slosh' around in the drawer, and you can take the fabric out and run it through the wash when it's got grungy.
Answer

this Question

...