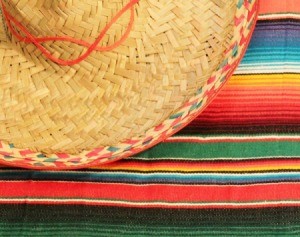 I have hit a decorating dead end. I own a tanning salon and I am in the process of adding another room for airbrush tanning. So because of the solution overspray situation I need to stick with a dark color. I have decided to go with a Mexican theme. Dark brown (terra cotta) color or green walls? I've already purchased some Mexican theme wall prints. I'm not sure if I should texture paint the walls. I also need some ideas for more unique decorating ideas to pull the theme together. The room is 9'-10' w/no windows.
Thank you in advance for any replies
Sunchic
Answers

January 26, 2005
0

found this helpful
I'm not sure about texturing, although I think it fits with the theme. Have you tried the Oriental Trading Company or a local party store? You might be able to find some reasonably priced decorations there.

January 27, 2005
0

found this helpful
If you could find one of those big, colorful striped Mexican-style blankets, that would help pull the room together. You might even be able to find some that are washable.

Jo Bodey
Bronze Feedback Medal for All Time! 104 Feedbacks
January 27, 2005
0

found this helpful
What about a couple of large 'cacti' about 5' tall. Cut some cacti outlines out of thin board with a jigsaw and paint. Attach a stand to the base at the back so they stand up right - and hang a sombrero or two on them. Or attach them to the wall - or just paint them straight onto the wall away from the 'spraying area'.
Regards
Jo
By ATM (Guest Post)
January 27, 2005
0

found this helpful
Here's my perspective as a designer: Darker paint color is practical, but go with the terra cotta color, not green. Dark green is oppressive without sunlight, so terra cotta would be a better choice for a windowless room. Avoid the texture paint -- you need to be able to clean the walls occasionally. Plus, you can never get rid of the texture once you put it on. Figure out which wall will be the focal point of the room, (probably the one facing the door), do something high impact on that wall, and do very little on the other walls. It's a pretty small room, so avoid clutter and don't have decorative items on the floor -- just the walls. I would suggest: a large, tonal mexican blanket hung on the focal wall for maximum impact, and mexican prints to take up the "blank space" on one or two other walls. Make sure the prints, blanket, and paint colors work together (lay them all together and look to see if anything clashes).
By Crystale (Guest Post)
January 27, 2005
0

found this helpful
it would be really cute if you could find some sombreros and a stamp of a chili pepper, putting these together with the cacti and painted walls are a sure fire way to start a fiesta!
Read More

Answers

I am remodeling my kitchen and want to do the decor in a Mexican theme. I would like some suggestions on what colors to go with on the counter tops, cabinets and wall/trim paint.
Joni from OK
Answers

August 9, 2004
0

found this helpful
Hi, My sister lives in El Paso TX and has quite the "mexican theme" to her kitchen. They have many Mexian friends and additions to the family now. Anyway, depending on your "cost allowance" here's some ideas. For walls, stay an off white more to the brown like ivory or eggshell. It's the easiest to go with and most are like that. You'll see that in Mexican restaurants too. Now for courntertops.. they did a smooth formica kind of thing (no bumpy stuff, too hard to clean all those little grooves for a kitchen daily) corian (sp?) is great but expensive, either way a sand look or very slightly marblised pattern is great.
They got 4 marble tiles (cheap at home depot) and inlaid them into the counter for a work/ cutting area. It's gorgeous. Trim, either dark, or go with the red and kelly green. (keep chilli's in mind) for accents use the yellow's. More, try to keep it plain and use the accents - chilli salt n pepper shakers, pottery, and plants if your area allows it. I could go on for hours and wish I could talk w/ you about it, but? for now, I hope this helped a bit. Basically, think sand and chilli's and you will be fine. Good luck!!
By Tawnda (Guest Post)
August 10, 2004
0

found this helpful
You're not Margo's friend Joni are you?
I have several Mexican friends and they LOVE bright bold colors. Do your walls in softer colors and use other things to accent in bright bold colors, or if you aren't afraid of a lot of color, pick two or three colors and paint your walls or cabinets, table, etc. You can find plastic chili peppers in bundles at Walmart near the silk flowers and fruit.
Hang those on your wall or across your window, etc. In the Mexican food section at a lot of stores they sell dried peppers and you can string those together for the real thing. Buy tera cota pots and paint cactus plants, chili peppers, etc. on them. Plant herbs in them if you can. So many ways you can go with a Mexican theme.
By Chenell (Guest Post)
August 12, 2004
0

found this helpful
I would stay away from anything too "kitchy" or "cute"...after a few months, you amy want to change it up a bit, but you'll be stuck.
Countertops/Floors-terracotta tiles are expensive, but are SO mexican in a timeless. beautiful way...contact local tile retailers and wholesalers and ask the to save broken terracotta tiles for you...they can't sell them anyway, and if you're very sweet about it, they'll be happy to oblige. You can also request any broken hand-painted or imported tile.
Once you have enough to cover the countertop (or floor), sand the formica surface lighly, then slap on a coat of primer (no one will see this, so it doesn't need to be a work of art.Break all the larger pieces with a hammer, apply tile adhesive to the counter top (and perhaps the back of the tile) and arrange your mosaic...random is good, because it's easy...don't overthink it...you WANT rustic imperfection! Let the adhesive set, grout with dark colored grout, and seal the whole thing SEVERAL TIMES with sealer. If your countertops are straight, buy a simple piece of moulding and trim the edge with it. If they're curved, you can use iron-on wood veneer to trim the edges.
Windows-use simple bamboo/woodstick blinds. If you're itching for kitch, you can hang chili pepper string lights as a valance...fun, cheap, and easy to remove when you get sick of it.
Walls-Borrow a mere cup or two of paint from a friend who's wall color you admire (almost anything will work with the terra-cotta tile), make a very watery mix (3 or 4 to one) for a rustic, sheer, pretty finish. Use a large sponge, and just swoosh it on. Again, don't overthink. You want imperfection. I personall prefer just a freah "designer's white", but color choice is so personal!
Thrift shop for dinnerware that says "mexican" to YOU...don't worry about authenticity.
I could go on forever, but I'll stop here. Have fun!!
By Eric (Guest Post)
November 28, 2004
0

found this helpful
I have been thinking of altering the exterior look of my home to give it a German Theme appearance.
Where does one begin searching for architectural ideas?
I own a small one floor bungalow.

November 28, 2004
0

found this helpful
Eric,
We added this as a Reader's Request:
By Paula Rangel (Guest Post)
February 20, 2005
0

found this helpful
painted yellow with blue put saying from the heart like comadre saying just make it look from your soul I have my kitcken is yellow and blue I have saying on signs wood that I have made anyway my email is comadechingona @yahoo.com might want to look at becerrastudios.com also
Read More

Answers
I am thinking of decorating my rec room with a Mexican theme. Can you give some tips and how to's on furniture color and accessories that are somewhat inexpensive.
Thanks
Michelle
Answers

March 11, 2003
0

found this helpful
You don't mention what part of the country you are in, but if you're anywhere near Mexico, cross the border and get a bunch of serapes. They're usually about $10-$12 (haggle, haggle, haggle). These are great to throw over the backs of couches, ottomons and for use as table covers. Check ebay and see if anyone is selling some.
My friend did her whole house in a Mexican flavor and here are some of her ideas: check out a local Mexican restaurant that has "theme" furniture. My friend found two great chairs and a table from their cocktail lounge that had seen some wear (they're leather, so it looks good), but were still in great shape. They were getting ready to change out the furniture and sold them to her for next to nothing. Also, big paper flowers on your iron valences (you can get adjustable ones at Ikea or Target) look great, even if you have mini blinds or some other "non-theme" window covering. I would personally use a plain shade that can be lowered at night for privacy and use an iron rod draped with a bright serape/blanket. Tuck a couple of paper flowers in the ends to give it a little more punch.
My girlfriend had a plain wooden armoire for her TV, so she painted it herself in a flowered motif similar to Mexican pottery. She included her pets in the painting and it looks great! You can do a sunburst, or some other type of Mayan decor. Check out the web under "images" and see what pops up that piques your interest.
She went all out and re-textured her walls herself for a rough, stucco finish. Her husband laid pavers inside. Outside, they had a plain cement patio, so she cleaned it really well, painted it terra cotta and drew on lines in a pale mustard color so that it looks like pavers. It really does look good! You could pull up your carpet and expose the slab for the same kind of look. Or keep your carpet and lay a bunch of the serapes as throw rugs.
Strip your current coffee table down to bare wood or check the thrift stores for one that will work. You can paint a flower motif like your armoire if you like, or leave it bare. Iron standing candleholders and an iron chandelier or sconces would be great.
Start your succulent collection and use them around the room as decor. Cactus is hard to have inside, but succulents need bright indirect sun, so they're good indoors. Bright Mexican pottery (good drainage is necessary so drill holes in the bottom if they're not already there) is a great accent.
If you have a plain couch, you're set. Otherwise, make or buy a plain slipcover that you can accent with blankets and throw pillows. A wooden futon frame is great, as the rustic wood fits in well with the decor.
Have fun!
Pam
Answer

this Question