Delilah and Scarlett, are both German Shepherds. One is 9 years old and the other is 18 months. I bought Delilah as a pup in 2000 and Scarlett in December 2007 as an eight week old puppy.
Delilah likes to think she's in charge of Scarlett, even though she isn't her mother. Scarlett seems to think Delilah is her mother as well! They love to go chase rabbits at the nearby park, and as we live in small country town there are lots to chase, but they never catch them!

They are spoiled beyond belief, and absolutely inseparable. They are the most lovable pets imaginable and adore children. Scarlett loves to sleep along the end of the bed.

By Lynn from Drysdale, Australia
Answers:
Delilah and Scarlett (German Shepherds)
How beautiful you babies are! We have among our dears two German shepherds, one is Shadow, a 2 year old Black German Shepherd, who is still all puppy, and Dutchess, a tan German Shepherd who is too graceful to act like a puppy at 3 and a half years old. They are our darlings! Yours look so happy here in this photo. I am sending photos of our dears, too!
(05/11/2009)

By Robyn Fed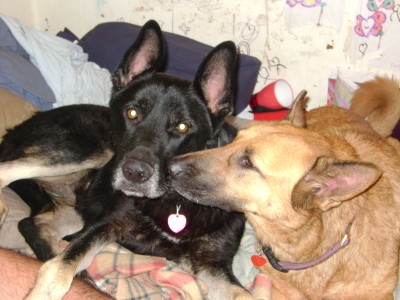 Delilah and Scarlett (German Shepherds)
Your girls are so pretty! I'm so glad that Delilah "adopted" Scarlett and that Scarlett let her. Thanks for sharing them with us and God bless you. (05/13/2009)

By tedsmom
Delilah and Scarlett (German Shepherds)
GSDs are the greatest! Your girls are gorgeous! Kato is almost 12 yrs. old and is a long haired German Shepherd. He's great with the grandkids and is our best buddy.
Grandma Jan and Kato the Wonder Dog (05/13/2009)

By javajano