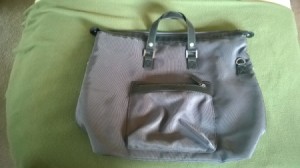 I am always finding great deals at thrift stores. Mostly craft items and housewares. But once in a while, I will find things that are "over the moon deals!"
Just before a recent visit to a friend in Missouri, I dashed into the local Goodwill for a bag I could fit in the overhead compartment. I didn't have much time so I just grabbed something I could afford. It was 3.99 and the right size, with a strap that would fit over my shoulder.
Not until I went, came back, checked it under a bus and got it home that I realized it was a Giorgio Armani. The bag I just spent under $4.00 for was worth $275.00.
Yes, I am going to try and sell it for at least $100.00 but, even if I can't, it will be another example of the wonderful deals we find when we look and even when we don't!