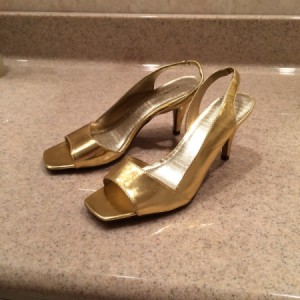 Whenever I shop, be it retail or thrift, I always have my eyes open for a great deal on formal wear. If you wait until you get an invitation, you have limited time to shop and will likely spend top-dollar.
This past summer the local church thrift shop had a half-price sale. Dresses are usually $5, so the lovely brown dress I bought was only $2.50. It even had the dry-cleaner's bag on it. I had no place to wear it, but it fit so well and the price was so low that I bought it anyway. I already had a gold bag purchased for next to nothing, but needed gold shoes. A few weeks later, a thrift store chain opened up a branch near me. If you downloaded their app, you got a $10 credit. I went on a half-price day, and found a brand new pair of gold shoes for $19.99. Since it was half-price day, they were marked down to $10, and I used my credit.
My husband's company merged with a new firm. For the first time since he has ever worked, there is going to be a fancy Christmas party at an exclusive country club. I will happily wear my $2.50 outfit, and no one will be the wiser!