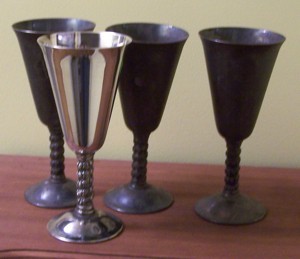 Look for the "silver" lining in that dark cloud. As a thrift store junkie, I don't know which I like more, searching out treasures or finding them at a rock bottom price.
Here is a photo of my latest surprise find. I purchased these four chalices at a Salvation Army Thrift Store last week. They were grimy with grease and dust, not to mention tarnish. They were so black that I could not tell whether they were brass or silver. But each one was very heavy! Marked at 50 cents each, I took the plunge and bought them.
I could hardly wait to get home and begin working on them. Much to my surprise and utter delight, I found silver underneath all the grime and tarnish. I took the photo of the first chalice that I polished to show what was found in comparison to what I had purchased.
I absolutely love silver and using it when I entertain. When you go to a thrift store, look for that "silver" lining in that dark cloud like I did. Believe me, it took an abundance of elbow grease to polish these, but the end result is well worth it!
Source: Me - looking for that diamond in the rough!
By Lee from Jesup, GA
April 5, 2006
1

found this helpful
I like to look for deals on jewelry in thrift shops. Years ago silver was an inexpensive metal, so there is actually silver jewelry which ends up there. You can tell it is silver rather than nickel by the distinctive smell of the silver oxide. (Put your nose to something silver you have at home to recognize the odor.) I have gotten a beautiful silver bracelet (which was black with tarnish) at a thrift shop for $1! (the better sterling silver pieces also may be marked as such.)
By Pam from L.A., CA
Comments
By Ellie (Guest Post)
April 5, 2006
0

found this helpful
Top Comment
Hey, someone who likes doing as I do! I found a heavy 'knot' sterling silver ring in our local thrift shop. It was in a basket with tangles of beads etc, and I got the ring for only 50 cents!
Also don't forget garage sales. Sometimes someone wants to get rid of Grandma's 'junk' jewellery without knowing it's worth. My friend Shirl was at a garage sale and saw this big, intricately carved silver locket on a chain. She asked the vendor about it and he said she could have it for $15. She had a feeling it was more valuable than that, so she bought it for the $15 and later took it to a jeweller for appraisal. It turned out to an antique locket from the Victorian period and worth around $800! What a buy!
June 5, 2010
0

found this helpful
Top Comment
Carry around a small magnet. Real silver is not attracted, base metals are. This also works well travelling overseas where vendors may try to sell plated instead of pure silver.
Do not be fooled by a clasp saying the percentage (could be only the clasp that is silver).