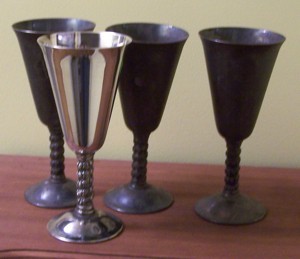 Look for the "silver" lining in that dark cloud. As a thrift store junkie, I don't know which I like more, searching out treasures or finding them at a rock bottom price.
Here is a photo of my latest surprise find. I purchased these four chalices at a Salvation Army Thrift Store last week. They were grimy with grease and dust, not to mention tarnish. They were so black that I could not tell whether they were brass or silver. But each one was very heavy! Marked at 50 cents each, I took the plunge and bought them.
I could hardly wait to get home and begin working on them. Much to my surprise and utter delight, I found silver underneath all the grime and tarnish. I took the photo of the first chalice that I polished to show what was found in comparison to what I had purchased.
I absolutely love silver and using it when I entertain. When you go to a thrift store, look for that "silver" lining in that dark cloud like I did. Believe me, it took an abundance of elbow grease to polish these, but the end result is well worth it!
Source: Me - looking for that diamond in the rough!
By GeorgiaBulldogsFan from Jesup, GA
Read More

Comments