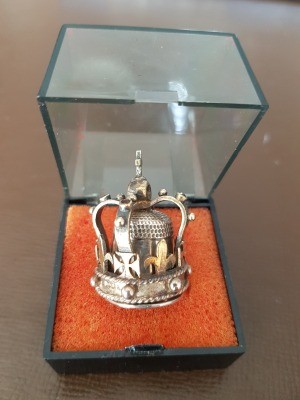 During a lockdown sort out I've come across this silver thimble that my nan gave me many years ago. I can only find information on one website which I need to subscribe to obtain a value. This site did give me the following information.
"Rare item. Solid silver English hallmarked thimble and crown cover combination in presentation case. The thimble is plain silver with '1952 E II R 1972' engraved to the side. The crown has a plain silver base with a gilt finish to the remainder, the detail includes fleur de lis and there are four red gemstones on each of the shoulders. I am not sure what they are, possibly rubies or garnets. It is topped with a cross. The thimble bears the makers mark 'TPC', the lion denoting sterling silver, and the panther's head for London. It is about 2.2 cms tall, 2.1 cms diameter, and weighs 8.3g. The crown also bears the makers mark 'TPC', the lion denoting sterling silver, the panthers head, and the date letter 'c' for 1977. It is further hallmarked with the additional duty mark to commemorate the silver jubilee. About 3.2 cms tall and 2.4 cms in diameter and about 10g in weight. It is in the original case with the label attached underneath with the words 'THIS SILVER THIMBLE AND CROWN COVER IS ONE OF A PRIVATE EDITION OF ONLY 200 DESIGNED BY JENNIFER M YOUNG TO COMMEMORATE THE SILVER JUBILEE OF HER MAJESTY QUEEN ELIZABETH II LONG MAY SHE REIGN'. Red felt base"
Any help with the value or any other information about this thimble would be very much appreciate.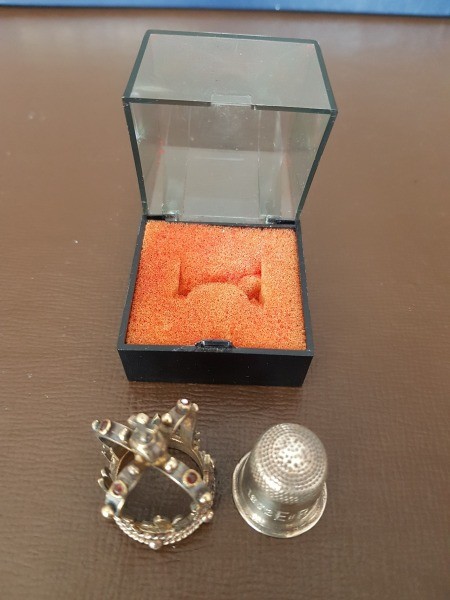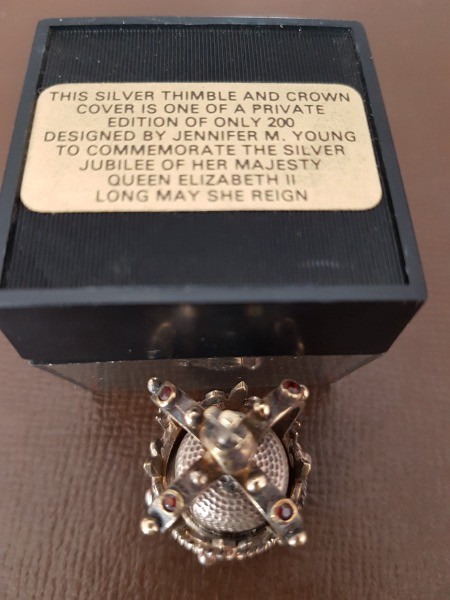 May 24, 2020
1

found this helpful
Best Answer
I would advise you to NOT take this free trial as things like this can be disastrous and this company has had problems with charging when the trial period was ended using statements like; "need 3 days to cancel payment order".
Never - ever - give bank information (not even debit card or you may have to lock that card). If you have access to a card that expires in 7 days then okay to use.
But - this is the only site that seems to have information about this thimble.
www.worthpoint.com/.../silver-jubilee-solid-silver-gilt...
This is a sort-of forum so someone on this site may have information.
You might try asking for a free appraisal but most of these sites will not provide information on any item valued less than $500 and I have no idea as to the value of your thimble.
Still - it doesn't hurt to ask and someone may be interested in looking at this item.
www.whatsellsbest.com/.../collectibles.html
This site charges $20 but good appraisals and if you plan to sell for very much money you will need an appraisal.

May 25, 2020
1

found this helpful
Best Answer
Personal appraisals can be nice but as a general rule (with something like this) they have a program that takes them to an appraisal site (could be one of the free ones listed) and then they provide you with whatever the company sends to them. Of course, they have to pay the appraisal company an annual fee for their services.
The most important first thing if seeking a local appraisal is to ask - up front - what type of certificate/license do you have - what is the total fee and will I get professional pictures?
With an item like this - some jewelry stores have appraisers (they may be independent - not actual employees of the store but only rent the space in the store) but they will have the proper certificates/license.
Please let us know what you learn about this neat item.