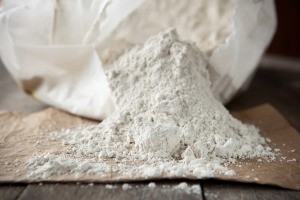 Food Grade Diatomaceous earth will kill fleas, ticks, bed bugs and almost any other insect. If taken internally, it will also rid your dog of worms and parasites. It must be FOOD GRADE not the kind sold at pool supply companies.
You can dust it on your dog to kill fleas instantly, put it in your yard to treat it, and can also treat bedding and any other areas in the house.
I took in a dog that was on death row at a shelter to foster and he had ticks and fleas. We dusted his entire body with the Diatomaceous earth and within hours he was bug free. At the same time our 12 yr. old German Shepherd had bad worms and the Vet wanted him to take 3 type of medications that cost over $150. I started our GSD on D.E. (Diatomaceous Earth) and at 4 weeks his stool sample was clean and no signs of worms. The Vets office was shocked.
My husband and I also take it daily as 85% of people have parasites.
This site has a lot of information on using D.E. for both humans and pets. You can buy it anywhere as long as it is FOOD GRADE. I purchased PermaGuard D.E. as it was considered one of the best. I make no money from any of these sites.