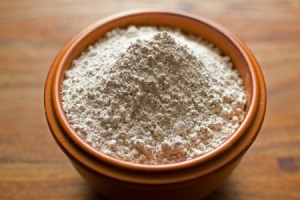 We had a flea problem inside and outside our home. A friend of mine gave me a bucket of diatomaceous earth or also called DE. She bought it from the local feed store.
My friend uses it on her livestock, as well as, in her food to keep her wheat berries that she grinds in her mill pest free. It coats the wheat berries, but since it's food safe it's okay that she consumes it.
Make sure the kind you buy is food safe. Some pool companies sell it, but that is NOT the kind I am talking about. When you touch it, it feels like chalk. Its abrasiveness is what kills fleas, ants, cockroaches, and more. It dries them up from the inside out! It is not a chemical and is safe to use in the garden as well!
It is recommended that when you use it wear a mask to avoid breathing in the dust.
How to use: I reused an old baking powder container as it had tiny holes in the container. I sprinkled it lightly into our carpets to let it settle down and then let it sit for about 15 minutes. Then, I vacuumed it up. Don't worry about trying to get it all out. The DE will work its way down into the carpet fibers and there will do its work. Anytime a pest comes into contact with it, it will dehydrate them.
One application lasts about a year. It is safe around pets and children. We have not had a single flea found inside or outside our home since. I also used it around our home to get rid of the many ant hills in our yard.
Because it's also food safe, I sprinkle about a half teaspoon in our cat's food dish. When they consume it, it also kills internal parasites.
I called the feed store to see how much it was and they sell a 50 pound bag for $20. It may vary in your neighborhood, but just to give you an idea. The bag she bought has lasted her 7 plus years and the ice cream bucket size she gave me hardly looks touched. A little bit goes a long way.
DE has many more uses. Go here to read more about it. This link (of which I am not affiliated with) has good information: wolfcreekranch
By tasana from MO
Read More

Comments