Disposing of Old Cars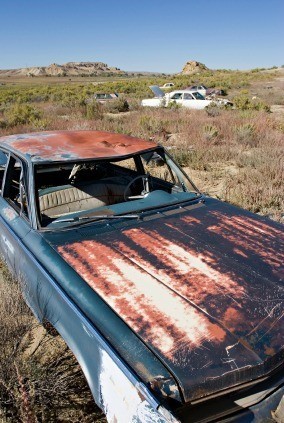 First, let me say that metal is money. Don't throw it away just because it looks bad. That said here are a couple of options.
Haul the car or metal to a metal recycling location. You can probably find one using Yellowpages.com for your area.
Look on Craigslist and see if someone has posted an ad to buy metal. You may not get as much if they are hauling.
Call the recycling place to see if they pick up or have names of people who do.
Post your metal on Craigslist for sale.
Check local papers (trade/news).
Ask friends if they know anyone who deals with metal.
If the car is old enough, someone might buy it to restore. Post it for sale on Craigslist or a "car" site (google the type of car followed by the word CLUB). This applies to old motorcycles too.
By Suntydt from Tazewell, TN
Read More

Comments
7 Questions
Ask a QuestionHere are the questions asked by community members. Read on to see the answers provided by the ThriftyFun community or ask a new question.
I'm trying to get rid of some cars that are junk cars at my home. Neither of them run but they are good for parts. I live in Fresno, California. Can anyone help?
Yvonne Garcia
Answers
June 17, 2003
0

found this helpful
Check with non-profit organizations like Charity Cars...but I think they might only take runners.
Check with any local junk yards or pull-a-part facilities to see if they will give you any money for your parts-cars.
Try doing an online search for the model you are getting rid off for any forums or websites you might be able to list on.
Also try ebay. But I think they have a $40 chg. I don't remember because we haven't put our scout axles on it yet. Read all of their fine print first to figure out if you need/want a reserve set or not, etc.
June 19, 2003
0

found this helpful
Some local papers have a free ad for items to recycle. You might be able to get rid of them that way. I talked to a local auto shop and they took two cars off my hands. They usually have the equipment to tow them so for them it is much easier to either fix them or sell them for parts.
Susan
August 6, 2003
0

found this helpful
My husband had several non-running cars in the yard which he was going to work on and going to work on. We finally received a notice from the City that we had to get rid of the cars or be fined so we had to act fast. He went through the phone book and called several Auto Parts shops. Finally, one of them said he would pay $25 per car if it was running. If they weren't running, he would tow them for free but would not pay anything for them. Although we didn't receive any money for the vehicles, it saved us money because the only other shop willing to take them off our hands wanted to charge a $75 per car tow fee. Of course, if you have time, you could place a "For Sale" sign on the cars and see if anyone is willing to pay anything for them. If these suggestions don't help, you may want to talk to someone at your City Hall to see if they have any insight as to how you can dispose of the cars.
Good luck!
August 9, 2003
0

found this helpful
We have had a few cars and trucks that were not running, (I saw also an eye sore), We found a charitable company to take then (even if they don't run) VOLUNTEERS OF AMERICA 1-800-552-1515 And the bonus is thats a mighty fine tax deduction come tax time! Good luck to you!
- the artsyfartsymom : )
September 19, 2003
0

found this helpful
Yvonne,
I'm not sure if you still have your junk cars or not, however, I just ran across a site which may be able to help you or others with your same problem. It is DonationLine.com and they accept "autos, trucks motorcycles, vans, commercial vehicles, jet skis, snowmobiles, motor homes, buses, and even boats. It doesn't even have to run. [Just] remember that you must have clear title in your possession." The benefit for you? You receive a tax deduction based on the "Fair Market" value, which may help you save on the taxes you owe Uncle Sam. And there are 158 charities from which you can choose, so you should be able to support a cause in which you believe.
By kay winters (Guest Post)
September 16, 2008
0

found this helpful
In our area, Jackson,MS, top dollar is being paid for junk cars. usually around $300.00! Call your local scrap yard, may be they can connect you to a person to haul the cars and split the profit.
April 27, 2009
0

found this helpful
I would suggest the Salvation Army, Goodwill, charitable places like that.
April 27, 2009
0

found this helpful
The donation of the vehicle MUST be able to be used in some manner. Donations to Good Will and Salvation Army must be able to be used and driven. It must be street legal (no missing essential parts or additional illegal ones.)
Also, in order to donate and be able to take it off as a tax donation, there IS paperwork that must be done. There is the FEDERAL FORM 1098-C that is for motor vehicles, boats and airplanes.
We donated a pickup to the local tech college, we had forms to fill out when donating it, current license tabs (IN MN) are required, as you change the titles over as a donation. The copy value from the Blue Book was used and what value is listed. Transactions complete we were then given a full receipt from the recipient along with the Form 1098-C, signed off from them. This has to be attached to your federal tax return.
THEN a percentage of the Book Value can be used, XX % $$ to a certain point, and then additional in each level as the value went higher. Your tax person will know what to do.
Would suggest you find a recycled steel or car parts and go this route--less hassle.
Read More

Answers
I have an old 1990 Toyota Corolla sitting in my yard with a blown engine. I'd really like to just get rid of this thing, not sure anyone will buy it. Does anyone have any recommendation on scrap car removers in WA?
By Nancy from Seattle, WA
Answers
July 15, 2010
0

found this helpful
I don't know of any in your area but here you can donate cars to several organizations that refurb them for needy families. Maybe you could check with a local Salvation Army or Veterans organization. Or advertise on craigslist or freecycle, someone may want to put another engine in it.
July 16, 2010
0

found this helpful
Old Toyotas are very popular with young guys who like to customize them. In our nearby city we have a club of young men who do this. They are usually more interested in trucks, but there are likely lot of usable parts on that machine. These guys prefer old ones. My son has owned 4 Toyota, all old (two from 85, an 98 & a 93). Google something like "Toyota drivers" to see if you have a similar club, or just advertise it on something like Kijii asking for "best offer". Someone will take this off your hands, it isn't worth a bunch, but it is worth something.
July 16, 2010
0

found this helpful
Get online and contact NPR. They'll take anything and will also handle all the paperwork free.
July 17, 2010
0

found this helpful
Used to be high schools auto shops would take junked (but not wrecked or burned out) autos for the kids to work on. If they do not do that anymore, check the Times, or whatever paper is there now. You can either put an ad to sell your car for a few hundred, or check out the 'We buy junk cars' ads.
July 17, 2010
0

found this helpful
Look in the yellow pages or yellow pages on line in your area. They are car junk yards that will come and pickup your car and pay cash. Usually it is not much and you do need a title. They use the old cars to sell as parts. I have done this once or twice.
Read More

Answers
How do I dispose of my old car?

Answers
By Fletcher (Guest Post)
September 2, 2004
0

found this helpful
Many charities now take cars as donations. The cars usually need to be running in order to be accepted as a donation. Look in the classified section of your newspaper for local charities that take cars or do a google search for "Donating Your Car" to find a lot fo different options. www.google.com/search?q=donate+car
September 2, 2004
0

found this helpful
Another idea is to join http://www.freecycle.org in your area. I've seen cars given away here on our list and they usually go very quickly.
- Susan
By Linda (Guest Post)
September 2, 2004
0

found this helpful
If your car is not running and not worth fixing, look up auto recyclers who will haul it to junkyard and either sell parts or sell it for scrap metal. They usually will pay you a litle bit of money for it even if it will just be scrapped.
By Ann (Guest Post)
September 4, 2004
0

found this helpful
If you have Volunteers of America in your area, they take them. you can usually find ads for various groups in the news paper, also. not in the classifieds section but scattered throughout the paper.
By George (Guest Post)
February 20, 2005
0

found this helpful
While I like freecycle, I also like another service at www.abcfree.com. Both services are all about keeping useful goods out of our landfills, so the
earth is the big winner. I like ABCFree because it allows you to make a "wish list" and you just get contacted when something that you are looking for
comes up in your area. Also, ABC gives a portion of its revenue to schools so kids are also big winners.
abcfree
Cheers,
George
By TJ (Guest Post)
December 6, 2006
0

found this helpful
We buy old and junk cars 770-985-5176
towjunkcars At hotmail.com
Answer

this Question
Our rural landscapes have too many junk cars (including my yard). Any one know of any creative free or low cost disposal/recycling for them? It really seems that like batteries and tires there should be a disposal fee associated with all new car purchases.
By Sally
Read More

Answers
I need to sell my junk car. I have called a couple companies that I found on Craigslist, but they never showed up. Sadly, I wasted my day waiting for them. How can I find the best scrap yard in Atlanta, Georgia?
By EJ James from Atlanta, GA
Read More

Answers
Archives
ThriftyFun is one of the longest running frugal living communities on the Internet. These are archives of older discussions.
Our rural landscapes have too many junk cars (including my yard). Any one know of any creative free or low cost disposal/recycling for them? It really seems that like batteries and tires there should be a disposal fee associated with all new car purchases. -Sally M.
Read More...
Categories
Pages
More
Categories
Published by ThriftyFun.
© 1997-2021 by Cumuli, Inc. All Rights Reserved.
https://www.thriftyfun.com/Disposing-of-Old-Cars-1.html