Distressed Chandelier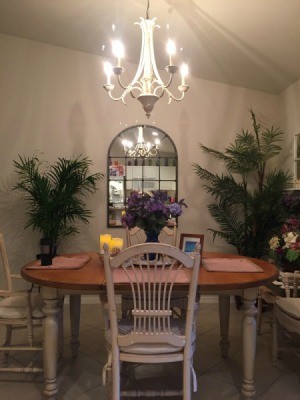 I saw this chandelier at a yardsale for $5 so I bought it thinking this would be great for my dining area if it were distressed to match my dining room table.
Total Time: 4-5 days
Yield: 1
Supplies:
yard sale/thriftstore chandelier - pretest before buying to make it works
small paintbrush for detail
large brush for bigger area
small foam rubber paint brush
masking or painter's tape, optional
1 can of white spray paint (primer) for base paint color
1 can of Krylon Colormaster Modern White spray paint (color is a warm vanilla white)
2 bottles Folk Art cafe au lait (light brown) paint
6 sleeves candle drip style
2 squares of fine grit sand paper
Minwax finishing wax, color - natural (for furniture, trim and paneling)
6 candle flame style light bulbs
Steps:
First I bought the chandelier at a yard sale.
Then I ordered six new sleeves with candle drip appearance off of eBay so I would have these before the chandelier was finished.
Now I began redoing the chandelier.
Clean the fixture before painting. Mine was black so after cleaning it up, I used masking tape to cover up the electrical parts.
I then spray painted it all white (any brand of white matte spray paint for wood/metal/plastic will do). This included spraying the base and chain.
Allow to dry for 24 hours. This is more than enough time, but I want all spray painted areas to be completely dry before moving onto next step.
I used the paint brushes to paint and completely cover the chandelier with folk paint (this is the color you want to show through) with the color cafe au lait/light brown as this would give a wood like appearance underneath.
Again, I let it dry 24 hours.
Next I applied the next coat by completely spraying it with Krylon ColorMaster Modern White Matte paint. This color is amazing as it is warm vanilla white appearance.
Again, I let it dry 24 hours.
Now comes the sanding with fine grit sandpaper. I lightly sanded the detail areas of the chandelier so the coffee color paint comes through. A light touch is needed as you only want to try and go through the top layer of spray paint (vanilla white shade) down to the brown layer).
To protect the spray painted areas, the last step was to use Minwax finishing wax in the natural color. Apply lightly with a small foam brush.
After this step it took about a day and a half to fully dry.
Once dry, take off the masking tape, and slide on the sleeves and put in the light bulbs.
The last step takes 2 people and that is lifting the chandelier to where it is to be installed, positioning it and attaching the electrical wiring.
This looks very pretty, but even better if you use a dimmer switch on the wall switch, that way you can still use some candles on your dinner table too if you like.
Add your voice! Click below to comment. ThriftyFun is powered by your wisdom!
September 10, 2016
1

found this helpful
Absolutely gorgeous!
September 10, 2016
1

found this helpful
Excellent job!
September 10, 2016
1

found this helpful
This is absolutely beautiful and you did a GREAT JOB! It looks wonderful in your dining room!! And your article comes right on time for me personally- I have 2 chandeliers, also picked up inexpensively, & am just about ready to start them off on their new life!
I appreciate your listing the colors & brands you chose, because this is exactly what I had in mind as well ( great minds think alike!!) & you've saved me money & lost time searching for the perfect colors! Thanks again!!
September 12, 2016
1

found this helpful
Happy to hear from everyone that they like it. While some people must skip steps and just make it one color, if you look at the finished product, it does not show the detail if you choose one solid color. That end result would be a little drab. By distressing using the multiple colors given above, when you lightly sand around the details, the other color comes out and then from a distance your eyes see the chandelier's details. My husband does not like glitzy showy chandeliers but you can add more decoration like strands of crystals, beads or seashells to make more formal or just fun. I like my finished product as it fits with the french country look I was going for. These metal chandeliers are great for doing 2 colors too - as in a nautical look - blue and white, etc. Thanks for your comments!
September 19, 2016
1

found this helpful
Wonderful job very well executed. Congratulations.
September 21, 2016
1

found this helpful
Thank you very much on your lovely compliment. I hope to post other craft projects in the future. My next one will be an entry table.
Add your voice! Click below to comment. ThriftyFun is powered by your wisdom!
Related Content