February 9, 2012
0

found this helpful
Best Answer
Our Shiztzuh is very picky about drinking and eating too. She refused to drink out of her bowl after another dog drank out of it. We have tried using different bowls, even a Cool-Whip bowl and she is better about drinking. Make sure you give her fresh water often too. Try putting the bowl in a different place. Our dog seemed to be afraid of the corner where her bowl was previously, so we moved it to another spot and she will drink.
February 9, 2012
1

found this helpful
Best Answer
Yes, your dog might have been frightened when she was tiny and is afraid to drink water because of the area the bowl is in, the bowl it's self, the smell of the bowl, who knows what they remember. Try a new bowl and put it in a new area. You might try putting a few cubes of ice in the water.
Do not give her anything else to drink what so ever and if she is still not drinking water, a trip to the vet is in order. Just to let you know how silly some dogs can get, my sister's little dog saw a lizard by her drinking bowl and ever since would never eat or drink from that area again.
February 10, 2012
1

found this helpful
Best Answer
Do you live in an area where the tap water it treated with chlorine and/or flouride? If so, your dog might not like the smell of these chemicals. You could try buying a gallon of bottled water that has absolutely no chemicals in it and see if he likes that better.
March 27, 2018
0

found this helpful
My dog drinks less since water treated more in winter..i have been bottling up water and leave uncapped for 12 to 24 hours...i myself notice it taste better and little to no clorine smell
February 10, 2012
0

found this helpful
First of all thank you everyone for your ideas and concern.
It's not a issue of location or freshness. Have tried many locations/different bowls/bottled water/ice cubes. I put a cup of water in with her food (right now cooked rice,lean chicken and some canned food) and she laps it up to get to the food but she is NOT happy about the water. Will take a few drinks then picks her head up and continues "lapping" a few times and then takes some more and so on till she gets to the food.
It's as if she is tasting something she is unsure of or perhaps the actual lapping action feel wrong to her.
Her tongue looks fine. She is, and has been under the care of a vet since she started this and has had fluids given by the vet, but he is at a loss as to why she won't drink. Our next step is an MRI to see if this is neurological, but I was hoping not to put my 12 year old girl through that. Just looking for any other possibilities.
February 10, 2012
0

found this helpful
How old is your dog? You might want to take it to the yet. That's not good that it doesn't like to drink water. Poor thing. Are you using tap water? Distilled water is what I was told to use for my Maltese.
October 15, 2013
2

found this helpful
You did not say what kind, weight, age, etc. your dog is. So let me tell you Prissy's story. Hope it helps.
Prissy is a 13.5 lb. 11 year old spayed Rat Terrier dog. She gave birth only once just after turning 3 years old to 5 healthy (3 of which 8 years later still live with Priss & me) jack rats (my 3 N/spayed before 6 mths) (dad was 6 yr old rat terrier & jack Russell mix). They are just slightly taller & longer than Mom, some with slightly floppy ears & like Mom born with nubs for tails. Rat Terrier dogs look like blow ups of Chihuahuas.
Their legs, bodies are longer, and have slender longer noses with tongues that appear too long for their mouths. All that for this: Long Tongues with little nasal openings less than 1/2" from top lip being the key words & cause I believe for what happens when they drink from a bowl.
Since young puppies drinking from water bowls the 4 dogs have never drank much water. Almost always cough and spit up water when they drink. I have always been concerned by it. Call me slow. After all these years it finally hits me. If I coughed & threw up every time I drank I wouldn't want to lap up water, either.
Now Prissy has arthritis & a Joint injury at 11 years old. About the only way she will take water is in her food or with my dipping my fingers in water bowl. She will lick it off end of my fingers. This way she can get water & not cough. When her body tenses up to cough & throw up water, it hurts her.
Tried 64 oz gerbil water bottle the dogs can lick. It does not drip enough & mostly only when they lick it. I'm trying to figure way to create a continuous drip system they can only get to the water that is dripping. The continuous drip part is what is hard to figure out. Kind of like a faucet drip. At least till the dogs all get used to licking at something to get water.
I would welcome any ideas on making a thrifty continuous water drip system for small dogs to drink from.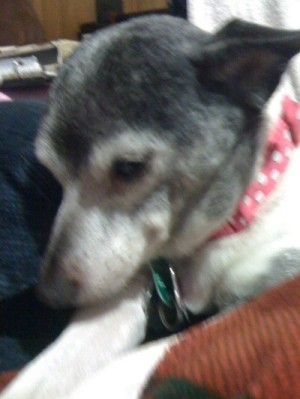 March 13, 2018
1

found this helpful
Best Answer
Try purchasing a beverage dispenser for parties (large container with tap/spout near the bottom). Place on top of something sturdy that puts it at the right height for your dog.
You can turn the spout until it drips at the rate you want. Put a bowl underneath to catch drips and that should do it.