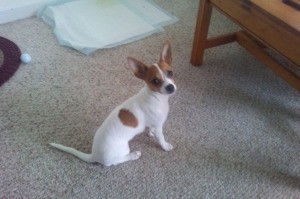 Is my Chihuahua crying? He howls when I leave the house. So I don't leave him much. It's such a sad sound. He is 6 months old.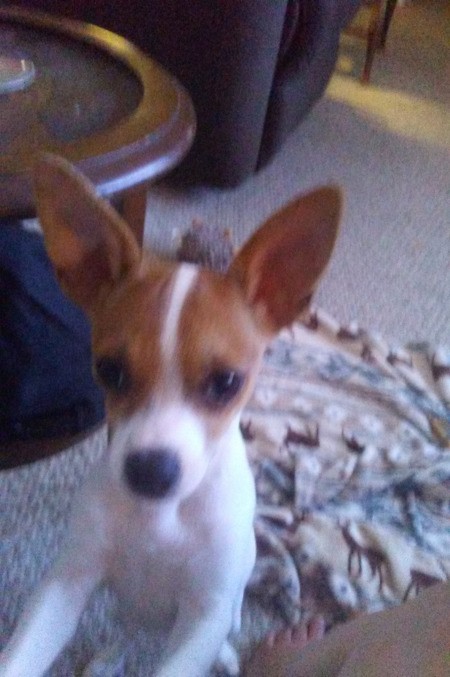 Answers
September 20, 2019
0

found this helpful
What an adorable face!!! OMG! I want to hug him!
It sounds like he is crying. Dogs get separation anxiety like people do and they make a variety of noises (and some have bad behaviors that go along with that--like spinning, tearing things up, hiding in corners or under things etc.)
Do you crate him when you leave? We found that the best way to manage our boy when he first came to us and had that issue.
It works well and he eventually outgrew the carrying on when we leave.
Now my friend had to give her dog puppy Prozac to curtail this behavior. He is off it now, but was on it for most of his first 2 years with them.
Some people find pheromones helpful to reduce the anxiety.
Prayers for the pupster!! Enjoy your time together!! Such a huggable little face!!!
September 20, 2019
0

found this helpful
He could be lonely. Leave the TV on and something with your scent.
September 21, 2019
0

found this helpful
It helps for your lovely one to have some type of sound in the house! radio,t v, alexia device,etc. It's a long day all by yourself!
September 22, 2019
0

found this helpful
I have both large dogs and small dogs. For many years all we had was 2 larger dogs that lived in the yard and not our home. They were way too large to come in the home and where I live we do not have cold weather and it is warm here year-round because it is the tropics. But when we got the small one he was way too small to be left outside in the yard. He did live in the home.
I noticed with the small one we spent more time holding him and playing with him than we did the larger ones. So when I left it was normal that he would sit and cry and make a mess in the house. Plus I was so attracted to the little one and he was so easy to pick up and take that I spoiled hime so much and took him everywhere with me.
In the end it is a hard habit to break when you need them to stay home alone. In your case, he is getting use to going with you and this can be harder to break in the end. I would leave some music on or even a TV for him to watch when you need to leave.
September 22, 2019
0

found this helpful
He is so cute..
Start with maybe not holding him quite so much when you are home and be sure he gets a good amount of exercise.
There are several causes for SA (separation anxiety) and lost of suggestions on how to remedy the problem but every case is a little different so you may have to try several things before you find a solution.
A crate is a good starting point but be careful or he might cry every time you have him in the cage.
Take it slow and only do this while you are at home with him - until he will go into the crate by himself.
Place several items of your worn clothing for him to lay on. Add a special treat and try to coax him into the crate - no pushing please. You may have to give him a little nudge but stay close by - doing the normal things you usually do but try to stay within his sight.
This may take several days but he will eventually like his crate.
Try to take short trips away and gradually prolong the time.
Always leave something playing - TV if that is what you normally have on when you are home.
Another suggestion:
Thundershirts are the rave but my son found that a snug sweater type worked just as good - many people rave about the Thundershirts.
Ask your vet for medication to help calm him until he feels better about being alone. I'm sure you are taking him to the vet for his first year shots/vaccinations (SO important).
Over the counter meds are usually ok and many people use a product called Rescue for SA and thunderstorms/fire crackers.
You can find this at your local pet supply store and may be a good start.
September 23, 2019
0

found this helpful
Be sure he gets lots of exercise. I find it takes the edge off of nervous behaviors. He is adorable.
Answer

this Question
Our dogs bark and howl when they are alone. That causes problems with the neighbors. We recently moved from our house with a garden, to an apartment with a balcony. They don't stay still and silent, and we will have to send them to other families if we don't get them calmed and train them to use the balcony to pee or poop.
By Rosa
Answers
February 27, 2013
0

found this helpful
You dont mention how often your dogs are walked and exercised. It is essential for dogs in an apartment to walk twice daily or even better, spend time at the dog park. You won't be able to control their behavior without this daily attention. If you are not able to provide this essential care for them, perhaps a new home is a good idea.
If the dogs do get sufficient exercise, you might try crating them to control their anxiety while you are gone. Also there are great dog toys that keep dogs busy, chews and toys that contain a little treat and require lots of chewing. You might also consider the puppy pads for your balcony. The have an attractive scent wihch helps with training (and cleanup) Check out Cesar Milans website. He deals with this problem in depth. Good luck to you.
Answer

this Question