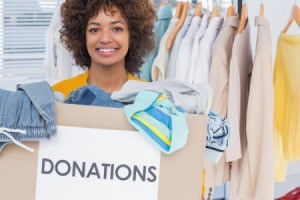 With school starting I wondered if there were children in need of clothing, especially middle and high school age. A lot of kids this age would be too proud to ask for help, and embarrassed not to have new clothes. Guidance counselors at schools usually would know of those in need. Call ahead to check to donate good clean clothing. If the school doesn't mind helping distribute to those in need, the kids can pick out their sizes and keep their dignity.
Comments
By Shirley Hammond (Guest Post)
September 24, 2008
0

found this helpful
Top Comment
In Las Vegas, NV we have a program for elementary schools. Mainly the underprivileged ones It is called "Dry Bottoms". My woman's Bible study group donated sweatpants, new or used, shorts new or used and brand new underwear for both boys and girls.
The sizes ranged from 4 to 12. This is for the kids that have accidents and can' t go home to change clothes. This way they can stay in school and not have to sit in the nurses office with wet or stained clothing.
It is a great mission. I went to garage sales and got a bunch for a really low price.
September 10, 2010
0

found this helpful
Top Comment
I see some others have suggested it also but I will repeat to say that when I worked in the elementary schools the nurse needed clothing all the time. Not just for "accidents", but if some child spilled soup or juice all over their clothes or that sort of thing. She needed everything from underwear to tops and pants for both boys and girls.
September 10, 2010
0

found this helpful
Top Comment
Schools also have a great need for coats, hats, and gloves. We donated all we could find out of my family and friends that were like new to the school nurse.
She then gave them to the kids who needed them the most.
September 10, 2010
0

found this helpful
Top Comment
A wonderful and practical idea! Something else to be considered. Shirley Adams Coats4Kids. She has the sweetest little pattternless coat with video instructions. A church group could get together and make several of these in different sizes.
September 10, 2010
0

found this helpful
Top Comment
My group, ArizonansHelpingArizonans, has one member who is a teacher at our local school for homeless children, the largest in the country. The teachers and staff there are amazing! They have a food bank, clothing room, laundry and showers for the children, as well as other services for the children and their families. Like all other schools, they have been hit with budget cuts; teachers and staff and volunteers clean as they no longer have a janitorial staff.
My daughter volunteers there and she tells me how amazing they all are. I can't wait until next orientation, as I and several members of my family will be going.
The teacher on our list keeps us informed of the needs at the school, as does my daughter.
These children need and deserve our help. One of them may be president some day.
Pat
Read More Comments