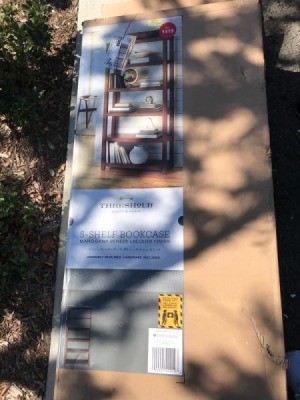 My fiancé and I learned over the weekend is to not underestimate our trunk, but to work with it. We saved time and money from not renting a truck (or borrowing) to haul this bookcase home - that we got an incredible deal on from Target!
The bookcase did not fit in our sedan's trunk. The box stuck out a large amount and there was no safe way to drive it home. The employees who helped load the bookcase in the car had no solution either.
After debating back and forth we either had to:

Borrow someone's SUV/truck
Rent a truck
Return the bookcase to the store
Ultimately we decided to try and open up the box to check the pieces.
Sure enough, the pieces were just packed and protected well in the box (probably for shipping purposes). You could individually pull out the pieces from the box to your car's trunk!
Then, we broke the box down and folded it in half and stuck it in the trunk too - just in case building the bookcase didn't work out, or it was defective for a refund.
Moral of the story, you can try opening the box to haul large furniture. Chances are furniture that is buildable is in smaller pieces. We even had plenty of room left in the trunk!
On to the great deal for the bookcase. I have been eyeing this bookcase for a couple months now. I was lucky to find this bookcase marked down 70% off from $199.99 plus additional 20% loyalty coupon I had loaded on my Target Cartwheel for a grand total of $48+ tax. Right now online at Target, the bookcase is going for $189.99 with over 4 star reviews!