gem
Bronze Post Medal for All Time! 163 Posts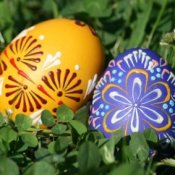 I had forgotten this until I read an article on another site. We use to hide our children's Easter Baskets and they would have to hunt for them. Being 5 children, if they found someone else's, they were not allowed to say that. They had to leave it where it was.
One year, our youngest child's basket was hidden in the fireplace (of course the fireplace was clean) and she was the last one to find hers. She was getting pretty jumpy, thinking the Easter Bunny didn't leave her anything until we began playing hot and cold with her. It was so funny to see her retrieve her basket from the fireplace.
Oh those wonderful memories of times gone by. They just last a lifetime. So try it; you may find you will have some wonderful memories later on when they become older.
By gem from VA
Read More

Comments

For our Easter Egg Hunt last year, we hid them outside even though it was a bit on the cold side. Our 5 year old grandson Mason didn't care.
We hid them first and then he hid them as he loves to have us find them.
Read More...

attosa
Diamond Post Medal for All Time! 1,246 Posts
When I was a kid, I never enjoyed Easter egg hunts because there was always that one kid who would happen to find most of the eggs, leaving the rest of us with just a few. It never felt good. Now, with a little effort, Easter egg hunts can be fun and fair.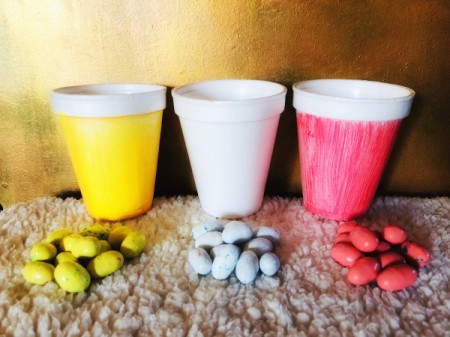 To avoid jealousy and hard feelings at an Easter Egg Hunt for your kids or grandkids, use all the same color eggs for each person. Example: blue for Joey, pink for Amy, yellow, green and purple for other kids, etc.
Read More...
My best friend is turning 25 next week, and my other friend and I want to plan an Easter Egg hunt around town for her. Any thoughts on what to put in the eggs? We're going to use 25 eggs, so any suggestions will be helpful.
Thanks!
Jennifer from Akron, Ohio
Answers

April 13, 2006
0

found this helpful
Best Answer
How about --
costume jewelry
stickers (if she's into scrapbooking or stationery)
a homemade coupon for a bigger gift she can find somewhere else
hair accessories
bath soaps
travel size body/hand lotion or body washes
drawer sachets
can't go wrong with chocolate! :)
It's hard to think of items small enough to fit in a plastic egg. I hope that helps!
By Jackie. (Guest Post)
April 13, 2006
0

found this helpful
Best Answer
Jennifer,how about some gift certificates,you don't have to go overboard.Most places have $5.00 & $10.00 that are really nice.Food cards is also a nice thing! Does that help? Jackie

April 14, 2006
0

found this helpful
Best Answer
I still do easter baskets for my grown up kids:) and in the eggs I put instant scratch off lottery tickets the 1 dollar tickets they love them :)) and I also put in things like a new key chain or movie passes .. etc enjoy :))))
By veronica lopez (Guest Post)
March 22, 2007
0

found this helpful
Best Answer
This sounds like fun. I would just make it into a scavenger hunt. Give clues in the 1st 24 then make the last the golden egg, thats where u can give her either a gift that fits in the egg or the golden egg can tell her excatly what her gift is.
hope this helped.
Answer

this Question
I would like to do a scavanger hunt for my girlfriend's kids for Easter, instead of just giving them Easter baskets. Does anyone have any ideas for some clues. I will probably do it inside the house since it is still cold outside.
Laura
Answers
By Belinda (Guest Post)
March 15, 2005
0

found this helpful
We do this every year and we have 2 different age groups to contend with. For the older ones we use clues like I go round and round (clothes dryer) and Brrrrr I am cold (Freezer). They have to find the first egg which is very visible and inside it is the next clue and a small prize and on and on until they get to the big prize. For the little ones who cannot read we draw pictures of where to go next.

March 17, 2005
0

found this helpful
You can do an egg hunt in the dark and let them use flashlights. Also, I like to make a special egg for each child with their name on it and everyone is instructed not to pick up an egg if it does not have their name on it.
Kids don't mind hunting eggs in the cold, so I would reccomend doing it outside. We did it inside once and the pictures are awful! Also, I like to put money, coins and dollars in the eggs.
By SV (Guest Post)
April 13, 2006
0

found this helpful
Great idea! We have been doing this in my family since I was a child -- with variations every year. For every egg we found, my mother read us part of a story she had written (usually about some kids looking for baskets) until, at the end of the last "chapter," (read when we found the last hidden egg) she would tell us where the children found their baskets, which was always where we could find ours. This also helped ensure no forgotten eggs were left rotting in the house. It was a combination of story time and egg hunt. I may not remember every toy I ever got for easter, but I still remember every story.

March 24, 2007
0

found this helpful
TRY a TREASURE HUNT instead. The end PRize being their Easter Baskets. If you hide eggs the first clue could be hidden inside one of those plastic eggs(maybe yu could decorate it with tube paints first so it is SPECIAL) The clue should be simple, Dr. Suess - like rhymes that cripiticly lead to the next clue. ( Example : on a treasure hunt where the clues are hidden : #1 in egg, #2 taped under kitchen table, #3 under childs pillow, #4 in refrigerator, #5 in bath tub// the clues would be :
(#1 - in egghunt egg)
Happy Happy Easter Day
This is clue # 1 , sending you on your Way
At this Treasure hunts end you will find
An Easter Basket made with you in mind.
Under the table where you eat your food
You will find clue Number Two
(#2, taped under kitchen table)
Go where sleepy Tommy lays his head at night
And find clue # 3 - You just might!
(#3 under childs pillow)
People ask this about the place of clue #4
Does the little light go off when you shut the door?
(clue #4 in the refrigerator)
In the place where you get your body all clean
There clue # 5 is waiting to be seen.
(#5 goes in bath tub) an so on, make it as easy or hard as their ages.
By Robert Thomas (Guest Post)
March 31, 2007
0

found this helpful
For a number of years we have laid out a trail of the initials of the child (or the first initial only) with a small chocolate egg as a reward at each finding.This can be done with colored cardboard cutouts or something bright as long as it attracts the children.
When all the children are present they are told to follow their own initial on the trail until they come to the final surprise. This does not need to be an extra long trail and can be played inside or outside.
Parents will get involved with very young children and the older children will race as quickly as possible to get their prize.
Happy Easter

Donna
Gold Post Medal for All Time! 555 Posts
March 20, 2008
0

found this helpful
Along with candy filled eggs, my daughter's boyfriend suggested "Grandma Eggs"- Eggs with Grandma's 'words of wisdom'- like- Eat your vegatables, Don't forget to brush and floss, etc. You can even personalize them by ASKING Grandma, pa or whoever for their own personal words of wisdom. I thought it was cute! Brendan also suggested little games inside the eggs-'Stand on one foot for 15 seconds', give one green egg away to the person who is having the next birthday, whistle row-row row your boat, etc. This boy has 9 siblings so they know how to MAKE fun inexpensively! A big loving family!
Happy Easter Everyone!
Read More

Answers