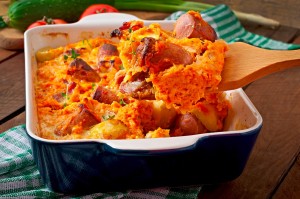 A breakfast strata that you make the night before. It is so good! First you start with brown sugar, butter and syrup in the bottom of the baking dish. I love the fact you can make it before hand and have it ready for the next day, especially if you have company.
Or just want to do something special for the family. It is a good dish for a brunch also as all the work is done the night before and you can throw it in the oven bake and go!
Ingredients
2 cups packed brown sugar
2 sticks (1 cup) butter
1/4 cup white corn syrup
8-10 slices French bread
6 eggs, beaten
1 1/2 cups milk
Dash salt
1 tsp. vanilla extract
Cinnamon
Fresh berries
Directions
Combine brown sugar, butter and corn syrup in medium saucepan. Heat until melted and bring to a boil.
Pour syrup in a glass 9x13 inch baking dish. Place bread slices in syrup.
Combine eggs, milk, salt and vanilla. Whisk to blend and then pour over bread. Sprinkle with cinnamon. Cover with foil and put in fridge overnight.
Bake at 350 degrees F. uncovered, until golden brown and bubbly (about 40 minutes). Serve topped with fresh berries. Enjoy! Darlene
Source: Southern Seasoning
By Darlene from Fairview, PA
In large bowl, whisk eggs, milk, mustard, salt and pepper. Stir in bread, cheese, ham, onion, and green pepper. Pour mixture into greased 9x13 inch baking pan.
Read More...