I'm interested in investing in a stand mixer, and wonder if Kitchenaid is worth the money. I am also curious as to whether a used mixer in good condition would be a safe bet. This would be for fairly light home use. If you have a brand and model you like, please help. Thanks.
By ChloeA from OH
Answers
January 19, 2010
0

found this helpful
I bought a used Sunbeam stand mixer at a garage sale for $2.00. It came with a large and small glass bowl. After some time the large bowl broke, then I got rid of the small bowl and replaced them with two stainless steel bowls. I had to buy a new replacement cord, it unplugs from the unit. It also has two sets of beaters, the one set is used for mixing dough. I don't know how many years I've had this mixer, but it still works, and you can't beat the price.
It wouldn't be worth it to invest a lot of money, if you use it on occasion for baking.
If you're patient you can find one at an estate sale or flea market. Make sure you test it out before making a purchase.
January 19, 2010
0

found this helpful
When I got married 22 years ago, my sisters bought me an Oster Stand Mixer with shredding blades, blender and a small food processer unit. It was an all in one unit. It is still working. I have always wanted a Kitchen Aid Stand Mixer but could not justify the purchase because the Oster still worked in perfect condition.
The company I worked for, gave me a free Kitchen Aid Mixer this year. I love it but the Oster was just as good. I gave my Oster to my mother. She has been using it. My sister lives with my mother and she bought a Kitchen Aid this year, so we are now giving the Oster to my other sister.
If I were you, I would get a used model at a yard sale. I used my Oster alot. I bake every week sometimes, twice a week. It is a great working machine!
January 19, 2010
0

found this helpful
I had a Kitchen Aid mixer some years ago (lost in a move) and though I loved it I don't think I'd invest in one again. Great for a frequent baker or someone who makes a lot of bread but otherwise too big and too heavy. It weighed a ton! I have one of those convertible stand/hand mixers now and it's more practical for me.
January 19, 2010
0

found this helpful
I've always wanted one but refuse to pay the high price. Check out Goodwill stores or garage sales, you are bound to find something.
January 19, 2010
0

found this helpful
I suggest to get a new hand held mixer. It will do what you want to do I'm sure unless you bake a lot, good luck.
January 21, 2010
0

found this helpful
Kitchen Aid is nice but they are expensive and very, very heavy. My daughter has one and it has many attachments. If I wanted to do more than mix cakes, cookies, etc., I would check it out. I have a Sunbeam that I bought used and it is a very nice mixer. It does every thing I need and after replacing the large bowl with a metal one I have less than $25.00 in it.
January 21, 2010
1

found this helpful
I purchased a KitchenAid Professional 5 about 3 years ago and really enjoy using it. It does every thing it was advertised to do. I have since purchased the Citrus juicer, pouring shield, food grinder, food tray and sausage stuffer. I bake a LOT of bread and this is so helpful with the kneading. I think it was/is worth what I paid for it on sale and would do it again in a heartbeat. I would not purchase a used appliance like this as you don't know how it was cared for or how long it will run. It all depends on how often and what you will be using it for.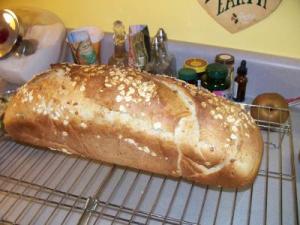 January 21, 2010
1

found this helpful
I bought an older model KitchenAid by Hobart. These machines are incredible. From mixing box cake to pizza dough, to bread dough and no more breaking your spoons to make cookie dough. I use mine to mix meat for meatballs, meatloaf, Stuffed cabbage mix, cheese cake, pound cakes, Whipping fresh wihipped cream.
Fresh food blows away boxed and canned any day of the week and most times it is less expensive. (okay, I am getting off my soap box. :))
Vintage KitchenAid Hobart Stand Mixer K45SS
This machine has all metal gears and is solid made. They truly don't make them like this anymore.
All the attachments you can put on new one you can put on the K45SS model. I have added a meat grinder, a shredder an extra bowl. I have even received some as gifts from family.
It stands up thru the test of time, it was built in the early 70's and the woman who sold it to me told me her Mom was into baking and it was a well loved machine. I use mine at least 2x a week and it is still going strong and I have it more than 12 years.
My Mom had an Oster Kitchen Center and it does not hold up under weekly use. Gave it to my sister, she is not a real big kitchen person. I wish you the best of luck in finding the right machine for you.
Read More

Answers
Published by ThriftyFun.
© 1997-2021 by Cumuli, Inc. All Rights Reserved.
https://www.thriftyfun.com/Electric-Mixer-Tips.html