February 16, 2021
0

found this helpful
It looks like light/sunlight has caused this and that means the color is gone and no way that I'm aware of to bring this color back.
It seems to be cotton material (?) and that means you could dye it but your flowers would no longer be white but just a lighter color of whatever dye you used.
The problem here is that sometimes when you are trying to cover lighter spots with dye the finished product will still be a lighter shade than the rest of the fabric. To remedy this, some people recommend removing the color and then dying.
This does not always turnout as nice as the original and you are actually weakening the fabric a little each time you do this.
If it were my fabric, I believe that I would try finding things to do with smaller pieces and use the faded part for seams (unseen).
There are a lot of 'sewing' members on this sight so I feel sure there will be many excellent suggestions as days go by.
February 16, 2021
0

found this helpful
Thank you, I appreciate your response and that was where I was going as far as another use, but hoping for a remedy! Thank you again and I will be on the lookout for possible fixes from my fellow sewers!
February 16, 2021
0

found this helpful
You could try getting an exact match to the dye and brushing it on the faded areas. You will have to be very careful and it may not be 100% successful.
February 16, 2021
0

found this helpful
This was done by sunlight, there are a few ways to update this- 1. Using color safe bleach, 2. If white fabric , just use regular Bleach, 3. fabric Dye. All of these options is just a few dollars , and a way to bring new life to the piece.
February 16, 2021
0

found this helpful
I have had this happen before and I have not found a way to fix it, per se. What I have learned is it makes great tie dye fabric! You can experiment with it and make really neat patterns and shading and the fading then just becomes part of the charm because it will take color differently and not stand out.
I wish I had saved some of my 1960s-1970s creations. They were so cute!!
I can see a super cute summer sun dress made from this or a fun top that ties at the middle (very 1970s styling would be perfect for this!). If you do a sun dress, I see spaghetti straps in its future :)
Or a pretty blouse that will be tie dyed to go with jeans.
You can bring back one of my favorite trends like this!! I adore tie dye and chambray fabrics!!
Post back your finished project!
February 17, 2021
0

found this helpful
There really isn't a sure way to fix this faded fabric. You could try wax-fixing all the flowers and then dye the fabric another color, but the faded area might still turn out lighter. Dye remover might take ALL color out, then wax-fix the flowers and re-dye the fabric. If you choose to try re-dying the material, let us know what method you used and how it went. ***All fabrics should be kept so that sunlight can't fade them....lesson learned. Good luck.
February 20, 2021
0

found this helpful
Thank you everyone for the advice. I was pulling out some of my other fabric pieces that I have kept in a large plastic bin. This knit fabric has been kept away from sunlight and uv rays, stored in this plastic bin in cool, dark places. I pulled the fabric out last night and unfolded it, and surprise, at all the aresa where the fabric had been folded, the exact same thing as the lt blue chambray fabric with white flowers. The other fabric piece and all my fabric is stored out of direct sunlight so I'm thinking it's not sunlight causing this lightening, but possibly poor quality dye from manufacturers because I have not noticed this on my more high quality fabrics which are stored the same way. So, no more low quality fabrics! Only premium for me!! Thanks everyone for your time and great input
It's been greatly appreciated! Give yourselves a hand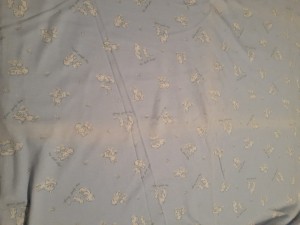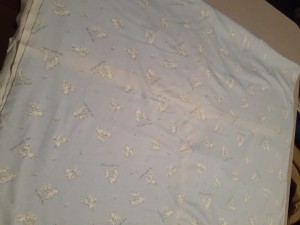 February 21, 2021
0

found this helpful
You say your bin of fabric has been stored out of direct sunlight. That does NOT mean light doesn't get to it...even weak light will fade fabric eventually. Fabric needs to be stored in complete darkness to prevent fading. Even light going under the door of a relatively dark closet might be all that's needed to fade the fabric. So if you don't have a totally dark area for storage, make sure to put fabric in a dark colored tote with a tight lid, or line the inside and top of a light colored tote with foil or dark paper and make sure all edges overlap to keep out all light.
February 19, 2021
0

found this helpful
me being the person I am, I would try to make it a batik theartofeducation.edu/.../
or tie-dyed
I also notice it's sort of a light blue-grey colour - it could also work to just dye it a darker more vibrant shade of blue though then you run the risk of dyeing the flowers
but of course cutting it up and using it smaller is probably the best way to maintain the integrity