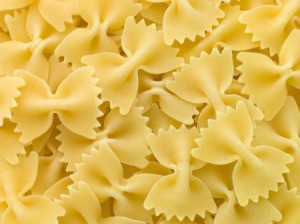 Ingredients:
8 oz. farfalle (bow-tie pasta)
2 Tbsp. extra virgin olive oil
2 tsp. minced garlic
1 (15 oz.) can cannellini beans, drained and rinsed
2 large tomatoes, diced
salt, to taste
crushed red pepper, to taste
3 Tbsp. fresh basil, chopped
1/4 cup fresh grated Parmesan cheese, or to taste
Directions:
Cook pasta al dente according to package instructions and drain.
Meanwhile, heat olive oil in a large pot over medium high heat; add garlic and cannellini and cook, stirring frequently, until the beans are heated through, about 3 minutes.
Reduce heat to medium; add tomatoes, salt, red pepper and basil, gently stir to combine until tomatoes are heated through. Add pasta, stir well and serve garnished with Parmesan.
By Deeli from Richland, WA