Finally Starting Out Being Thrifty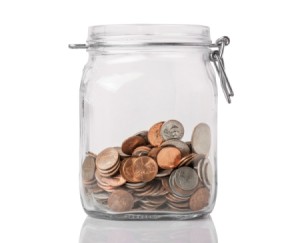 My partner and I are on SSDI with SNAP and I am enforcing a budget for 4 people in this household.

We consume a lot of tea so we get the gallon bags on our main shopping trip. My partner brews it up in a large Dutch oven like pot and makes 2 gallons out of that, one for him (he's diabetic) and one for the rest of us. We reuse the Arizona gallon tea jugs (I only buy the Arnold Palmer half and half when it's on special for a treat).
For gifts, I crochet like crazy. I just gifted 3 scarf/hats sets to a friend for her grandkids and several dishcloths for her. I am also working on several afghans to gift various people and baby afghans to either sell or give to the womens' shelter. For yarn, I hit clearance bins in stores or if the yarn is discounting online. I also look at Ebay for exotic blends from China when they are offered.
Recently I grabbed a very large jar (a fancy Vlasic pickle jar) and started putting all our change in it. It is nicely building up and I fear my partner needs to get charge rolls from his CU soon.
I have 3 credit cards and 2 store cards that I am paying off. I just announced that I am not charging anything on these cards except for strict emergencies.
I also have Medicare part D and they just started having my heart and diabetic meds have co-pays. I am checking with my PCP and specialists to do the 90 day scripts for a lower co-pay. I am also trying to switch pharmacies so I can use a special medical credit card at the one that accepts it.
We basically do our own home repairs. The water coop recently came out and found a leak under our trailer (which could explain our high water bill). We realized the leak was where a pipe did burst a few months ago and the people repairing it did a shoddy job (they did not know what they were doing). My mother called in to a major big box hardware store and we got the necessary piping and fittings and did the work ourselves (and we did it right). Our water pressure has gone up. Next, I need to find a plastic basin to fit the rinse sink so we don't have to waste water rinsing dishes.

We are on SNAP but it's like between $95 to $110 a month. I hit the BOGOs at one store for our meats and sometimes get the $20 meat tray to further our budget and types of meat to consume. When this store has milk on sale, I get a couple of gallons and freeze one. We don't do fancy creamers for the coffee, just milk (I don't do coffee). We got a bread machine and through trial and error, we have bread. My partner is a former chef and he makes the most divine biscuits. We also get our flour, beans, rice and sugar in bulk. What we cannot get, we go to a couple of food banks to supplement our diets.
We just switched to satellite TV and internet. Already quite cost-effective and I had far better customer service than from our previous provider.
We don't have a vehicle, so no maintenance or insurance. I use the local CARR system to go to my doctor appointments and depending on the locations of the offices, varies from $1 to $3 each way. I try to clump all appointments to one day at the local medical facility so I can do several doctors in one trip. If we need to pick up meds or go shopping for the week or month, we pay our friend gas money or a pack of cigarettes or babysit for her when she has medical issues. Barter is a great help on the level.
My mother has helped us out on emergencies and I am going to start paying her back by adding my bank account to her credit card and secretly make a payment about every 3 months.
I get some of my supplements online on Ebay. I have a favorite seller who carries black cohosh at a discounted price and another company that sells my sleep supplements when they discount them.
ALL LIGHTS OUT AND ALL SMALL APPLIANCES UNPLUGGED. My rule is if the light is on, turn it off when you leave the room. If you are not using the toaster, mixer or crockpot, unplug them. If a device is not working, unplug it and see if you can fix it or give to someone to scrap it. Do not accept appliances from "friends" who are too lazy to junk them themselves.
Rid-X for the septic tank. Got to regulate the bacteria in that tank. Might be a bit expensive but hey, it works!
Our dishwasher is broke and it would be too expensive to fix or buy a new one. I use it to store various lids to plasticware and cookware. A lot more space in our cookware cabinet to keep organized now.
Save every receipt and write down what is to be paid each month. You would see where the money is going and if you pay taxes each year (car tags, property, school), you can budget accordingly.
Save those plastic shopping bags! I use them as small trash bags at my desk and make a great emergency poop baggie when the dogs could not hold it until they got outside. Some crocheters also make plarn from them to make sleeping pads for the homeless in several cities.
We are planning to make raised beds for gardening. West Texas ground is usually hard and using the beds will supplement our diets (I am going to sneak in turnips if I can, hehehe!).
All in all, I have surprised my partner in my thrifty ways and has wondered where I have been all his life (helping my Mom with her budgeting).
Comments
Read More

Comments
Categories
Pages
More
Categories
Published by ThriftyFun.
© 1997-2022 by Cumuli, Inc. All Rights Reserved.
https://www.thriftyfun.com/Finally-Starting-Out-Being-Thrifty-1.html