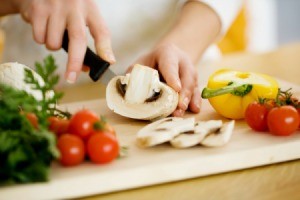 While trying to lose weight I have been eating soup, salad, veggies, and fruits and drinking water. What are some cheap healthy recipes? I'm going to get burn out on salad quickly. If you have any healthy recipes I would be happy to have them. Thank you.
By Mary
Answers

December 10, 2010
0

found this helpful
Good luck on your weight loss program, Mary. A lot of the big recipe sites have "healthy eating" or "low calorie" or "low carb" recipe sections for people wanting healthier meals. Why don't you check them out for interesting ideas for the time being. I would suggest looking into stir fry menus (keeping the rice down to a bare minimum), oven or deli roasted meats (less grease) and fruit, grain, and nut heavy - well pureed - smoothies for breakfasts, lunches and snacks. However, in the long run, everyone really needs to address eating habits more than calorie or fat or carb counting routines.
You really can eat anything on a weight loss or maintenance initiative but you have to commit to eating less of everything, every time. You can have two Oreo cookies twice a week, you just can't have ten Oreos, twice a day! (Man wouldn't that be grand!)
Look into different cooking methods as well. For example, a can of asparagus (I love asparagus) with a bit of lemon juice is fine and healthful but a batch of fresh, oven roasted, asparagus with a bit of balsamic vinegar is downright heavenly and so much more fulfilling. Try an apple with a single tablespoon of peanut butter (assuming no allergies). Honestly, just that little dip of nutty flavor on each apple wedge makes the apple more enjoyable.
Experiment with various herbs and spices to up the flavor of soups and salads to keep your taste buds satisfied. Drink 100% natural, no sugar added fruit juices, V-8 tomato based juice and water spiked with lemon or lime juice instead of plain water with each meal. Fill up with plenty of water every day, but enjoy something different occasionally with meals and snacks. And don't forget the calcium and Vitamin D in milk. "Variety is the spice of life!"
I know a ton of people, some experts and some just very vocal - will disagree with my suggestions, but I've been thin all of my life and I eat anything I want, I eat very small portions, five or six times a day. I eat fats and processed sugars rarely and in even smaller portions than other foods. I eat for fuel, not comfort. And most importantly, I always stop before I am full.
I know you just asked for recipes, but I'm not one who is convinced that recipes, even the healthy ones, are what inflates or deflates weight issues. I'm convinced it's all about lifestyle and attitude. I wish you so much luck and hope my little slice of life post gives you great food for thought! :-) You take care, Okay?

December 11, 2010
0

found this helpful
Hello! I totally agree with Kanascindy! She has the perfect formula for weight loss and maintenance! Mary, I would like to just add a few notes to Cindy's; eating lean protein 3 times per day helps you stay full longer. Carbs turn into sugar in your body and can cause your blood sugar to be like a roller coaster. Each AM I have eggs (usually 1 whole and 2 extra whites) and a lean protein like Canadian bacon. I stay full a lot longer than when I include carbs. My husband's doctor isn't a big fan of no-carb diets, but he told my husband that if he limits his carbs he will definitely lose weight. It is the truth!
Though I limit my carbs, I try to eat very complex carbs when I eat them. There are some new white-looking pastas out there with 8 grams of fiber per serving. Don't believe labels that say 'whole grain', etc. Check the fiber. Please read labels! I try to keep my fiber above 5 grams of fiber per serving. The instant Weight Control oatmeal is sweetened with Splenda, has twice the fiber of regular oatmeal, and it tastes good! For weight loss I encourage limiting carbs and eating lean meats. Eat fruits and vegetables that are Low on the glycemic index' (you can find it online). i.e. they are metabolized much more slowly in your body (as are the lean proteins) so they keep you satisfied much longer.
You can rid yourself of most carb and sugar cravings if you keep caffeine to a minimum (I love coffee!), up your lean protein and, as Cindy said, eat 5-6 times per day and watch your portions. I'm convinced that we can eat anything we want to eat as long as we limit the volume! Someone one said, "don't eat anything white - white bread, white crackers, white flour, white sugar". That's a good starting point, but as I said, there are some good high fiber "white" pastas on the market these days. Again, please read the labels!
Bottom line...limiting carbs, eating lean protein, and using only carbs that are truly complex works best. Plus, just moving around more helps! A heavy-set lady at work has lost 13 pounds in 4 weeks by limiting portions and moving around a lot more.
I hope you find this helpful. God bless you richly! Kathy

December 13, 2010
0

found this helpful
Here is a great place to search to your "Healthy Heart's" content. Many, many recipes in all categories here.
www.weight-watchers-points-plus-recipes.../
Best of luck to you!
Answer

this Question