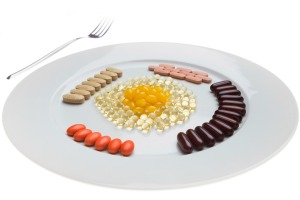 I have a hernia from bariatric surgery and shortness of breath. I would like to know which supplements can help me loose the weight. The hernia has distended my stomach.
At the moment I am taking 200mg daily of raspberry ketones, l-carnitine - 250mg daily and fish oil 3, 1000mg daily.
By Pat
Answers
The doctor that did the surgery should have told you what supplements to take. I have a friend who had bariatric surgery several years ago and she lost 100 pounds in one year. However, she only ate the amount of food that she was told to eat, and followed an exercise program. I also know that her doctor told her to take a supplement but that was to make up for the nutrition she wasn't getting because there were certain foods that she couldn't eat.
Cinnamon is supposed to be good at aiding weight loss. Google it and see what the dosage should be.
Oh yes, supplements alone won't help you lose weight. Your doctor should have given you a diet to follow. Before my friend lost all that weight after surgery, she was on oxygen 24/7 for COPD, and for several years she was off it, but is on again for another health reason.
She has gained a little weight back because she could no longer afford to go to the acquatics classes that she was going to.

April 27, 2012
0

found this helpful
Yeah, just plain supplements aren't going to do much. But if you can take something natural along with exercise, you will start to loose weight. I take an aci-berry supplement.

Lilac
Silver Feedback Medal for All Time! 450 Feedbacks
April 28, 2012
0

found this helpful
I think this is a medical question for which few if any of us are qualified to answer. If someone or several people do answer, how do you know the answers are accurate if they do not come from qualified sources.What if someone who means well gives you harmful advice?
Why not ask the doctor who performed the surgery?

Linda L.
Bronze Tip Medal for All Time! 64 Tips
April 28, 2012
0

found this helpful
I lost 100 lb and have kept it off after GBP surgery a number of years ago. No supplement will make you loose weight-eat what you were told to and if needed there are bariatric nutritionists/dieticians who can help you get an appropriate meal plan together.
Your bariatric surgeon or surgery center should have someone on staff or a referral for you. Supplements taken into an already fragile stomach pouch can be dangerous. This surgery works, it can be life-saving but if you don't take appropriate care it could also be Life-Ending!
Answer

this Question

Does any one know of any sites that give away free weight loss supplements?

Aliesha

Answers

pam munro
Gold Post Medal for All Time! 519 Posts
January 8, 2009
0

found this helpful
Look on the freebie sites like mommysavesbig.com or freestufftimes.com for samples like that.

(Guest)
Gold Post Medal for All Time! 846 Posts
January 14, 2009
0

found this helpful
Whatever you do, 'do not' accept any 'freebies' where they ask for your credit/debit card info in order to receive a 'free sample/free trial'!
Here's one good example as to why:
www.thriftyfun.com/tf59753394.tip.html
By F (Guest Post)
January 14, 2009
0

found this helpful
I know this is a bummer, but there is no weight loss supplement that has been shown to work in absence of a serious diet and an exercise regime. Save yourself time money and frustration. Some supplements are even bad for your health. You can find plenty of advice on www.shape,com, www.fitnessmagazine.com and www.womenshealthmag.com. Good luck.

January 25, 2009
0

found this helpful
Prepare your meals on 7" - 8" Saucers, not 10" plates, and have only ONE meal!
Answer

this Question