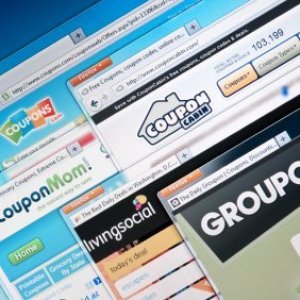 There are great websites that offer deals and discounts, but then there are just as many that aren't worth the time it takes to navigate them. Beware of sites that require a subscription before you see any of their deals and discounts, and don't waste time on free sites that aren't easily navigated. Their advice to "check here before you shop" isn't always as rewarding as it seems.
For Educators Only
Teachers receive a bevy of discounts while shopping, and it's hard to keep track of them all. The deals vary from store to store and often require participation in a customer rewards program that attaches the teacher's benefit onto the loyalty card. Because of this, it seems that good online databases for teachers are hard to come by.
One of the sites that offers testimonials to support its service but still falls short is My Education Discount (www.myeducationdiscount.com). Although its list makes it seem as if every store in the country offers a discount, the generated excitement is short-lived. Each store link opens a new page that highlights the discounts for teachers, many a generic discount that anyone can receive. The same links are often repeated, and very little is new information that the stores haven't already promoted. Still, it does offer some savings and all of the promotions seem to be valid and current. Some samples:
Joann Fabrics offers a 15% discount to teachers through the Teachers Rewards Program. This is a great link to the information, but any store will offer the same information.
Petco offers 15% off each order, but the code seems to work for everyone not just teachers. This type of promotion can be found easily in other places.
Many store "offers" end up being a link to the same Plastic Jungle website that offers discounted gift cards for stores. The premise is to buy the gift card at a discounted price and then use it to shop in the future-not much of a teacher discount.
The website Coupons for Teachers (www.coupons-for-teachers.com) is an example of a savings promise that falls flat. Every link is broken, so the printable coupon that is supposed to open does not. Sadly, there are too many sites such as this one floating around out there. Teachers are better off searching each store's policy than wasting time looking for the all-encompassing savings website.
Savings for Soldiers
Soldiers and their families deserve all we can give them, and many businesses agree. There is a multitude of supporting websites that tally businesses offering military discounts.
One site, 4 Military Families (www.4militaryfamilies.com/militarydiscounts.htm), offers a comprehensive list of businesses offering discounts (plus the site offers a myriad of other information for families). Only a few of the businesses have links to the details of the discount; the site is merely a listing with the disclaimer that certain locations may not adhere to the discount policy. Still, if you're heading to dinner it's nice to know which restaurants may offer perks to our soldiers and their families.
Another site, Military Coupons (www.militarycoupons.com), lists the same businesses with links to the coupons or promotions. However, the coupons open in small windows with little direction about how to obtain the discount. You'll have to visit the store in person or call to hear the details in full.
What Was That Promo Code Again?
The biggest problem with online promotional codes is finding the code. The sale for photo finishing will appear in this week's flyer, but if you haven't recorded the combination of numbers and letters you can't get the discount when you place your order. Sites such as The Coupon Connector (www.couponconnector.com) and Promotional Codes (www.promotionalcodes.com) organize them for you with very little problems.
I've noticed that some drug stores advertize sales only at the beginning of the week, and by the end of the week they've stopped posting the promo codes on their websites, although they're still available. Also, some promo codes work even when they're not advertized. If you suspect that there might be a valid code for the week (and there usually is) visit one of these code collector sites to give it a try. I've found codes that I didn't know were active for reduced shipping and money off large orders. This is the site you want to check before you order.
Read More

Comments

Were do you find all the coupons? What sites do you know of that are legit?
By joanna from Texarkana, TX

Answers

April 20, 2011
0

found this helpful
RedPlum.com and Smartsource.com are good ones. Also try coupons.com. All of these are the real thing.
In fact, redplum and smartsource are where many of the coupons in the Sunday newspapers come from.

April 23, 2011
0

found this helpful
Coupon mom. She has a good system using coupons you can print, sunday paper coupons and using the sale ciruculars. Print out the instruction manuals and read closely.

May 6, 2011
0

found this helpful
I use thecouponclippers.com, they have tons of coupons.

September 22, 2016
0

found this helpful
freepricecompare.com/daily-deals
Here you can find all coupons or vouchers offered by major websites like Groupon, Wowcher, Travelbird and Living Social.
Read More

Answers

What are the best websites for manufacturer's grocery coupons?

Marty from Michigan

Answers

Marjorie
Silver Feedback Medal for All Time! 290 Feedbacks
October 21, 2008
0

found this helpful
FYI
By Beverly (Guest Post)
October 21, 2008
0

found this helpful
Valpac.com is one.

October 21, 2008
0

found this helpful
Try couponmom.com, click on the link to free coupons.

badwater
Silver Post Medal for All Time! 263 Posts
October 25, 2008
0

found this helpful
Most all brand name companies have websites, just add a "www." in the front of the company name, with adding a ".com" on the end, with no spaces will bring up millions of websites. For posting them on here, I have to add the http:// you'll see on most on here to get them to highlight so you can click on (Ex.: http://www.generalmills.com) and go to immediately from this site, but to just 'go to' from your home computer just go by the instructions I gave at the top of my tip. Either way will get you to a site. Happy Surfin' and good luck with your coupon searchin'.
By SC (Guest Post)
December 2, 2008
0

found this helpful
Try selectcouponprogram.com

February 7, 2009
0

found this helpful
My favorite place is upromise.com you click on the coupons and whenever you go to a participating store they are automatically deducted. In addition they deposit money in my daughters college savings account. You have to sign up, but there is no cost.
Answer

this Question

Betty
Bronze Post Medal for All Time! 104 Posts
Does anyone know where I can get coupons on paper plates and pet products? I did a Google search and haven't been able to find any on the coupon sites. Thanks
By Betty from Lubbock, TX
Answers

January 26, 2010
0

found this helpful
Go to-ppgazette (penny pincher gazette). I use yahoo, good luck.

January 26, 2010
0

found this helpful
There are many coupon databases around to easily check where to find coupons for a certain product.
www.google.com/search?q=Coupon+Database
I usually use the one at a Full Cup but you need to register first to use it.
www.afullcup.com/coupons
You can filter the results if you are looking for newspaper coupons or internet printable etc.
Another way to to look up the websites of the brand names you use often and see if they have printable coupons there or if there is a newsletter/email sign up which most often will have coupons or special offers available. You can also call the toll free phone numbers of companies and request coupons. Some have limits on how often you can do this.
Or try the coupon trading section right here at ThriftyFun and trade for the ones you need:
www.thriftyfun.com/board_coupons.html
I have never done it but you can also buy coupons on eBay or a coupon clipping service. One of the more popular trusted sites for that is: www.thecouponclippers.com/
If you click on the CONTACT button next to my name and leave me your mailing address I will send you my pet coupons and paper plate coupons (I think there was one in last weekend's paper?) as I don't use either of those types.
As for paper plates unless you are picky on the brand most often the generic or store brands are cheaper than a name brand with a coupon (at least in my neck of the woods). A dollar store would also be cheaper perhaps.

January 29, 2010
0

found this helpful
Try ebay. I get 20-$5.00 off hair color for $1.50 from sellers on ebay. So basically, I pay half price for my hair color. A friend of mine and I split the coupons.
Here is a current sample offer for coupons....check it out.
cgi.ebay.com/10-Coupons-SAVE-2-Chinet-Salad-Side...
Good luck.
Answer

this Question

badwater
Silver Post Medal for All Time! 263 Posts
I'm into coupons and refund offers (some call it rebates). I'm on several trading lists. When I'm reading the trading posts/lists, if I see something (coupons, upc's, etc.) that I think I might have on hand, but not for sure how many, I'll make a note of it to check later. I make more trades that way than from the actual posting of what I have available to trade.
When I post something in particular, that's what I'm wanting and would prefer, but I'm open to suggestions. Someone else might have a better idea than what I'd first thought of, or maybe they might have something to trade that I could use and didn't know even existed. We all have the prerogative to trade or not to trade.
Editor's Note: Do you have any tips for trading coupons online? Post them below.
Answer

this Question