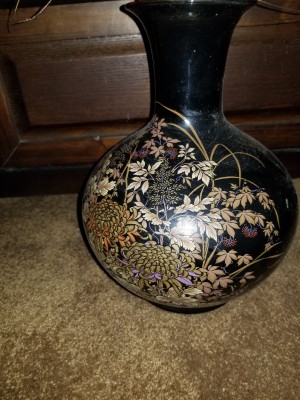 I have had this vase for approximately 40 years. I received this as a wedding gift. I am wondering what its value is.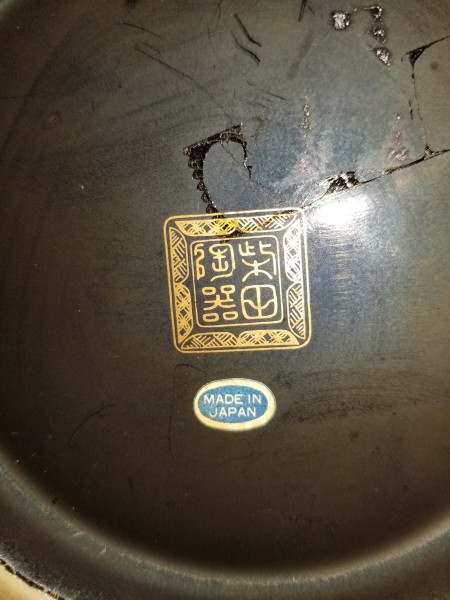 Answers
December 27, 2019
1

found this helpful
Best Answer
This is a lesson I learned the hard way many years ago. Be sure to find this match exactly when comparing values and not just the pattern.
BTI (before the internet), I was selling off some of my grandmothers small vases at the flea market, most of which were dime store items because her grandkids would break things so she bought cheap items when we were young.
I just assumed everything in my pile was a dime store vase--they all looked alike to me as they were almost identical patterns of small, vases from Japan.
What I didn't know then was one was occupied Japan and back then there was still value in OJ pieces. Before the internet I would have to go to the library and pour over books to figure out what I had in the antiques I was selling. I was just being lazy and didn't do my research.
So, I had these all vases out for 50 cents each and a guy scarfed one of them up quickly. Just the one. The next week I went back to the flea and he had my vase up for sale in his inside booth for 50 dollars. Live and learn!!
So that said...it is all so much easier today.
My best suggestion is don't waste time trying to find the translation on the internet unless it comes up immediately in a reverse image search (which yours did not). If you have a college or high school nearby where they teach Japanese, they should be able to offer you a translation (hopefully for free), then you can go to eBay solds and find the company and maybe your exact piece so you can value yours.
Sadly, in general, most Japanese vases from the 1980s have little value in today's market, BUT I learned not to assume--but to verify!
Post back what you learn! Thanks for sharing!
December 28, 2019
1

found this helpful
Best Answer
Your vase appears to be shibata but most of their pieces have the name 'Shibata and Japan as well as the marks but yours does not. Also the 'Made in Japan' seems to be a paper label (?) and I do not remember seeing this type label on any of their pieces. From your picture it appears there was another marking that was removed or? Does it appear that way when looking at your vase?
All of this is strange to me but we have to realize that Shibata was a lot more valuable 40 years ago than it is in today's market.
The vase on Etsy seems to be the same pattern but a different style vase and could also be a different size which may be an important difference. The marking is definitely not the same as yours but seems to be the authentic Shibata mark.
www.etsy.com/.../black-and-gold-chrysanthemum-shibata...
As to value it does not appear that any Shibata pieces are selling for very much money. Sales on eBay all appear to be low and now that holidays and gift giving is gone for 2019 sales may be very slow.
www.ebay.com/.../i.html?_from=R40&_nkw=shibata&LH_PrefLoc...
Answer

this Question
Through my research, I've been able to determine what this urn/vase is a Japanese Champleve cloisonné vase. However, I've been unable to determine its era or its approximate value.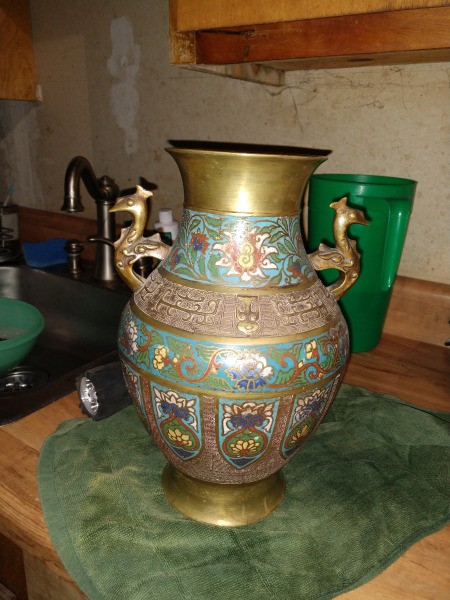 I inherited this urn/vase from my great aunt who told me it was brought from Japan during WWI, by one of my relatives. I've been unable to find any mark on its bottom. In researching, I found a posting, by OLD LADY, of an urn with the same handles as mine. Are these handles unique to our vases? I've not found any other like them. Any help you can provide will be greatly appreciated.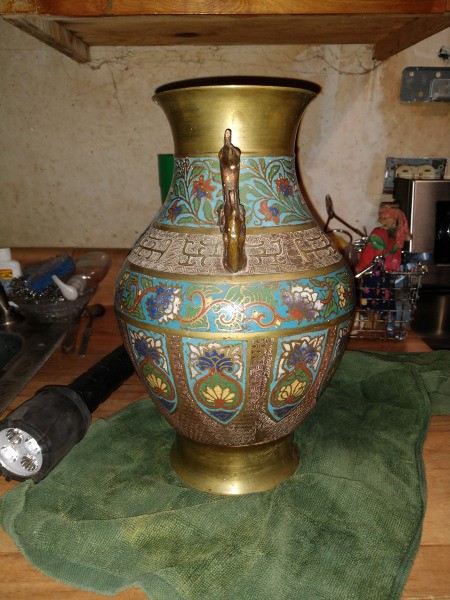 Answers
September 6, 2019
0

found this helpful
On Cherish.com it's going for $360.00. You can find the best pieces on this site!
September 7, 2019
0

found this helpful
In actuality, I believe most of this is misleading as to the true value of this style/type of vase.
There were thousands of similar vases sent home or brought home during and after WWI - mostly during the period 1930-1935.
You can find thousands of Japanese Champleve Cloisonné Vases listed on auction sites everyday and many have the Peacock handles but the majority will not have handles of any kind.
Asking prices are very misleading as there are many sellers (many have been misinformed of the true value) who think their 'items' are worth far more than the market shows.
The Japanese Champleve Cloisonné Vase is still popular in the US but these are also popular in the UK.
It appears the vases with handles (of any kind) are the least sought after style in this field and vases with markings (even just - Made in Japan) are favored.
eBay is usually where most people and appraisers look to find information about items like this (considered low value and probably easily available) and these vases are no exception.
There are presently over 1,100 Japanese Champleve Cloisonné Vases listed for sale on eBay. If you check on sort by highest price research you will find very few of your style vases (with handles/no marking) until you drop below $100 and generally lower.
The most popular 'handles' are the dragon style but even these are low value (under $100).
www.ebay.com/.../i.html?_from=R40&_nkw=Japanese+Champleve...
When checking sold listings on eBay sort by (highest price first) (presently 377 sold over the past several months) I found only 3-4 vases with any type handle in this group and these were below $100.
Although quite a few are listed for sale; It definitely appears the vases with handles are the least popular style.
www.ebay.com/.../i.html?_from=R40&_nkw=Japanese+Champleve...
Here is a similar vase presently listed on eBay that you may wish to place 'watch' to see if it sells.
www.ebay.com/.../202617825715?hash=item2f2cf6a9b3...
This is a popular site for true collectors when searching for this type of item and I searched for vases with handles and found only one (very tall urn).
You have to be a paid member to see prices so all you will see are pictures.
www.carters.com.au/.../?page=3
I do not mean to be so negative about the value but I also do not like for someone to be mislead into maybe thinking they have something more valuable than it actually may be.
This is not to say that you should place a low value on your vase but list it at a higher price and lower it after several weeks if no shows an interest.
When posting for sale, be sure to take several uncluttered pictures and give measurements for sure.
September 8, 2019
0

found this helpful
If you look on this link on our Thrifty Fun, someone else posted what looks like the same vase in October 2018:
www.thriftyfun.com/Finding-the-Value-of-a-Old-Japanese...
Scroll down to the post by kcarlisle1963.
This type of vase is not unique, very cool, but not unique. I would date it to it being new when purchased during WWI.
I will make the same suggestion that I made to kcarlisle1963 to have it looked at by an antique/vintage dealer and give it a value for your town.
Where I am, TOPS, they will fetch 40.00 (this is retail in a store), at the flea market, under $30 and at a yard sale, $15 or less.
What I can tell you from my studies is they did hold value before the internet took over, but now with everyone selling to anyone world wide, the value of these pieces has dropped significantly. It is simple 4th grade civics of supply and demand. The supplies are high, the demands are low, therefore the values are low. It makes me sad! And many other people who were hoping to retire from their nest eggs of cool items passed down to them.
There may be ringers out there (meaning items that still fetch a lot), but generally the value for probably 3/4 of all things "collectible" have dropped in value since the internet hit, with the biggest drop starting from 2008.
Post back what an expert tells you!! Hoping to learn more!
December 31, 2020
0

found this helpful
Unfortunately, it is true that Champleve pieces are not in demand right now. I collect Japanese Cloisonne and have several Japanese Champleve pieces that have beautiful patina and are quite old. Just not much of a market for them.
The big demand is in really high quality Japanese Cloisonne pieces. Extremely fine detail, noted artisans, black or dark blue background, especially with highly detailed birds or butterflies are the "silent rage" right now.
I watch for Japanese cloisonne on ebay and other auction sights daily. 80% of what's out there, what I call "low resolution" pieces get no bids or even interest. Seriously damaged pieces just sit there as well. However, when a high quality piece shows up (and they do show up), the bidding is ruthless. If a high quality piece is listed with a "buy it now" or "best offer" that is anywhere near reasonable, they quickly get snapped up. To me, the really good pieces are easy to spot - they stand out and scream "buy me, buy me".
Champleve can be beautiful, especially the bronze portions, but they are "low resolution" buy their nature. The artistry needed to make these pieces is nowhere near what was necessary to make the very fine quality cloisonne vases. I've even thought about selling my quality champleve pieces, but there doesn't seem to be much market for them.
Answer

this Question
Answers
October 10, 2018
0

found this helpful
It looks like a Japanese Champleve Cloisonne Vase. Look on the bottom for markings.
October 10, 2018
0

found this helpful
I agree with attosa that it looks like it is in the family of Japanese Champleve Cloisonne Vase.
My friend's late wife (may she rest in peace) collected these pieces. Enamel and brass. They were HUGELY popular for a while...I want to say that was in the 1980s, maybe early 1990s.
I was not able to find an exact match to yours on eBay at the moment. There are tons of similars, but you know from our previous discussions, I am all about EXACT matches of SOLD items where you can.
I can't remember my brass markings...although I do remember many of the newer at the time had paper stickers which came off.
The peacock makes this piece unusual to me, as I am more familiar with ones with elephants or decorative (not figurative--figures) handles.
Save this one to take to a trusted antique dealer. In general the brass and enamel pieces are all over the board in values. I am not sure how tall this lovely is, but the taller ones seem to get more than the smaller ones.
It is quite lovely and I wish my friend's wife was here, because she would be able to tell me everything about it. Sad.
Circle back with me to share what you learn!! As we have talked about, I love learning values of things in other parts of the world!!
Thanks for sharing!
Answer

this Question