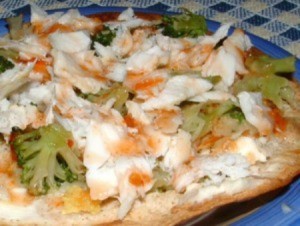 This recipe is quick, easy, and healthy! You can thrift it up by stretching the halibut (or other white fish) across four tortillas if you'd like; just double all the other ingredients. I make this in my trusty toaster oven to save on energy costs, but if making four tortillas, a regular oven is faster.
Ingredients:
2 Tbsp. mayonnaise
1/2 lb halibut (or other white fish) fillet (boneless and skinless)
2 whole wheat tortillas (10 inch)
2/3 cup broccoli (I'm lazy and just thaw some of the frozen stuff)
1 garlic clove, peeled and minced
1 inch fresh ginger, peeled and minced
2 green onions
2 Tbsp. soft cream cheese
4 Tbsp. Parmesan cheese
lemon pepper or Penzey's pizza seasoning
4-6 Tbsp. sweet chili sauce (I use Mae Ploy)
1/2 a medium carrot, coarsely shredded
Directions:
Place halibut in foil-lined pan and spread with mayonnaise. Bake at 425 degrees F until slightly underdone, about nine minutes per inch thickness of fillet.
Remove cooked halibut from oven and fold foil over to keep warm and to let fish finish cooking.
Put tortillas on a non-stick or lightly greased baking sheet and bake for three minutes or until toasty light brown at the edges. Remove from oven.
Spread tortillas with soft (must be very soft to not wreck tortillas) cream cheese. I usually use my fingers and make a giant mess.
Place all remaining ingredients except halibut, carrot, and sweet chili sauce on tortillas, making sure to space everything out nicely.
Lower oven temperature to 350 degrees F and bake loaded tortillas for five minutes.
Flake the halibut and add to tortilla toppings. Sprinkle on the grated carrots. Drizzle sweet chili sauce over the whole thing. Devour.
Servings:
2
Time:
15 Minutes Preparation Time
20 Minutes Cooking Time
Source: Me! I invented this!
By Stephanie from Anchorage, Alaska
Comments
July 23, 2017
0

found this helpful
This is intriguing! I grew up on and still eat a LOT of fish. However, in all that I have never had Halibut, so this is perfect for the Halibut I just recently purchased and that for some reason I have been afraid to cook; probably because it is something new and very expensive, ($35. and change for three 4"x4" pieces), so once I master it I will likely switch to cod or tilapia - - maybe even splurge on my favorite - - catfish!.
Thanks for providing this recipe for me to learn to cook and eat halibut!
;->