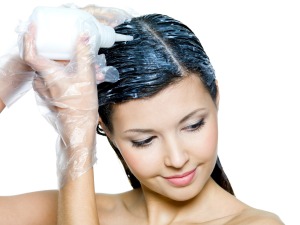 I have been dyeing my hair this reddish brown for the past year and when I went to visit my mother we decided to dye our hair together. Just to have a change I decided to go back to blonde. It was a big mistake and now my roots are blonder then the rest of my hair.
I went to the hair dresser thinking if I got streaks it would hide my roots, but I had a very inexperienced hairdresser and after spending 100 bucks to get highlights my roots are now a bleach blonde and the rest of my hair is more of a cool blonde. Any at home remedies for this problem or am I to go back and spend more money on my hair?
By Anita from Toronto, Ontario
Answers

August 23, 2012
1

found this helpful
Best Answer
Stop messing with your hair as now it's damaged and it will only get worse. Go to a qualified beautician and go to her more than once as you're dealing with chemicals and sometimes the outcome isn't to your liking the first time. With all the crazy hair styles and colors I wouldn't worry too much, it really doesn't sound that bad.
We all tend to experiment with hair color and believe me we all survive! Another suggestion - condition, condition and condition! Good luck!

August 29, 2012
0

found this helpful
Best Answer
I would go into a place like CVS and get one of the root touch up kits. It isn't going to cost more than $8 or $9 and you might even pick up two of them if you have thick hair since they don't put a lot of the color in for just a root touch up. I recently totally crapped out my hair by having the desire for blond hair. I bought one of the bleach colors and it just mutilated my hair. It was half dark growing in and the ends were horribly dry and totally platinum blond.
I decided to go to find only one person to do my hair until it got better. I am happy to say that it has worked and I stayed with one hair stylist for a year and now I have nice soft non dry hair and it is a really pretty lighter sandy blond color with highlights that are even a prettier golden blond.
If I were you I would first try to get the root touch up and go and get a good haircut and have them cut off as much as they can. I mean it will grow back and yeah it sucks and you may have shorter hair than you would like but it will start to get better around the 6 month period. You have to remember that even the hair stylists out there just get taught certain things and good luck finding someone who can totally fix what was done!
So try it out and see what happens, in the mean time call different places and see if they have experienced hair color specialists in house (only people who have experience with color 20-25 years) that way you can hopefully find someone cool who would be able to help you out! And be sure to stay away from any of the places who have spa in their titles. I find going to a Super Cuts or Fantastic Sam's you can really get lucky! That is just what I did. Good luck and I wish for you to have a quick hair recovery period!
kmpick88

Dena Roberts
Bronze Feedback Medal for All Time! 102 Feedbacks
September 12, 2012
1

found this helpful
Best Answer
I am a retired hair stylist. I would suggest you buy a bottle of temporary hair colour from your hair salon and apply it to your roots only, every few shampoos. It washes out gradually and is gentler than the permanent hair colours. Keep using this until your bad colour has grown out. Then get a good haircut and start over. A light colour, like blonde, will not cover a dark colour like reddish brown. You just have to let it grow out. And use a good conditioner, like "balsam".
Answer

this Question

So today I went and got some Splat pure sapphire hair dye cause I wanted a change from around 5-6 years of dyeing it red (natural is dirty blonde). I liked how it looked after bleaching it, but I didn't get all of the color out. I know that was my mistake, but to be honest I think I just liked it with the whitish blonde roots and strawberry blonde hair so I forgot that it'd need to be all like the roots.
Basically the blue turned out muddy and now I'm wondering how long till I can use a color remover and if I can get the bleached version I got back?
Answers

December 3, 2017
0

found this helpful
Best Answer
Deep condition weekly and try again in a month.

December 3, 2017
0

found this helpful
Best Answer
I feel your pain- I once dyed my hair 3 times in one weekend and still had to get a professional to fix it. Wait as long as you can tolerate it before bleaching or using color remover and condition like crazy. The color remover should have how much time to wait between uses and I'm pretty sure it's a little less severe on your hair. I dyed my hair blue years and years ago, and when I needed to change it to get a new job, I couldn't get it all the way out; I used the pro stuff from the beauty supply store 3 or 4 times and the tint was still there.
And just a heads up- the blond you get from the bleaching process won't look nice for long, it will turn brassy before your roots become even become visible. You may want to get a toner or dye that matches the shade of blond you want. Keep up with the conditioner and pick up something to wash out the impurities if you go swimming (I've also had orange and green hair from Sun-in and swimming when I was 13 and have been dying my hair for 23 years since!)

poehere
Bronze Post Medal for All Time! 105 Posts
December 4, 2017
1

found this helpful
Best Answer
There are several ways to take the color out of your hair naturally.
You can make a paste out of lemon juice and baking soda. Put this on your hair and leave it for an hour. Afterwards, shampoo and condition your hair.
Equal parts of vinegar and water put on your hair and left in for a few hours will also remove hair dye. Afterwards, shampoo and condition your hair.
You can also take Vitiam C tablets and mix with water to make a paste and apply to your hair. Leave in for about an hour. Then wash and condition your hair.
These are a lot safer for you hair and won't damage your hair like other hair dye removers.
Answer

this Question

I colored my hair and the outcome is dark roots with light ends. Help please.
Answers
msjodiwms
Bronze Feedback Medal for All Time! 182 Feedbacks
January 11, 2017
0

found this helpful
Best Answer
I would consult with a colorist in a beauty salon 2 correct your color. They would know how to rid your hair of the color and also they are trying to know what chemicals to use to mix to achieve the color you desire and to keep your hair healthy

January 11, 2017
0

found this helpful
Best Answer
You could put a semi-permanent dye on the lighter part of your hair. It would even it out and not cause further damage.

January 14, 2017
0

found this helpful
Best Answer
You can use a deposit only Demi color such as Ion found at the beauty supply store with 10 volume developer. It will cover and no damage will result.
Answer

this Question

I had my hair bleached to remove the blue black permanent color which I have had for years. I put a permanent steel blue color on it, but it didn't take at the ends so I covered it with African violet semipermanent color. It looked lovely for a couple of days, now I'm left looking like a mermaid's color hair, light blue and green.
I've short hair. I don't want to be a blonde. Can I recolor with a dark blue or violet or even put blue black permanent back on?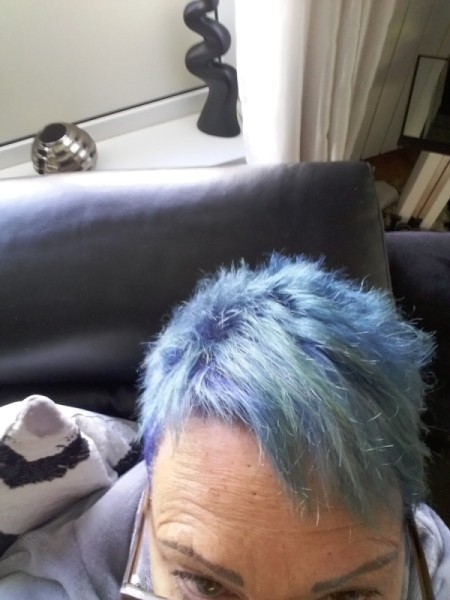 Answers

poehere
Bronze Post Medal for All Time! 105 Posts
November 10, 2017
0

found this helpful
Best Answer
In order to not damage your hair further I would do a few deep conditioners before applying another hair color to your hair.
If you need to remove some of the green color or the other color you can try mixing 1/2 and 1/2 lemon juice and putting this on your hair. Leave it in your hair for around 1 to 2 hours. Then shampoo and condition your hair.
This should remove most of the color in your hair and then you can wait one to two days and dye it back the blue/black color you had before.
Some of the semi colors that people use in their hair wash out quickly and will your hair with a different color than expected.
Answer

this Question

Oh help. I recently decided to dye my hair dark brown, my natural hair color, before the gray came. I have been blonde for years. The gray mixes right in a whole lot easier. Anyways, I now look like an Easter Egg.
I did go to a shop and got blonde highlights put it, it looked good, but the gray came in quickly. So I went back, and wanted more blonde. It came out looking like I had a calico cat sitting on my head.
I immediately went and bought a Revlon blonde bleaching kit. My hair came out very light blonde at the roots, with all the rest a reddish blonde with lighter blonde highlights. It looked like nothing I've ever seen in nature.
So I went back to the beauty shop and the tech applied a soap cap, which I guess is diluted bleach, unsure, and my hair did come out very light, but the reddish blonde is now yellow.
Short of shaving my head or wearing a babushka, I'm not sure what to do now. Should I just wait and keep getting it cut (I wear it short anyways)? I have strong hair, but I'm not sure how much more abuse I can hit it with and still have any left.
By Peep from Rochester, NY
Answers

April 22, 2011
0

found this helpful
Best Answer
Call the help center number in the directions. I have had to call before and they will tell you what to do to fix your hair color.
Answer

this Question

My hair stylist messed up my hair on retouch. From blonde she went to reddish brown. To fix it, she made it either blonde or white streaks to cover it up. I want to go blonde again. Please help.
By nelushka from FL
Answers

January 5, 2010
0

found this helpful
Best Answer
If it were me, I'd demand that my stylist refund my money or fix my hair the way I want it. If she cannot fix it, then she should refund your money so you can go to someone who can fix it. I know it's hard to confront people and especially if you've been seeing your stylist for awhile but if he or she is reputable, they will want to make sure their clients are happy and especially if it was her mistake to begin with.
Once I had a stylist "burn" my hair with a perm. I went from hair down to the middle of my butt to hair that barely brushed my shoulders and the hair I had left was like straw. It was frizzy and broke off at my scalp. Horrible! The stylist worked with me for 6 months for free with free moisturizing treatments, free shampoo and free hair cuts until my hair looked good again. She could not give me back my long hair but she worked hard to rectify her mistake.
If you cannot bring yourself to do the above, then you might ask another stylist what your options are or if you just have to wait a few weeks to have a re-do so you don't totally damage your hair.
Answer

this Question