Flavored Nut Recipes
Solutions
Share on ThriftyFunThis guide contains the following solutions. Have something to add? Please share your solution!
This recipe calls for using Splenda, but you could probably use white sugar instead. Very simple to make, and you can choose the combination of nuts according to your taste or what you happen to have on-hand. I only had blanched almonds when I made this, and they turned out well and are not too sweet.
Ingredients:
3/4 cup pecan halves
3/4 cup walnut halves
1/2 cup whole blanched almonds
1 egg white, lightly beaten
1/3 cup granulated Splenda
1/2 tsp. cinnamon
Directions:
Preheat oven to 300 degrees F. Spray a 15x10x1 inch pan with cooking spray.
Combine nuts in a mixing bowl; add egg white, tossing to coat.
Combine Splenda and cinnamon; sprinkle over nuts, tossing to coat. Spread mixture evenly in prepared pan.
Bake for 30 minutes, or until nuts are toasted, stirring every 10 minutes. Cool on wax paper. Store in an airtight tin.
Source: http://splenda.tastebook.com/recipes
By Maryeileen from Brooklyn, OH
October 26, 2009
5

found this helpful
Dress up peanuts with your favorite BBQ sauce flavor :-) So easy!
Ingredients:
1/3 cup barbecue sauce
2 Tbsp. butter, melted
16 oz. dry roasted peanuts
Directions:
Place barbecue sauce, melted butter and peanuts in a large bowl. Stir until peanuts are well coated and then spread evenly in to a greased 13x9 inch baking pan/dish.
Bake uncovered at 325 degrees F. for 25-30 minutes, stirring twice during baking time. Allow to cool about five minutes and then spread out on to wax paper until completely cooled. Best if stored in covered glass container.
By Deeli from Richland, WA
January 17, 2011
1

found this helpful
Ingredients:
2 cups toasted nuts
1 cup granulated sugar
2 tsp. cinnamon
1/2 tsp. nutmeg
1/2 tsp. cloves
1/4 tsp. salt
2 egg whites, at room temperature
Directions:
Prepare a baking sheet by lining it with aluminum foil, and preheat the oven to 300 degrees F.
In a medium bowl, mix the sugar, spices, and salt. Place the room temperature egg whites in a small bowl and beat them to soft peaks with a hand held mixer.
Working with a small handful of nuts at a time, drop the nuts in the egg white and then in the sugar/spice mixture, coating them thoroughly. Spread the coated nuts on the baking sheet, and repeat with remaining nuts, egg white, and spices.
Bake the nuts at 300 degrees for 20 minutes. Allow to cool at room temperature, then break any large clumps into smaller pieces. Store Spiced Nuts in an airtight container or plastic bag at room temperature.
By Jodi from Aurora, CO
Heat oven to 325 degrees F. Line baking sheet with foil. Coat with no-stick cooking spray. In a large saucepan, combine nuts, water and sugar. Bring to a boil over medium heat, stirring occasionally.
Boil and stir for 5 minutes. With a slotted spoon, carefully remove nuts. Spread on prepared baking sheet in a single layer.
Read More...
November 22, 2005
0

found this helpful
Heat oil in 8 inch skillet over medium heat. Cook garlic in oil, stirring occasionally, until garlic is golden brown; remove garlic and discard. Stir peanuts and chili powder into skillet...
Read More...
Questions
Ask a QuestionHere are the questions asked by community members. Read on to see the answers provided by the ThriftyFun community or ask a new question.
I have been searching for a recipe for "Circus Peanuts". Does anyone have the recipe? I know where to purchase them, but I want to know how to make them.
By Mary Pallister from Atascadero, CA
Answers
July 22, 2010
0

found this helpful
Go to: www.hungrybrowser.com and see if it's there. I've had unbelievable luck. The man that runs the site calls himself 'Phaedrus finder of lost recipes'.
Good luck!
July 24, 2010
0

found this helpful
Thanks for that website Metroplex!
August 1, 2010
0

found this helpful
Here is a link to a recipe for making the Circus Peanuts candies. I have not made the recipe.
Scroll down the page to a recipe by annabella1.
http://www.back read.php?t=20240
August 3, 2010
0

found this helpful
This is not a recipe for making the circus peanuts, just a recipe for making jello out of circus peanuts.
Please, just the recipe on how to make the circus peanuts. From now on, please read the recipe before sending any feedback.
Answer

this Question

...
Does anyone have a recipe or any ideas of how I can use a little over a pound of raw Spanish peanuts? I am not interested in peanut brittle, but maybe just roasting in the oven or something of that sort. I would appreciate any feedback. Thank you.
By it's.only.me from NE PA/USA
Answers
February 16, 2011
0

found this helpful
Roast raw shelled peanuts in a single layer on a cookie sheet in a preheated 350 degree oven for 15 to 20 minutes, stirring occasionally, then salt to taste. Roast raw, unshelled peanuts for 30 to 35 minutes.
February 17, 2011
0

found this helpful
You can share some with the squirrels and birds ;-) Or toast them in a skillet and add to salads and if you like low heat spicy you might like this recipe for yummy snacking.
Wasabi Nuts
Ingredients:
1 lb shelled whole salted nuts
3 tbsp wasabi powder (if you use wasabi paste do not use the 1 Tbsp of water)
1 tbsp water
2 tsp cornstarch
1 egg white
Directions:
Preheat oven to 350 degrees and line a roasting pan with foil, lightly greased. Stir the wasabi powder and water together to make a paste in a large bowl, add cornstarch and stir just until blended. Whisk in egg white until foamy, add nuts and toss well to coat. Spread nuts in a single layer in roasting pan and bake, gently turning two or three times, for 30 to 40 minutes or until nuts are roasted and dry.
Allow to cool before serving. The nuts will stay fresh in an airtight container for about a week.
February 18, 2011
0

found this helpful
You could put them in the food processor to make peanut butter, if you'd like.
15 oz. Peanuts (brown skin removed is best.)
1 teaspoon Kosher salt
1 1/2 teaspoons peanut oil
1 1/2 teaspoons honey
Add everything except for your oil. Process for about 1 1/2 minutes. Scrape sides then turn back on and add your oil slowly while it is processing. (approx. 2 minutes.
If you find this mixture too thin for your liking, add more peanuts. If you find it too thick, add a bit more honey.
Answer

this Question

...
My Candied Walnuts are seizing up! I got a really simple recipe for spicy candied walnuts, for my salads and snacking. I made a small batch the first time and really liked them, they came out with that hard crack type shell. I tried another recipe that the sugar crystallizes on the nut, didn't like it so much. So I made the regular size batch and it didn't work out that well. I used everything the way I was supposed to but the caramelized sugar/cayenne/salt/oil mixture seized up into a candy type stuff. Now don't get me wrong, this spicy sweet candy pieces are good, but I want it all over my walnuts!

What happened? And what can I do different next time?

Michawn from Morgan Hill, CA

Answers
By D (Guest Post)
November 30, 2007
0

found this helpful
You need to monitor the sugars temperature. You had reached hardboil stage. Lower the heat a bit. Go to this website and it will show you how to properly cook the sugar mixture.
Answer

this Question

...
September 21, 2018
0

found this helpful
Spiced pecans offer the perfect balance of spicy and sweet. If you haven't had this variety, here are some recipes to try. This is a guide about spiced pecans.

February 27, 2017
0

found this helpful
Spiced almonds are a tasty and healthy treat for any time of year. This is a guide about spiced almond recipes.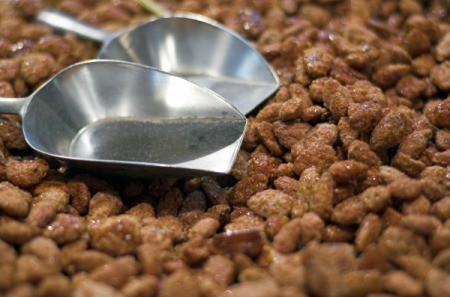 Related Content