Flavored Oil Recipes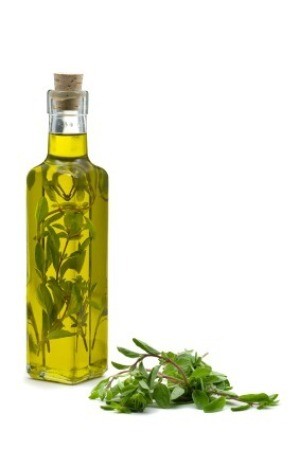 Much less cost than store bought and can be made in five minutes or less.
Ingredients:
1/2 cup extra virgin olive oil
1 tsp. dried crushed red pepper flakes
Directions:
Combine oil and crushed red pepper flakes in a small saucepan. Cook over very low heat until oil reaches 180 degrees F. The amount of time will depend on whether you increase the amount of ingredients. For this amount it is only a couple of minutes. Keep an eye on it and do not allow oil to smoke or burn!
Remove from heat and cool to room temperature. Transfer to a small lidded glass jar or bottle and refrigerate for up to one month.
Yield: 1/2 cup
By Deeli from Richland, WA
Read More

Comments
More Solutions
Share on ThriftyFunThis page contains the following solutions. Have something to add? Please share your solution!
The uses for delightfully tasting garlic infused olive oil are endless. It's great for anything as a simple flavoring for pasta, flavoring for steamed vegetables, in a salad dressing and heavenly as a dipping sauce for warm crusty bread.
Read More...
Steeping basil in olive oil in a glass jar is a good way to make a good addition to sauces and soups. Add dried tomatoes, and top with a garlic clove. This sounds so good, I am going to do it, it looks prettier than just plain oil.
Read More...
10 Questions
Ask a QuestionHere are the questions asked by community members. Read on to see the answers provided by the ThriftyFun community or ask a new question.
Does anyone know what seasonings are in the olive oil that is served with the bread at Carinos? How do you make it at home?

Beth from NJ

Answers
January 10, 2007
0

found this helpful
Best Answer
I've never eaten at Carino's but they may be willing to share what the oil is seasoned with if you ask next time. Usually it's a very good extra virgin olive oil seasoned with a combination of herbs and spices like rosemary, basil, oregano, garlic powder, parsley and a little fresh parmesan reggiano grated in. Maybe you could experiment and recreate it.
Answer

this Question
Does anyone have a recipe for clove oil?

Laww


Answers
By Mary (Guest Post)
February 16, 2005
0

found this helpful
You can't really make clove oil easily. Go to a health food store and buy it in the essential oils section. It will seem expensive, but a little goes a very long way. Buy the store brand if you want to save money.
By Susan (Guest Post)
February 17, 2005
0

found this helpful
I've not tried this, but couldn't you just soak a bunch of whole cloves in some olive, almond or such oil for a week or 2 (or 3 or 4)? Just like one would make any other type of "scented" oil? I've not tried making any type of scented oil, due to the fact, as I understand it, there's a risk of rancidity.
If you do the health food store thing, you might check out some books there if they have recipes.
Good luck to you.
By (Guest Post)
February 17, 2005
0

found this helpful
Clove oil is made from the clove buds and is not something you can make and get an equililent substance. Buy your clove essemtial oil from a health food store or on the internet. It is a very concentrated oil, use VERY LITTLE at a time. More is NOT better.
February 17, 2005
0

found this helpful
be careful if using for a toothache, I have heard that it can make you ill.
By heretic zero (Guest Post)
January 21, 2008
0

found this helpful
You cannot make clove oil by adding gound cloves to oil. What that makes is flavored oil.
Answer

this Question
I've seen many recipes, especially around the holidays, for infused olive oils. I really want to be able to make some of these as gifts, as well as, for myself. I just don't know how they are used. Can anyone give any suggestions and if using for dressings, please give the infused oil recipe and salad dressing recipe it's used in?
Many thanks.
By Jessica
Answers
November 13, 2011
0

found this helpful
They can be used as dipping oil for crusty breads with an italian meal, as a cooking or basting oil, or in a salad dressing.
November 14, 2011
0

found this helpful
Personally, I wouldn't mess with making 'Homemade' herb or spice infused oils. You simply can't process/preserve them properly like manufacturers of infused oils can. Not only do homemade infused oils become rancid quickly they can also easily become tainted with botulism. I don't think the recipients of your well meant gift would appreciate possibly receiving a life threatening disease.
Might I suggest making homemade pesto sauce, which can be frozen for months before use, instead? If you're interested I would be happy to share a couple of really good recipes for it.
November 24, 2011
0

found this helpful
I am wondering if you can keep the herb infused oil in the refrigerator, that would be safer to keep it from having botulism contaminant.
Read More

Answers
How to make plain olive oil into garlic flavor oil, any recipes?

Birthaleen from Burbank, CA

Answers
By (Guest Post)
September 14, 2007
0

found this helpful
I'm sure that it would be very simple to make and not have to follow a recipe.
Pour a small amount of olive oil into a clean jar or bottle and add a clove of garlic or some minced garlic. Make sure you put cap on jar or bottle. I would put the olive oil in the refrigerator so it wouldn't go rancid. Keep it refrigerated for several days, so the garlic has a chance to flavor the olive oil. Do a taste test and see if the olive oil has a hint of garlic flavor. Strain out the garlic and keep olive oil refrigerated.
Bon Apetit!
Marge from NY
September 15, 2007
0

found this helpful
I found this information - it is not as simple as it looks: Flavored olive oils and dressings make great gifts but watch out; there are safe and unsafe ways to make flavored olive oil. The unsafe way is to put anything in the oil that contains water. That would include garlic, lemon peel, fresh peppers, fresh herbs and spices. The oil will not support bacterial growth but the water containing herbs will. Botulism bacteria can grow in this type of environment. There are several ways to get around this listed on this website: www.oliveoilsource.com/flavoring_olive_oils.htm
I have also seen this caution on a variety of cooking shows.
September 17, 2007
0

found this helpful
I peel and separate a head of garlic and put it in my food processor with a quart of good quality olive oil. I save the olive oil bottle and sterilize it. The garlic/olive oil mixture, I refrigerate for a few days and then strain out the garlic, which I save separately. I then heat the oil at a medium low heat long enough to kill any possible contamination and evaporate any water from the garlic and return it to the oil bottle. I save the crushed garlic and freeze it for use in sauces, soups, etc. Some Trader Joes and Whole Foods carries the Consorzio Garlic Olive oil. And some Costco stores on the West Coast carry it also.
September 17, 2007
0

found this helpful
I don't know how much you would like to make, but I usually just make as needed like this: decided how much oil you will need for the meal and put it into a small saucepan. Heat the oil (med. heat for toasted garlic, lower for a fresher garlic flavor). Crush garlic... depending on the size of the cloves I use 1 clove for 1 - 2 oz. oil. You might want to play with this to get it the way you like it. This doesn't take long to do and I don't have to fool with storing it.
Happy cooking!
Answer

this Question
Please post a recipe for clove oil made from home.

Kathy

Answers
By Ela (Guest Post)
February 28, 2005
0

found this helpful
Why don't you infuse cloves into an oil or alcohol?
By Guest (Guest Post)
April 10, 2005
0

found this helpful
Because of the danger of microorganisms-and flavored oil you make at home should be used that very day. Any longer than that and you are putting yourself at a risk for botulism! Don't try boiling to sterilize. The process that companies use is very complicated and that's why those oils cost so much. Just thought I would warn everyone.
April 20, 2010
0

found this helpful
Homemade oil - Bruise the cloves and fill a small jar with them. Pour in olive oil to cover. Allow to sit 1 week, then strain out the oil and save. Repeat the process with the same oil at least once more, but best if repetitions continue until the olive oil is saturated with the released clove oil.
Answer

this Question
I bought a decorative bottle and want to use Rosemary and Thyme from my garden to infuse olive oil. Should I dry them first?
By jwicklas
Editor's Note: There are many heath concerns regarding making flavored olive oils at home. Here is a request on ThriftyFun about this issue:
Answers
July 21, 2009
0

found this helpful
Here's a good how to :-)
Answer

this Question
Serving your own homemade flavored oil can be delicious, and inexpensive to make. This is a page about making infused oils.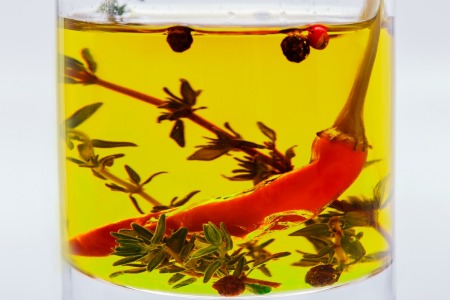 Published by ThriftyFun.
© 1997-2021 by Cumuli, Inc. All Rights Reserved.
https://www.thriftyfun.com/Flavored-Oil-Recipes.html