I have 2 outside dogs. With the summer here the flies have been biting their ears, as well as body. Their ears and some parts of the body are bloody and even scabbed. Does anyone have any inexpensive remedies that can be not only used on their ears, but the body as well?
Stacy from Wichita, KS
Answers:
Flies Biting Dogs Ears
Use insect repellent from "Burt's Bees" on the dog's body and a thin layer of Vaseline on the ears. It will help a lot trust me.(/I)(/b) (07/13/2007)

By candleglows
Flies Biting Dogs Ears
Go to the tractor supply company and get a fly spray for horses and dogs its called Bronco and it works really good. It is about $6.00 for a spray bottle of 32 oz. or something, but it is worth every penny. (07/13/2007)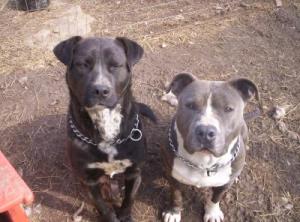 Flies Biting Dogs Ears
What a pair of sweeties, we put zinc oxide cream on our cat's ears to stop sun damage. The stuff is thick as can be and I doubt that flies could bite through the stuff. It is has good healing properties, as it is otherwise known as diaper cream. Also, I would suggest that the area they are kept in be hosed down daily to remove any "doggie" presents. The one thing flies like better than to annoy dogs and people, is poop and peepee. You might also try the old fashioned sticky fly strips hung around the dogs compound, it certainly can't hurt. Good Luck. (07/14/2007)

By Hedera
Flies Biting Dogs Ears
My vet told us to get Flys Off spray at the pet store. It works and is not too costly. (07/14/2007)

By Rosa
Flies Biting Dogs Ears
I went to the local Feed and Seed store and they sell a product for horses (it's a gel) to keep flies and mosquitoes away. Flies go after dogs ears, because it is the closest spot they can get through the skin to get to blood. The gel will harden and protect the area. (07/19/2007)
By Laurie
Flies Biting Dogs Ears
I mix Vaseline and clove oil and rub it on my dogs ears. So far it seems to work. (06/02/2008)

By momma of 2
Flies Biting Dogs Ears
I have a Lab and his ears are always swarming with flies, and the stuff our vet gave us wasn't working what so ever. My friend told me about k9 Advantix and after about a week or two the flies were completely gone. It works great. (06/21/2008)

By Jasmine
Flies Biting Dogs Ears
I had a terrible problem with flies biting my dog. I was told to go to Southern States, a farm supply store and purchase a fly tag, about 3x2 in diameter. It is used for cows and hung on their neck. It worked. My dog's ears are healed and no more flies. I tried everything, spent a lot of money and drove myself crazy trying to stop the problem. It is the only thing I have found that works. (07/16/2008)
By JAH
Flies Biting Dogs Ears
Hang plastic baggies full of water with a small piece of foil paper inside, around the home of your pet and on any area that you don't want flies, the flies will disappear with in hours. (07/27/2008)

By Mary
Flies Biting Dogs Ears
I got stuff from the vet that cost $15 and did not work. I went to the store and got $4 Desitin cream and in 2 days, the open sores were gone and now are only little scabs. They will try and wipe it off, but the flies stay away. Thank you, it really works. (07/30/2008)
Flies Biting Dogs Ears
We melt a large jar of Vaseline and add 2 oz. of oil of citronella. (08/04/2008)

By Dianne
Flies Biting Dogs Ears
I can only tell you what not to do. Do not get the fly attracting jar. (08/18/2008)

By Sammi
Flies Biting Dogs Ears
WD-40 works really good for some relief. It is safe for use on the dog. Creams are OK until the dog paws away at it then the problem reoccurs! (09/04/2008)
By Ken
Flies Biting Dogs Ears
All comments seem valid to me but it's really trial and error. I've been dealing with this problem of biting flies for over 10 years now and have found a measure of success.
Yard care: Pick up all animal excrement and fruit which attracts flies. Try to do this daily. I prefer late afternoon once the sun has dried it out. If that's not possible lightly spray RAID on the excrement to kill roaming flies.
Animal care: Initially my dogs would run and rub Fly's Off ointment all over the grass. Now I go to my local butcher and order 2" steaks of cow thigh bone and freeze them. I've learned to use thick and long-lasting chewables as rewards. Little pepperoni-type sticks just don't hold their attention that long.
My procedure with two Golden Retrievers here in So. Calif.: One at a time I'll spray and rub in a citronella spray like "Bronco" then rub in about a tablespoon of Gel Fly's Off, ears, throat, between eyes and snout, paws, tail...you get the idea. As I finish one dog I give it a bone treat. Then I'll repeat with the other dog. Once they have the bone they will take off and eat solo in the sun, which has the added benefit of further melting the gel.
An aside, you can spray Clorox Disinfectant in the bucket of dog droppings which you may keep in a bucket till trash day. No smell, no flies. I know it is a process, but not a sacrifice for my beloved dogs. Good luck.
Carlos (10/27/2008)

By Carlos