When should I expect my 11 week Yorkshire's ears to come up? I've seen other yorkies with their ears up at 9 weeks but mines aren't up yet. I've seen the parents and their ears are up and the breeder also said his ears would go up, but when?
By J from Fresno, CA
Answers
May 7, 2009
0

found this helpful
Best Answer
My mother used to breed Yorkies, and from my experience with hers, they will probably stand up on their own in a few months.
Just remember one thing. Neither your dog or his ears have ever read any books on when to do what. So they do it when they are ready, and not before. I don't mean to sound sarcastic, but it's true! LOL Just be patient and his ears will come up when they are ready. And even if they don't, droopy ears won't make him any less lovable or cute!
July 20, 2009
0

found this helpful
Best Answer
I tried taping my lil girls ears for 2 days at a time for about 2 weeks and the longest her ears stood up was for about 4 hours then they went down and you know what?....after seeing her with her ears up I though she was so much cuter with her ears down she's my lil princess I love her!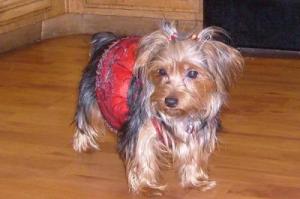 August 5, 2009
0

found this helpful
Best Answer
We have a purebred Belgian Malinois ( they look like a smaller German Shepherd)that's nearly three years old and whose ears stand up, only once in a while.
When she was little, the DH was concerned--like GSD's, the Mals ears usually stand up by around four months. We asked the vet, is it cartilage damage, or nutrition, or is something otherwise wrong?
The answer we got is that in any breed, there's always that one pup who will defy the standard and is otherwise conforming and healthy, and just doesn't hold up its ears.
So your furbaby may or may not end up with standing ears. Chances are it might, but like a child at its own pace. When a kid is three years old, does it matter if it walked at 11 months when its cousin walked at 10?
As long as your dog is healthy and happy. Love it as is. I think the floppy ears give our gal a little...character!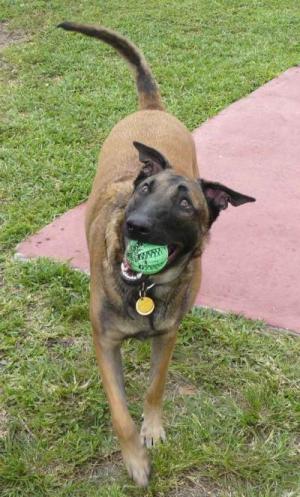 Answer

this Question

...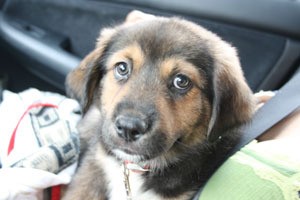 I just got a new German Shepherd/Husky mix puppy in the last 2 weeks. He is 9 weeks old, but his ears are still so floppy. No part of his ears are standing up. Does anyone have any idea if his ears will stand up some day soon?
Abbie from Webster, TX
Feedback:
RE: Puppy's Ears Don't Stand Up
Most dog breeds that appear to have standing ears usually require taping (ie Dobermans, Boxers, etc.) when they are puppies -- it's extremely painful for the puppies and tiresome for the owners. Some breeds that have ears that stand on their own, will likely stand on their own. I used to have a German Shepherd cross who's ears would perk up sometimes. I think your little puppy is perfect just as he/she is. (04/30/2008)
By Christene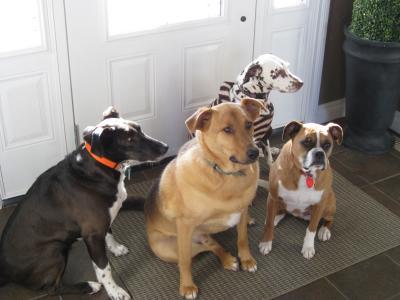 RE: Puppy's Ears Don't Stand Up
Well from what I know, your puppy's ears may or may not stand up. Because German Shepherd's ears have to be cropped as a puppy to stand up, and a Husky's ears will stand up at about 6 to 10 months old. So having a mix, it's hard to say. (04/30/2008)
By melissa
RE: Puppy's Ears Don't Stand Up
A friend of mine raises Shepherds and every once in awhile she has to tape or glue the ears, but if your puppy is only 9 weeks old it's way too young yet. Gluing isn't advised until about 4 months or so. Just give him some time and they will most likely come up on their own. By the way, he's a beauty! I had a Shepherd/Husky mix once too. She lived to be almost 15 years old. Wonderful dogs! Good luck with him. (04/30/2008)
By marisa
RE: Puppy's Ears Don't Stand Up
My husband is a veterinarian and he says maybe by 4 months. When you whistle or call to him do the ears jump up at all? That's a sign that they will some day. (04/30/2008)
By Judi
RE: Puppy's Ears Don't Stand Up
If this is a Shepherd/Husky do not tape, glue, or certainly do not crop. Some dogs that usually have stand up ears will have what is called a gouch ear (doesn't stand up). I had a Shepherd that had one gouch ear and one stand up ear as a puppy. I massaged the muscle at the base of his ear several times day (for quite a while), that seemed to strengthen the muscle and the ear stood up just like the other one.
PS: From the picture you sent it, looks like your pup might also have a little hound in him. If so, the ears might not stand up. So just rub his ears, love him a lot (he is cute) and hope for the best. (05/01/2008)
By C. R.
RE: Puppy's Ears Don't Stand Up
Some breeds require your vet or breeder to crop their ears, to make them stand up. Not all breeds' ears stand up automatically. I personally feel, cropping the ears or tails for that matter is unnecessary. Love them for the way God made them. (05/02/2008)
By KJ
RE: Puppy's Ears Don't Stand Up
Oh, he is so cute! Even if his ears never stand up. I love dogs with floppy ears. (05/02/2008)
By dayzfan
RE: Puppy's Ears Don't Stand Up
I have had non-stop German Shepherds forever as pets. Each pup is different in when and how the erectile tissue forms to stand those ears up. They are not cropped or taped. The white on your pup's chest indicates a mixed breed so you may end up with one, two, or no ears standing up. Be patient and love that little darling for who he is. (05/03/2008)
By Carol W.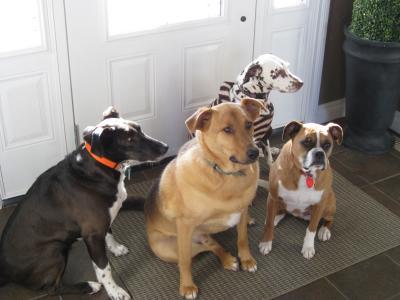 RE: Puppy's Ears Don't Stand Up
Try making sure that he gets enough calcium. Sometimes that helps. But like others have said, they may not ever stand up. And he is awesome no matter what his ears do. Love him unconditionally like he does you! :) (05/05/2008)
By Chihuahua Mom
RE: Puppy's Ears Don't Stand Up
Your puppy is adorable. If you are sure he's a Shepherd/Husky and no other mix, his ears should stand up regardless of how long it takes. I have had full blooded German Shepherds for many years. Some of them had ears up right away, and some took so long I began to wonder even though the vet said, "Don't worry". Some have to grow into their ears. I noticed this with my leaner, taller ones. Ears don't matter with a wonderful dog unless you need a certain breed for a certain reason or intend to show them. Enjoy your cute puppy. (05/08/2008)
By Nan Corpe
RE: Puppy's Ears Don't Stand Up
This is an updated picture from the subject's picture. I named him Wolfie. He is a 10 week old puppy now. He is a cute little puppy. Thank you all for giving advice and giving out information. (05/09/2008)
By abbie.n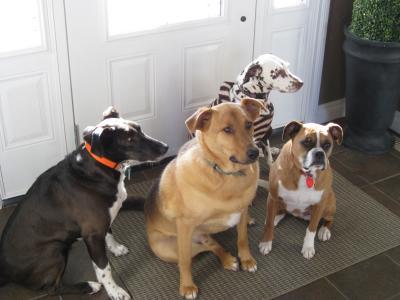 RE: Puppy's Ears Don't Stand Up
I have a Husky/Shepherd mix. His ears didn't stand up until he was about 6 months old. He partially lifted one ear, then the other. Then he fully lifted the first ear, then the second one came. He looked so cute! You have such a cute pup! (05/22/2008)
By veronica
RE: Puppy's Ears Don't Stand Up
I have a Husky/Shepherd mix and her ears didn't stand up all the way until she was about 8 months old, but they started when she was 5 months. It was so cute for her to have one ear up and the other was almost all the way standing up. (11/23/2008)
By Amanda F.