Cricket
Bronze Post Medal for All Time! 205 Posts
May 7, 2009
0

found this helpful
Best Answer
My mother used to breed Yorkies, and from my experience with hers, they will probably stand up on their own in a few months.
Just remember one thing. Neither your dog or his ears have ever read any books on when to do what. So they do it when they are ready, and not before. I don't mean to sound sarcastic, but it's true! LOL Just be patient and his ears will come up when they are ready. And even if they don't, droopy ears won't make him any less lovable or cute!

July 20, 2009
0

found this helpful
Best Answer
I tried taping my lil girls ears for 2 days at a time for about 2 weeks and the longest her ears stood up was for about 4 hours then they went down and you know what?....after seeing her with her ears up I though she was so much cuter with her ears down she's my lil princess I love her!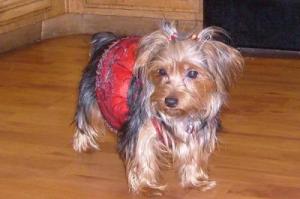 August 5, 2009
0

found this helpful
Best Answer
We have a purebred Belgian Malinois ( they look like a smaller German Shepherd)that's nearly three years old and whose ears stand up, only once in a while.
When she was little, the DH was concerned--like GSD's, the Mals ears usually stand up by around four months. We asked the vet, is it cartilage damage, or nutrition, or is something otherwise wrong?
The answer we got is that in any breed, there's always that one pup who will defy the standard and is otherwise conforming and healthy, and just doesn't hold up its ears.
So your furbaby may or may not end up with standing ears. Chances are it might, but like a child at its own pace. When a kid is three years old, does it matter if it walked at 11 months when its cousin walked at 10?
As long as your dog is healthy and happy. Love it as is. I think the floppy ears give our gal a little...character!