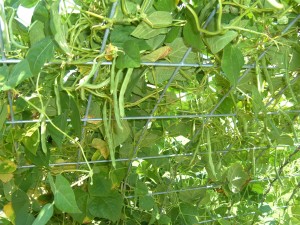 Last year we planted bush green beans and when they began to grow, they put out long shoots. That's when we realized that, by mistake, we had gotten some running beans instead of bush beans.
We were not experienced in staking running beans and did the best we could and had tangled vines with lots of beans that were not strung high enough. They produced well though. They were very flavorful and we had beans up until frost killed the vines.
The beans were so good, we planted them again this year and staked them differently. Using 16 X 5 foot fence panels for the frames, has worked great. The sections are large enough that you can put your hand through them to gather the beans.
We also planted bush beans that came in earlier. They gave out about the time these started producing. Pole beans take longer to mature.
This has been a very hot and dry summer. It has been nice to be able to pick beans in the shade of the vines. Now the vines are thinning, however, they are still blooming and producing and it looks like we will have beans until they are killed by the frost again this year.
We have had enough to can and will enjoy them all winter long.