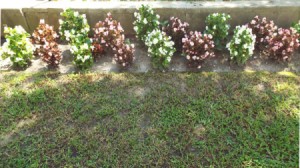 When I post a tip involving indoor gardening, I take into consideration that few of us have much space we can devote to cultivating plants, indoors. I overwinter most of my small cuttings on a four foot section of a kitchen counter top with three, four foot, 2 lamp fluorescent fixtures mounted underneath the upper cabinet. I realize most of you don't have even that much space to spare, especially kitchen space.
Here is how I take 1 square foot of indoor space and grow enough wax/angel wing begonias to eventually fill a 50 square foot bed.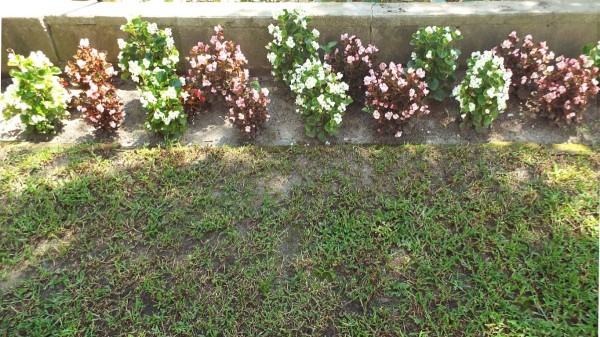 The picture shows part of a 50 foot bed of begonias against an old retainer wall. Soon, they will have grown large enough to completely fill the bed. All the plants used in this bed were free. They came from small cuttings overwintered indoors.
Frost will seriously injure this bed of begonias. A moderate freeze will kill all the plants. I listen to weather forecasts in late autumn, and when that first frost or suspected frost is predicted, I gather my cuttings. You don't have to wait for the first frost to get your cuttings, but the longer the the plants stay outside, the better the chances of them surviving overwintering.
The size of the cuttings is not critical. 2-4 in. pieces is ideal. I tend to go with the smaller. I don't want them to outgrow their containers before warm weather.
With a small, sharp paring knife, cut your selections from the host plant. Take them a joint or two longer than you will need.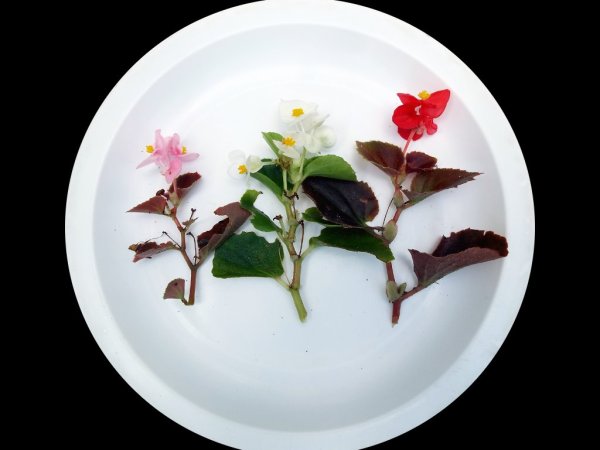 Neatly trim away any blooms and all leaves except the top one or two pairs. Make the final stem cut just below a node, leaving 3-4 stem joints.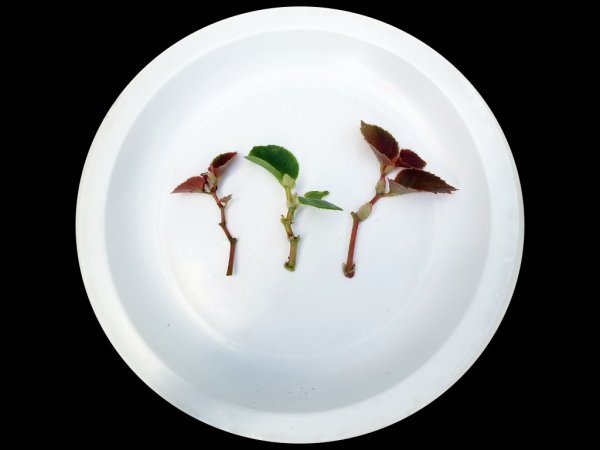 It is not critical to insert the cuttings immediately. I think my chances of any cuttings damping off is lessened by waiting an hour or so to let the wound dry a little. Just be sure to not leave them lying in the hot sun.
Insert the cuttings to the depth of the first lower joint, or half way up the first lower joint if it is rather long, into a suitable container filled with potting soil. To further lessen chances of damping off, the soil may be heat treated in a microwave oven, and cooled, prior to using. Additionally, space the cuttings so that they do not touch each other. Do not cover the cuttings with plastic.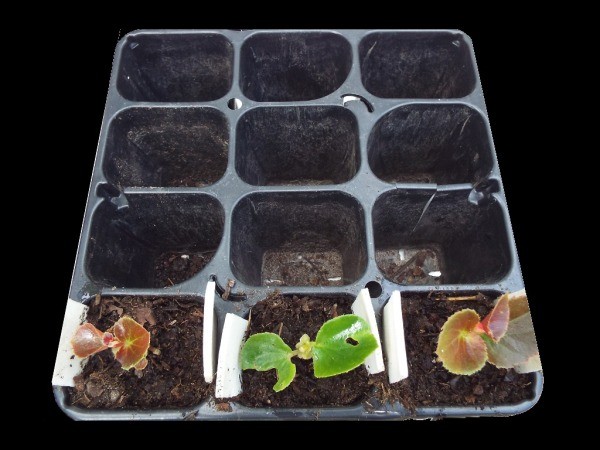 If the cuttings will be depending totally on artificial light, be sure to place them where they will receive as much as possible. 16-18 hours of light per day is best. Average room temperatures are adequate.
Water the cuttings carefully. Never allow them to become completely dry. On the other hand, never add enough water to cause the soil to be soggy. Too much water is the main cause for loss of these cuttings. If in doubt, err on the side of slightly dry.
Provide good air circulation. If you must keep the cuttings where the air is rather still, a small personal fan close by will help keep down mildew and fungus.
You should use a potting soil rich in organic matter, because the cuttings should not be fertilized during the rooting period.
In about a month, the cuttings should have begun to root. If sufficient light has been supplied, they may even begin to bloom. Before the time the plants are to be transferred to the garden, some will have grown enough to take cuttings from them.
After the last frost, and the small plants are planted in beds is the time to really increase your stock. These plants grow rapidly. Within two weeks of planting them, they should be large enough to take cuttings. By late spring you should have been able to increase your stock to the point that original one square foot square of cuttings will now fill a fifty square foot bed.